Mizoram is the best state in India for women. And Bihar, the worst.
A new study by the McKinsey Global Institute (MGI), released on Nov. 02, has analysed gender parity among Indian states, and found out that there is a "huge variation in gender inequality at the state level".
The MGI—the business and research unit of global consulting firm McKinsey & Co—has developed the India Female Empowerment Index (Femdex), which measures gender equality.
The index has assigned a score to each state in the country based on 10 indicators. These include labour force participation rate, representation of women in professional and technical jobs, number of females in leadership positions, households using LPG or kerosene for cooking, households with a source of drinking water in the premises, households having toilet facilities in the premises, education level, the child marriage rate, and violence by a spouse and sex ratio at birth.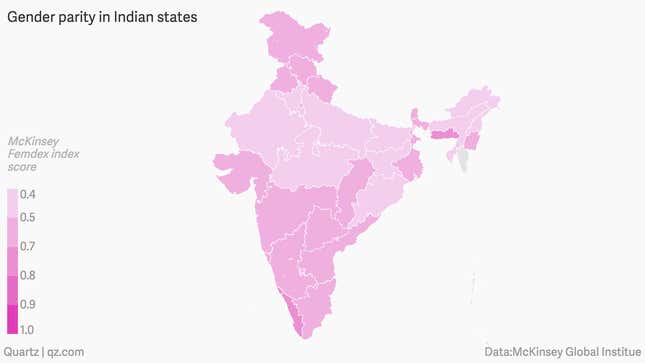 Studies in the past have indicated that the status of women in some of India's northeastern states is better when measured on certain indicators.
For instance, a 2013 research paper (pdf) published in the International Journal of Scientific and Research Publication noted that women in the region fared better than the rest of the country when it came to taking household decisions or enrolment in schools. The sex ratio in some of these states—the proportion of females to males—was also higher compared to the rest of the country.