This post has been corrected.
Even by the standards of India's rapidly evolving taxi industry, the past few weeks have been an utter whirlwind.
First, on Nov. 18, Ola—India's homegrown app-based taxi aggregation company—said it had raised $500 million (Rs3,306 crore) from a clutch of investors including China's leading taxi-hailing company, Didi Kuaidi. The announcement was seen as a big win for the Bengaluru-based startup, as Didi Kuaidi has far greater scale than Ola and is valued three times higher.
Then, on Dec. 3, Ola entered into a ride-sharing agreement with Didi Kuaidi, along with the two other taxi-aggregation services: Lyft, which is based in the US, and GrabTaxi, which operates across Malaysia, Singapore, Indonesia, Philippines, Vietnam, and Thailand. Under the partnership, the four companies will allow users to book cabs through any of the firms' apps, in all the regions where they operate, from earlier 2016.
Just as word of this development was getting out—many were viewing it as a move by leading Asian competitors to take on Uber—Bloomberg reported that Uber was in talks to raise funding from Tiger Global.
The New York-headquartered investment firm, Tiger Global, already backs Didi Kuaidi, Ola, and GrabTaxi, giving it a sizeable interest in the new anti-Uber alliance. An apparent move to hedge its bets on the industry has upset many.
"I am furious," an Ola investor told Forbes. "This is a direct conflict. They're arming [Ola's] closest competitor with hundreds of millions."
A recent history of taxi aggregation in India
But for all its twists and turns, the recent drama has been rather tame compared with this time last year, when India's taxi-aggregation industry found itself mired in a barrage of regulatory issues.
A rape in Delhi by a driver affiliated with Uber led to a ban on aggregators in several cities, triggering a series of regulatory battles for most companies in the sector. The situation was so grim that TaxiForSure—once seen as a strong contender in the business—was forced to sell out to competitor Ola because investors, turned off by the regulatory issues, wouldn't give the company the money it needed to stay afloat.
Uncertainties around the government policies regarding the industry may persist, but they're not deterring the industry anymore—existing players are continuing their race for market share, and new investors are joining in. Perhaps India's huge population, 65% of which is 35 or younger, is too big an opportunity for anybody to miss out on.
Many companies, with several different business models, have emerged in India over the recent years to get a piece of what's estimated to be an $8 billion (Rs48,000 crore) taxi market that remains incredibly diffuse. Currently, large services account for only 5% or so of the industry.
Within that slice of the market, four organised players—Ola, Uber, Meru Cabs, and CarzOnRent (the operator of Easy Cabs)—have collectively captured around three-quarters of the business, the market research and consulting firm TechSci Research tells Quartz.
Between those four, Uber and Ola—with their deep-pocketed investors—have zoomed past the others by expanding to many more cities and broadening the scope of their platforms.
Uber, which currently operates in more than 350 cities in 64 countries, bent its business model for India and for the first time allowed cash payments, which is a preferred method of payment in the country. It also launched (but later suspended) an auto-rickshaw aggregation business in India called uberAUTO, in recognition that the three-wheeled, open-air carts are a popular, wallet-friendly mode of transportation in several Indian cities.
Ola, meanwhile, has added new offerings to its app, like food ordering and delivery service OlaCafe (similar to UberEats, which is not available in India as of now) and a social ride-sharing feature called Ola Share. On Nov. 13, Ola also launched an online wallet called Ola Money for mobile recharge, money transfers, and cashless payments to several other brands.
Among the two leaders, it is hard to say who is winning. Uber and Ola both are privately held and share limited information about their businesses—and most of the data that is made public is not comparable. For example, Ola shares the number of total vehicles registered with its platform, while Uber shares the number of drivers linked to its platform.
But the stakes are considerable. India's taxi-aggregation industry is set to grow at a compounded annual growth rate of 17% between 2015 and 2020, according to Karan Chechi, research director at TechSci.
Current standing
In a recent funding round, Ola was reportedly valued at around $5 billion, compared with just $1 billion a year ago. Including the latest round, Ola has raised a total of $1.3 billion—of which $1.2 billion has come in during the past year.
Uber—the world's most richly valued private company—has also been expanding its presence in India since it arrived in August 2013, and said in July that it would invest $1 billion in India over the next nine months. Only in the US does it operate in more cities.
But by that measure, Ola is the clear leader in India. It's in more than 100 cities, to Uber's two dozen or so. Of course, launching in a new city could entail little more than having just a handful of taxis there sign up for the app. Arguably, what really matters in this business in scale.
Uber has more than 250,000 registered drivers in India and says it is targeting a goal of supplying 1 million rides a day by March. Ola, meanwhile, has over 325,000 vehicles registered on its platform and tells Quartz it is aiming to clock 3 million booking requests daily, up from about 1 million a day currently.
When it comes to market share, each company has its own math. Uber India tells Quartz that "in just two years since our launch, we've gained over 40% market share of the on demand ride-hailing industry in India."
This would represent remarkable growth from the March 31 figures reported in a presentation (pdf) from Softbank, which in May said that Ola and TaxiForSure together held 80% of the Indian market, followed by 12% for Meru Cabs and just 4% for Uber. Japan's SoftBank is an investor in Ola.
Head to head
The following graph prepared by New York-based data analytics firm 7Park Data for Quartz shows the user activity on the mobile apps of Ola and Uber in India: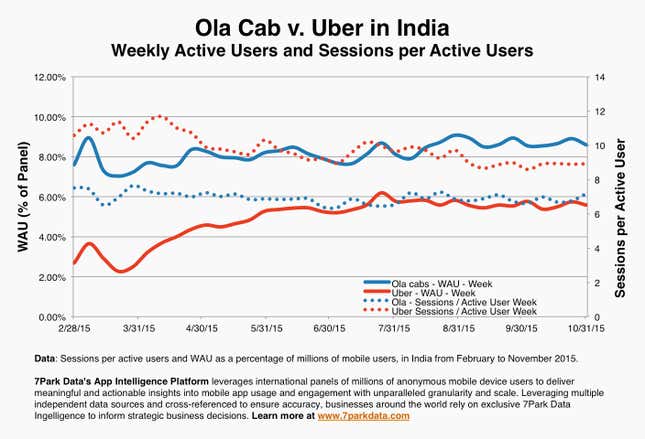 Weekly active users (WAU)—or the number of unique users that visited the app during a week—is sometimes used to measure the success rate of mobile apps for things like games and social networking services. Ola is ahead of Uber in India when it comes to WAU, but Uber has closed the gap some since the first quarter.
In terms of sessions per active user, Uber is ahead of Ola, but even there the two seem to be heading toward a tight competition.
Correction: An earlier version of this post incorrectly stated that Tiger Global is a hedge fund. The firm has clarified that it invests in startups like Uber and Ola through its private equity group.