The top echelons of Indian banks are dominated by women. Female bankers, such as HSBC India's Naina Lal Kidwai and ICICI Bank's Chanda Kochhar, have been steering some of the biggest financial institutions in the country for years now. But, strangely, lower down the corporate ladder, especially in the mid-managerial level, the banking industry is still dominated by men.
According to data (pdf) released by the Reserve Bank of India in May, of the total officers in all scheduled commercial banks in the country—public sector banks, private banks and foreign banks among others—only 20.18% were women in 2014. Additionally, only 22.15% of all the bank employees were women.
Quartz spoke to Sandhya Vasudevan, the chief operating officer at Deutsche Bank India, about the biases women bankers face. Deutsche Bank is one of the few banks in India where 40% of the management positions are held by women.
Vasudevan, who has over 20 years of experience in the finance industry, also talks about the challenges single women face while climbing the corporate ladder. Edited excerpts:
Q: How do people perceive women in the banking industry?
Vasudevan: A few years ago, I was at a social gathering and a lady asked me what I did and I said I worked in a bank. Her first response was "oh that's very good for ladies, banks have a nine-to-five job." She felt that the banking industry enabled me to have the time to balance work and family.
I was highly amused because my working hours were from early morning until late night—as part of the off-shored world, one adjusted to all time zones. Definitely not a nine-to-five job!
Q: Do people still think that women are not good at finance?
Vasudevan: India produces a large number of female chartered accountants, cost and work accountants, chartered financial analysts, and other finance-related fields compared to many other countries. The issue is more about how many of them stay with the profession over the long term.
Banking always attracted women as it was considered a safe environment. Yet, the society in which it operates is complex —there are areas in society where women are not allowed to handle money even within the family, and there are pockets where, historically, women have run businesses. We need to understand the people we are dealing with, recognise their biases—both conscious or unconscious, and then work with or around it.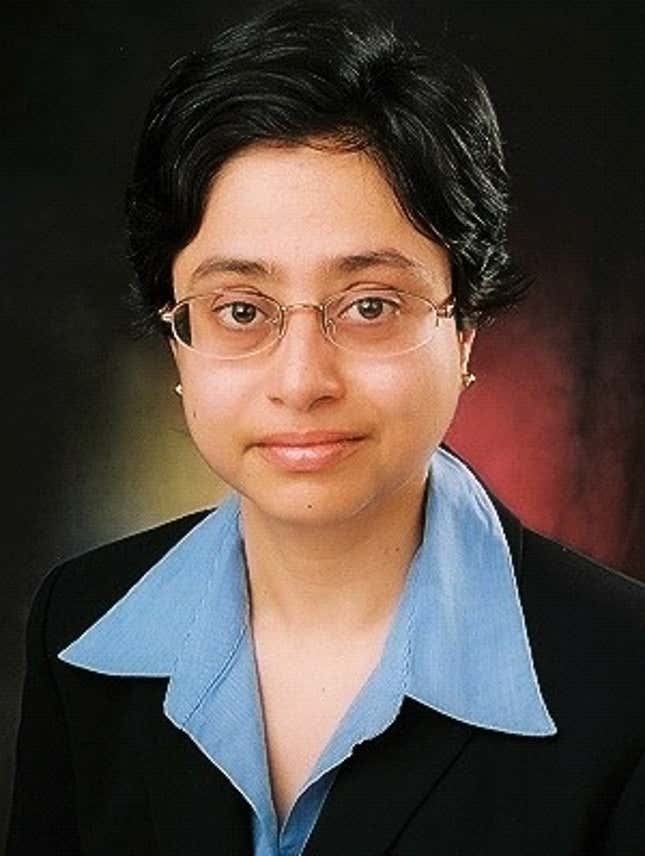 Q: Are women able to come back into the workforce after a break?
Vasudevan: It's often found that a number of women don't come back into the corporate workplace after a break. A long-term study done on women from the Institutes of Indian Management (IIMs) showed that a huge number of female graduates from these top colleges dropped out at mid-level.
For men, the primary identity is that of a breadwinner, so keeping the professional network active is part of their DNA. Whereas for a woman, the professional identity is not the primary one.
Q: Why do women not invest in a professional network?
Vasudevan: Women have strong social networks, but not always a professional network. There is a complete difference between the two. A personal example: I used to go for karate classes where I used to interact with a lady who was the mother of one of the students. One day I met her at a technology forum, and until then, I did not realise that she was a senior global technology professional. At that time, I was actively recruiting senior tech professionals. What was more absurd was that when we met next time, we continued with our social conversation rather than a professional one!
Women don't realise the importance of a professional versus a social network, and this can play a critical role when they get back to work after a break.
Q: Do you see any bias when people engage in conversations with women leaders at social gatherings?
Vasudevan: Absolutely! There is a difference in the way people engage, and I am not always clear how much is cultural versus how much is a bias. And why at social gatherings, even in a company town hall, one standard question that many women will ask or get asked is how do you manage your "work-life balance."
The fact is that the number of women who have made it to the top at this point is still small, so a lot of people are curious about their lives. What many forget is that men have also got to manage the same set of demands. Both men and women will have demands to take care of parents or family.
Q: Is it tough for single working women at top positions?
Vasudevan: Many single working women are primary breadwinners and they are often the primary caregivers in their family. And this is often not fully acknowledged. This is not an area that has been fully explored. We have a long way to go where societal barriers are concerned.