The iconic Italian automotive and industrial design company Pininfarina SpA now has a new owner—India's Mahindra Group, which has said it will acquire a majority stake in the Milan-listed firm.
Founded in 1930, Pininfarina has designed vehicles for marquee automobile manufacturers including Ferrari, Alfa Romeo, Peugeot, Maserati, and Rolls Royce. The Cambiano, Italy-based company also has worked on high-speed trains, buses, trams, yachts, airplanes, and private jets, and provides consultation on industrial design, interior design, architecture, and graphic design.
But for most of the past decade, its financials have been a mess. This reality, brought into sharp relief as car manufacturers around the globe started bringing more of their design work in-house, is reflected in the terms of the deal, which has Mahindra buying shares at a 74% discount to their Dec. 11 closing price.
The deal will be executed through a new joint venture between Mahindra & Mahindra (M&M)—the Mahindra Group's automobile company—and the group's IT company, Tech Mahindra. It has an agreement to purchase 76.1% of Pininfarina shares from the current controlling shareholder, Pincar Srl, at a price of €1.1 per share, followed by an open offer for the remaining shares of Pininfarina, at the same price.
Pininfarina's shares closed Dec. 11, a Friday, at €4.2. The stock plunged 69% to €1.31 on Monday (Dec.14).
Addressing the discount, Pininfarina CEO Silvio Angori told reporters that "you have to bear in mind that under this deal the company will be recapitalized and will have better growth opportunities." According to Reuters, through a rights issue of new stock, Mahindra will inject another €20 million into the firm, and will provide a guarantee of up €114.5 million to Pininfarina's creditors.
Pininfarina's chairman, Paolo Pininfarina, seemed eager to assuage any concerns that the deal represented a break with the company's Italian heritage.
"In a globalized world, entrepreneurship and capital do not need a passport," he said in a statement from the companies. "Tech Mahindra's global presence and global delivery model will allow us to compete for a larger pie of the business."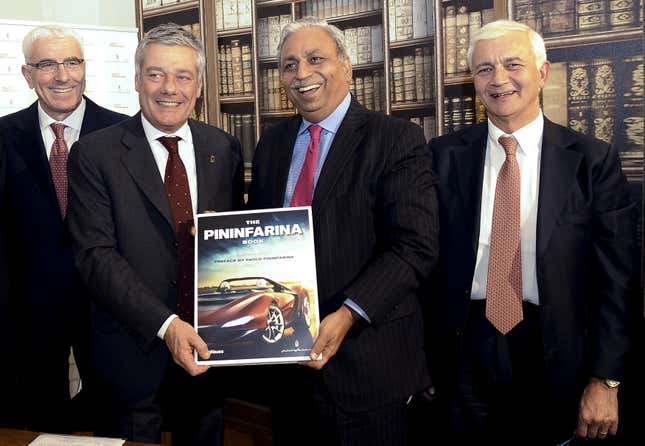 Mahindra Group does not plan to merge the acquired entity with its existing businesses. "Pininfarina will continue to remain an independent company, listed on the Milan Stock Exchange, with Paolo Pininfarina continuing as the chairman of its board," the Mumbai-headquartered Tech Mahindra said.
The group, led by chairman and managing director Anand Mahindra, has made several bold acquisitions in the past, including the $580 million buyout of scandal-tainted Satyam Computer Services in 2009. In 2010, M&M bought a 70% stake in the ailing South Korean automaker, SsangYong Motor Company, for $463 million (Rs 2,100 crore).
For several years now, Mahindra and other Indian automobile makers have been looking to strengthen their capabilities and establish themselves as global players. In 2008, for instance, Tata Motors made the landmark acquisition of the premium Jaguar and Land Rover brands from Ford for $2.3 billion.
Mahindra may not immediately utilize Pininfarina's design capabilities in the Indian market, but the acquisition will prove helpful as the automaker looks to expand overseas, says Abdul Majeed, a partner at PricewaterhouseCoopers who has led the firm's automotive practice in India. "As the company looks to go more global, especially in developed markets, they may not have all the expertise needed and will need designs that work there. That is where this acquisition plays a huge role," he tells Quartz.