India—home to the second largest internet user base on the globe—has played host to a slew of global technology leaders over the last year, from Facebook founder Mark Zuckerberg to Microsoft CEO Satya Nadella.
This week, Sundar Pichai, CEO of US search giant Google, is visiting the country. The 43-year-old was born in the southern Indian city of Chennai and studied at the Indian Institute of Technology, Kharagpur, but this is his first visit as Google CEO. He is scheduled to meet with software developers to promote Google's services like search, Gmail and YouTube.
Pichai is also likely to meet prime minister Narendra Modi during this trip to India. The two had last met in September during Modi's visit to the Silicon Valley. Pichai may also meet president Pranab Mukherjee, The Indian Express newspaper reported.
Along with other senior leaders of Google, Pichai will address the media on Dec. 16, to will lay out the company's vision and strategy for the country. "India is at the centre of a digital revolution today, with millions of Indians getting online every month. India has always been key for Google and we continue to work towards evolving our product offerings for the unique needs of our users," read the invitation to Google's media briefing.
Google does not disclose the geographic breakdown of its revenue or user base, but for the last two years, the company has made roughly 45% of sales in the US, 10% in the UK and 45% in the rest of the world, according to The Wall  Street Journal.
India is of great interest to not just Google but to all global technology players. The country already has the second-highest number of internet users in the world, but the penetration of internet in India is still at just 19%. In most developed economies, internet penetration is up to 90%.
As more and more people take to the internet, India is estimated to have 500 million users online by 2017, up fom 350 million in June 2015.
The Indian workforce is also moving away from the back-offices of large multinational businesses, and toward entrepreneurship and innovation. This has caught the attention of many global venture capitalists and technology firms—Facebook and internet giant Yahoo have both acquired Indian startups in recent years.
India's startup ecosystem—which started booming only a couple of years ago—is already the third-largest in the world and the fastest-growing one, according to industry body Nasscom. India currently has between 4,200 and 4,400 technology startups, and three to four new startups are born in the country every day, per Nasscom.
Here's a look back at some of the global tech leaders who have visited India over the last 12 months.
Satya Nadella
The Hyderabad-born Nadella was in India during the last week of 2014 to meet prime minister Modi and IT minister Ravi Shankar Prasad. Nadella said he was looking forward to partnering with the government's Digital India and Make in India initiatives.
"I have an aspiration that in this mobile and cloud world, we can empower every individual citizen of India and every business organization and institution in India to be able to try with new technology," Nadella said.
Microsoft has around 6,500 employees in India, where it operates through a local subsidiary—Microsoft India—headed by chairman Bhaskar Pramanik. The company's Indian headquarters are in Hyderabad, and it has offices in several other cities. Microsoft also runs one of the top startup accelerators in India at Bengaluru.
Jack Ma
In May, Jack Ma, chairman of China's e-commerce giant Alibaba, visited New Delhi. This was Ma's second visit to India in about four months, and he too met with Modi.
Just three months after Ma's visit in May, India's second-largest e-commerce company, Snapdeal, raised $500 million from investors including Alibaba Group Holding Ltd., Foxconn and SoftBank Corp.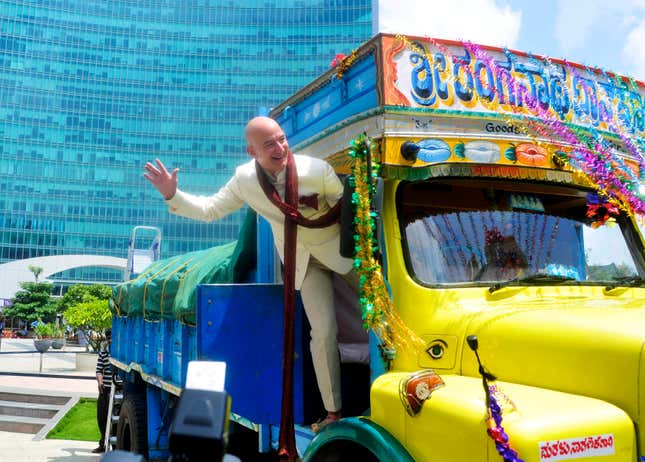 The rapid growth that home-grown e-commerce companies Flipkart and Snapdeal have seen is a strong lure for players like Alibaba.
US e-commerce giants Amazon and e-Bay already operate in India. In 2014, Amazon CEO Jeff Bezos made a high-profile trip that included hanging off a supply truck in an Indian outfit, flashing a $2-billion check to signify his company's investment in the country.
Mark Zuckerberg
In the last week of Oct. 2015, the 31-year-old chairman, chief executive, and co-founder of Facebook Mark Zuckerberg also made the trip to India. Facebook has 130 million users in the country—second only to the US.
Among other things, Zuckerberg held a townhall-like question and answer session at Indian Institute of Technology, Delhi, where he attempted to allay concerns around Internet.org—now rebranded as Free Basics.
"Net neutrality is an important principle and we are doing a lot to push it. So with Free Basics, we are letting developers offer zero-rated services. This is powerful. We are not being a filter of any content going through that," he said.
Free Basics is a free, limited internet service for the subscribers of Reliance Communications in India. Zuckerberg unveiled it in the country during his last visit to New Delhi in Oct. 2014. Since its launch, it has been strongly criticized across the world as it is seen against net neutrality.
Zuckerberg had earlier said that he visited India on the insistence of Apple Inc. co-founder Steve Jobs, and that the trip had played a crucial role in Facebook's development.
"Early on in our history when things weren't really going well—we had hit a tough patch and a lot of people wanted to buy Facebook—I went and I met with Steve Jobs, and he said that to reconnect with what I believed was the mission of the company, I should go visit this temple in India that he had gone to early in the evolution of Apple, when he was thinking about what he wanted his vision of the future to be," Zuckerberg said in September, during a townhall with Modi at Facebook's headquarters at Menlo Park, California.