India is the world's second largest consumer of gold. But ask any urban woman in the country and she will tell you that her jewellery rests in a locker because it is impractical to it wear on a regular day.
In early 2014, Saroja Yeramilli, a former executive with jewellery brand Tanishq, decided to reverse this trend—and profit from it. "I spoke to many women for my research and they all said 'I am not a jewellery person'. Strangely, everyone thought she was the exception, but that was not the case," Yeramilli told Quartz.
"Our entire generation, and maybe even a generation or two before us, moved away from precious jewellery completely," explained Yeramilli, who spent over a decade with Tanishq, one of India's largest organised jewellery brands, owned by the Tatas. "We are India's under-jewelled women."
This aversion, according to Yeramilli, is a result of changing fashion trends. An increasing number of urban women in India now prefer western clothes, but gold jewellery is still mostly designed for traditional wear. Besides, the industry is male-dominated—in both the branded and unbranded segments. Men do not always understand what women want, she added.
So, in January 2015, Yeramilli, along with former Tanishq colleague, R Krishnakumar, began working on building an online jewellery brand that would cater to young, urban Indian women.
Earlier this month, the duo launched Melorra, a mobile app for jewellery purchase, designed and produced by Yeramilli and her team of 40. The app targets women aged between 18 and 40 years, with an aim to "bridge the wardrobe mismatch" by offering jewellery that goes with western wear.
The app is currently available only on iOS, but will be launched for Android by end of January. The company will also launch a website in April. On Jan. 7, Melorra announced that it has raised $5 million (Rs34 crore) from Mumbai-based Lightbox Ventures.
Advantages & challenges
Online jewellery retail is not new to India. The two leading startups in the category, Caratlane and Bluestone, were founded in 2008 and 2011, respectively and are backed by marquee investors. Caratlane's investors include Tiger Global, while Bluestone has Accel Partners and Ratan Tata.
Some traditional brick-and-mortar retailers also sell through Amazon, Flipkart and Snapdeal.
But Yeramilli feels they haven't succeeded at impressing buyers because they sell through a catalogue. Her app, on the other hand, displays jewellery as it would look worn with a particular attire.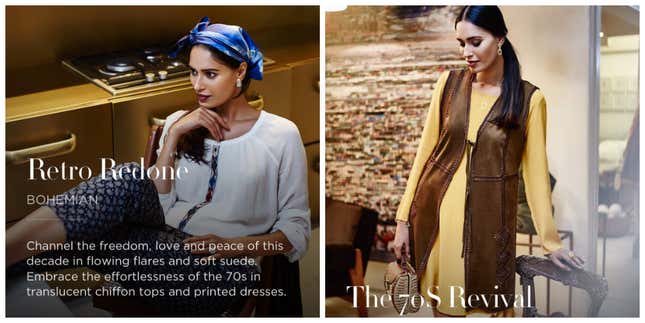 This is one of the features of Melorra that impressed Siddharth Talwar of Lightbox, who led the venture capital firm's investment in the company. "Half the joy in buying jewellery is about the experience," Talwar told Quartz. "The existing players have been selling jewellery through catalogues. That's now how you buy jewellery at stores."
Like most online jewellery startups, Melorra has tied up with logistics companies for delivery and will manufacture on demand, bringing down cost of storage and warehousing. But selling jewellery through a website or an app still remains an uphill task in India. Online sales account for less than 0.2% of jewellery sales in the country.
Online precious jewellery sellers have struggled because a majority of Indians prefer buying gold from trusted family jewellers. However, Yeramilli said that is not one of her challenges. "Young women these days move cities often and they don't really have family jewellers," she said.
Following fashion
Melorra has employed fashion consultants and stylists who watch out for apparel trends and what global brands like Zara, H&M, and Marks and Spencer are bringing to India. The jewellery collection is then designed around these trends.
"Even though some brands have tried to create contemporary jewellery, it's the same motifs like peacocks and temple art that they use," Yeramilli explained. "Fashion has changed, technology has changed, and accessories have changed. But jewellery is a 5,000-year-old industry that behaves like a 5,000-year-old industry."
"I wanted to design jewellery, not in silos but to go with an entire look and outfit," she added.
Melorra is also conscious about making itself affordable. The average price for their products on the app is Rs.16,000.
Starting up at 45
Even though India's startup ecosystem is generating between three and four new companies everyday, Yeramilli is a bit of an exception. At 46, she is decidedly older than most well-known Indian startup entrepreneurs in their late 20s or early 30s.
"I'm impressed and excited by entrepreneurship. That's why I got sucked in. It has nothing to do with age. Nobody's ever asked me my age—not investors, not my peers," Yeramilli said. "I have the energy of a 20-year-old and wisdom and experience of a 46-year-old. I use that to my advantage."