Talk about pocket dynamites.
The Indian mobile phone space is in for a major disruption as a five-month-old company launches what could be the world's cheapest smartphone. Freedom 251—priced at a jaw-dropping Rs251 ($4)—will be unveiled by Ringing Bells today (Feb. 17) and sold in the market from tomorrow.
With an Android Lollipop 5.1 operating system, powered by a 1.3 GHz quad-core processor, it will allow access to all apps available on the Google Play store. It also comes with an 8GB storage, a 3.2-megapixel camera, and a one-year warranty.
It isn't entirely clear how Ringing Bells has been able to conjure up a smartphone this ridiculously cheap, but reports suggest that the Narendra Modi government could be subsidising the phone-maker under its flagship "Make in India" programme. Maybe that's why Freedom 251 also comes with preinstalled apps for some of Modi's pet projects including Swachh Bharat and women's safety. Ringing Bells will sell the product through 650 distributors in India.
"What we know as of now is that the phone is being heavily subsidised," Tarun Pathak, senior analyst at Counterpoint Research, a consultancy firm, told Quartz. "As of now, the cheapest smartphone in India costs $28 and looking at the component prices, this phone certainly is being subsidised by the Narendra Modi government."
Currently, India's cheapest smartphone is the Alcatel Fire C, which uses the Firefox OS and is priced at Rs1,729. And prices at the low-end of the smartphone market in Asia's third-largest economy vary between Rs2,000 and Rs3,000 with homegrown mobile phone-makers such as Micromax and Karbonn dominating the segment.
Freedom 251 will "empower citizens, even in the remotest rural and semi-urban centres of India, with the latest in digital technology at incredible affordable prices and cascade knowledge, news and current issues so that all experience the confidence of inclusive growth and equal opportunity," Ringing Bells says on its website.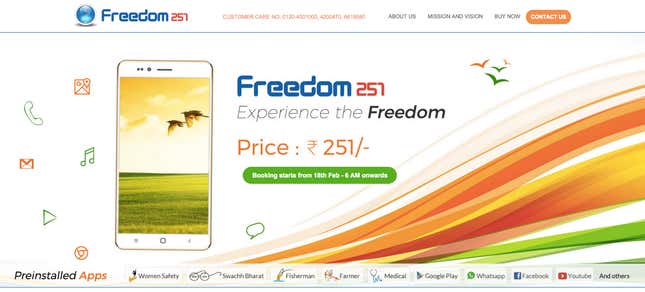 Freedom 251's arrival is likely to change the trade dynamics in one of the world's fastest growing smartphone market.
"There will be a huge disruption in the market in the initial phase, especially since the phone is being sold at $4," said Pathak. "It will be seen as an alternative to feature phones. But, in the long run, the company should also ensure that the expectations are fulfilled so that the strategy of cheap pricing doesn't backfire."
According to the ministry of corporate affairs, Ringing Bells was incorporated in September last year with three directors, Mohit Kumar Goel, Sushma Devi, and Rajesh Kumar. The promoters have been in the agriculture business and ventured into technology last year.
Booming Indian smartphone market
In 2015, India toppled the US to become the second-largest market for smartphones after China—much sooner than some had estimated. India had around 220 million smartphone users in December 2015, but there is a huge headroom for further growth in a country of over 1.25 billion people.
This massive growth in smartphone users in the country has attracted the attention of all global players. More than 150 smartphone brands, including top players such as Samsung, Micromax, and Lenovo, closely compete for market share in India.
Given the huge potential and the Indian government's focus on "Make in India", the competition in the smartphone segment will only intensify. Almost half of the total mobile phones shipped to India during October-December 2015 were assembled locally, and Counterpoint Research estimates "this trend to scale even faster and broader in 2016."