Indian internet startups have been all about hypergrowth and rapid expansion. But NoBroker.com, a Bengaluru-based peer-to-peer online rental platform, has consciously decided to go slow.
The company has locked up the $10 million (Rs66.5 crore) it raised in a series B round in February 2016 in funds. The money is kept in debt funds of various maturities, giving an annual return of 7.5%. A part of its series A round of $3 million is also locked in debt funds.
There are no plans for another funding round for at least two years.
The Indian startup community has been on a spending spree, splurging on advertising, and expansion of businesses and teams. In 2015, Housing.com, another Indian online real estate startup, spent over Rs120 crore on a media blitzkrieg. NoBroker.com is a bit of an oddity in the ecosystem.
"We are not locking these funds for good. We need them, but slowly; in normal expenditure pattern. So we haven't raised funding unnecessarily," Amit Kumar, co-founder and CEO of NoBroker.com, told Quartz. "We just parked these funds into deposits and said that we will stick to our monthly budget and fund our expansion from revenue that we will earn."
Started in 2014 by Indian Institute of Management graduates Kumar and Akhil Gupta, NoBroker.com is focused on eliminating middlemen in real estate transactions. The company currently operates in Mumbai, Bengaluru, Pune and Chennai. It has a user base of 700,000 and adds 2,000 new home seekers and 1,000 new properties every day. The company says it has grown 15 times in terms of website visits, registered users and property listings in the last one year.
Kumar spoke to Quartz about why his company decided to forgo hypergrowth for profitability. Here are the edited excerpts:
Indian internet businesses have been all about growth, even at the cost of revenue and profits. Why are you willing to forgo growth for profits?
We have always been cautious with our investment, but now we also realise that the investment climate is not so good and the general threat that one player will suddenly blow up a lot of money and get a huge market share is not there anymore.
Also, we co-founders are over 35 years of age and have about 10-15 years of experience each. We always had it in our minds that we need to eventually make money. It is too obvious a statement but still needs to be said, given the Indian startup culture.
How will you compete with players who are ploughing in millions of dollars to grow?
In the past years, when other players were offering freebies we stayed away from such practices. We realised such freebies are not sustainable, so we didn't want consumers to get into the habit of using them at all. For example, most online players would send photographers to the house being put up for sale or on rent, to click photos without a charge. We realised we won't be able to absorb the additional cost for such services, so we never offered them.
Of course, we had to stay patient and wait for growth. But over time, you realise that ploughing in millions of dollars would only give you a momentary uptick, which happened for several players. But that is not sustainable. Eventually, your unit economics need to work out.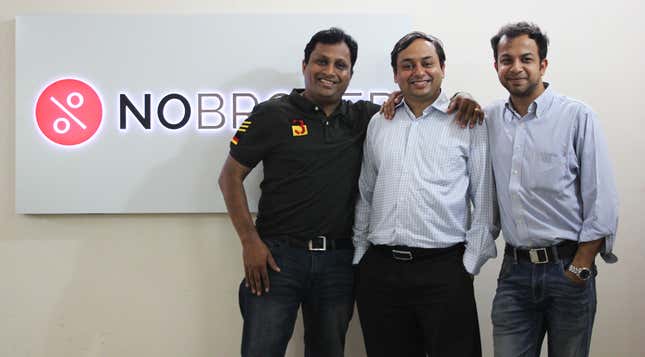 Venture capitalists typically invest to get high returns. Are your investors comfortable with you keeping their money in deposits?
When we were talking to investors for our recent round, we told them that if they are chasing a hypergrowth company, we are not that. In fact, the investors who came in the last round loved the fact that we are frugal. We take pride in being frugal.
The online real estate segment in India is very crowded right now. What do investors feel about the sector?
Despite the number of  players, the percentage penetration (the total number of houses that get sold versus how many are sold online) is very low. I think it would be between 10% and 15%. So, most of the market is still owned by offline brokers. Also, there is no single website that can claim it can offer assistance in every city in the country.
The journey is still on and investors know this is an industry where there is an unsolved problem they can bet on.
Don't you think your business will suffer because of your frugal approach?
No. Take a food truck for example. If you are clocking good sales in one area, doesn't it make sense to first start making profits in that one area before expanding to another? Why expand to 100 locations before you start making profits at the single point?
But the general belief is to get the first-mover advantage and increase your scale as fast as possible.
I don't think there is a sustainable first-mover advantage in our business. Even if I enter a city first, will I be able to stop anyone else coming to the city? No. I feel having a first-mover advantage on profitability is a bigger thing.
So you don't fear missing out?
Can you give me any example where an internet company has entered 100 cities and created a formidable entry barrier? So what is there to miss out?
What are your growth plans?
We are currently in four cities and we want to turn profitable in these in the next 18 months. Six months from now, we will start investing from our revenue to enter a new city. We don't plan to spend too much when we open operations in a new city. We will just do some digital marketing and add the city to our website. We don't have plans to open offices or add staff or do any offline marketing, etc.
What is your biggest challenge right now?
Execution is our biggest challenge. We have a good product and our customers are growing, but we need to ensure that we stick to what we are doing and not get diverted. If our strategy is executed well, we will definitely succeed.
Actually in the startup world, the challenge is always about execution. Everybody has ideas, but not everyone can execute.