Online food discovery portal, Zomato, has done a yummy twist on Panama Papers.
The Delhi-based startup has created a new category on its website called Panama Peppers, which includes the most expensive restaurants in India.
Not surprisingly, capital city New Delhi and financial hub Mumbai are home to some of the country's priciest restaurants. Other cities with such fine dining venues are IT hubs Bengaluru, Hyderabad, and Pune, and metropolitan cities Chennai and Kolkata.
Below are the eight most expensive Indian restaurants. Find out how big a hole a visit could drill in your pocket:
Wasabi By Morimoto at The Taj Mahal Palace, Mumbai
Meal for two: Rs12,000 ($180), plus taxes
Located inside one the most premium hotels in India's business capital, Mumbai, this Japanese cuisine restaurant flies in ingredients for its dishes from Japan, according to its website. The restaurant is "created by" Japanese chef Masaharu Morimoto, also known as an Iron Chef on a Japanese television cooking show.

Taj Mahal Palace, which was the target of a terrorist attack in 2008, has hosted some of the world's biggest celebrities, including US president Barack Obama and his wife Michelle, US presidential candidate Hillary Clinton, Hollywood actors Brad Pitt, Angelina Jolie, and Tom Cruise, musician Sting, singer Mick Jagger, and comedian Russell Brand, among others. This weekend (April 9-10), Taj Mahal Palace hotel is hosting Prince William and Kate.
Bollywood actor Saif Ali Khan got into a scuffle while dining at Wasabi in 2012, and allegedly punched a man's face and broke his nose.
Orient Express at Taj Palace Hotel, New Delhi
Meal for two: Rs8,000 ($120), plus taxes
This more than 30-year-old European cuisine restaurant is named after the famous train that traveled across Europe to Istanbul. The restaurant offers cuisines of all the countries through which the Orient Express train passed. The restaurant's interiors are inspired by the compartments of the namesake train.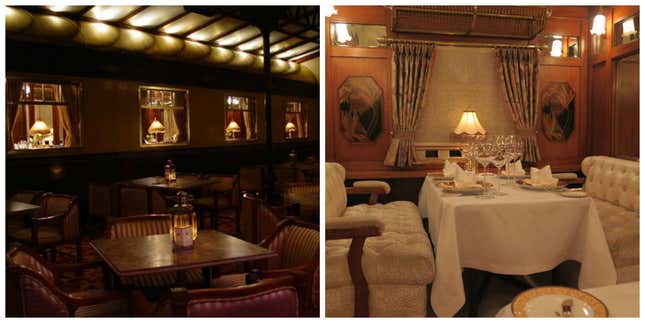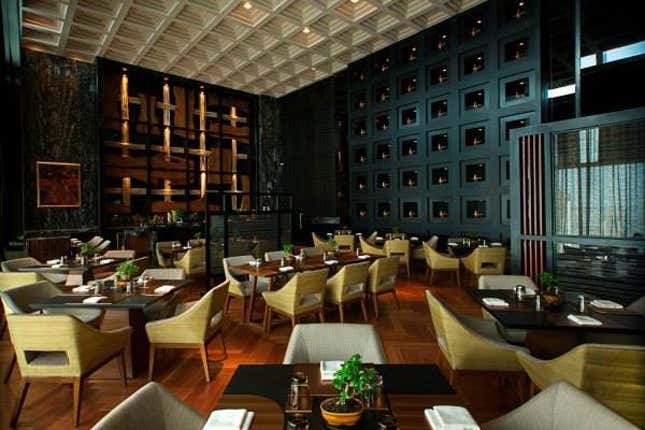 Yuuka at The St. Regis, Mumbai
Meal for two: Rs8,000 ($120), plus taxes
The modern Japanese cuisine restaurant is located on the 37th floor, overlooking the Arabian sea.  The restaurant is new compared to other competitors on this list as it was opened in November 2015, when New York Stock Exchange-listed Starwood Hotels and Resorts Worldwide opened The St. Regis hotel in Mumbai.
Bukhara at ITC Maurya, New Delhi
Meal for two: Rs7,000 ($105), plus taxes
One of the most iconic restaurants in the country, Bukhara was started in 1978 and serves food cooked in clay ovens in the traditional style of the Indian North-West Frontier region. The restaurant is best known for Dal Bukhara, a combination of whole black lentils, tomatoes, ginger and garlic, cooked over slow coal fires for 18 hours. The restaurant says it has sold over 2.5 million servings of Dal Bukhara.
Another famous dish at the restaurant is the family naan, which has a diameter of around four feet.

Some of the international celebrities who have dined at Bukhara include British prime minister David Cameron, Russian President Vladamir Putin, US president Barrack Obama, former US president Bill Clinton and his wife Hillary Clinton, Hollywood actor-turned-politician Arnold Schwarzenegger, singer Bryan Adams, and Microsoft co-founder Bill Gates.
Dum Pukht Jolly Nabobs at ITC Windsor, Bengaluru
Meal for two: Rs7,000 ($105), plus taxes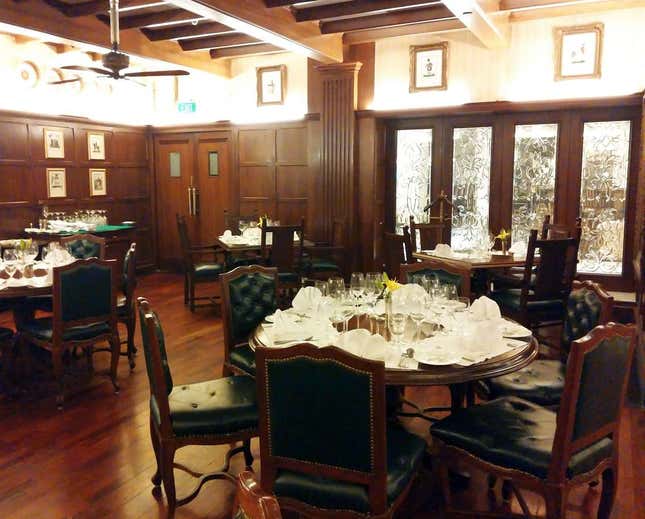 This Indian cuisine restaurant tries to recreate the culture of courtly fine dining. The presentation, cooking and service at the restaurant follows courtly manners. The restaurant bosts of its "aromatic dishes slow cooked in sealed deghs (cooking vessels) with handpicked spices."
Le Cirque Signature at The Leela, Bengaluru
Meal for two: Rs7,000 ($105), plus taxes
The French and Italian cuisine restaurant serves signature dishes inspired by the flagship Le Cirque in New York.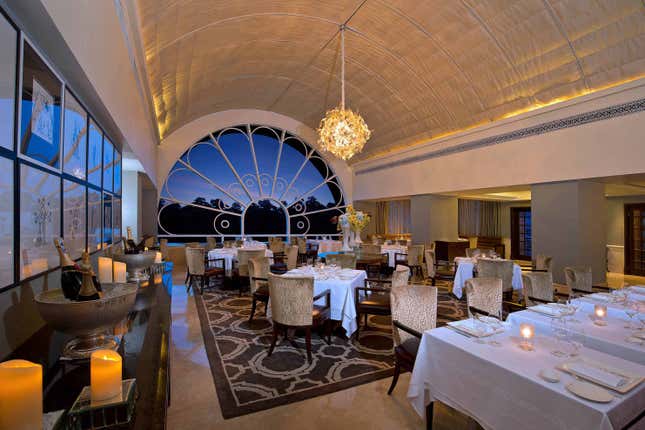 West View at ITC Maurya, New Delhi
Meal for two: Rs6,600 ($99), plus taxes
The western cuisine restaurant serves traditional recipes from France, the US, the UK, and Germany. West View does not have a written menu. The menu changes daily.