Sachin Bansal and Binny Bansal recently made it to Time magazine's "100 most influential" list. The timing of this recognition could not have been more ironic, though.
Flipkart, the Indian e-commerce major founded in 2007 by the two friends, is going through what may be its roughest patch yet.
In the last few months, Flipkart has been in the news for the wrong reasons: top-level exits, funding crunch, and devaluation by investors.
The company has chosen to stay quiet about most of these issues. But entrepreneurs and investors have begun debating if the online retailer is still the ideal Indian startup—or if it is fast becoming the perfect lesson in what not to do.
In an April 24 post on Founding Fuel, media group Network18's founding CEO Haresh Chawla—now a partner at a private equity firm—listed his reasons for considering Flipkart's strategies flawed. "Flipkart is in the middle of a storm of its own making," Chawla said. "The ignominy of squandering its first mover advantage to Amazon will only heighten the crisis brewing inside."
There is little doubt that Flipkart has been the most successful Indian technology startup on several parameters, including fund-raising, valuation, and employment generation. However, it's hard to look away from its troubles.
From bumper to bumpy
For Flipkart, 2014 was historic. It raised a whopping $1.9 billion in three tranches, including a $1-billion Series G round in July—the world's largest e-commerce deal that year. The investor list—Tiger Global, T Rowe Price, DST Global, and GIC, among others—could shame many Silicon Valley startups.
In May 2014, Flipkart acquired online fashion retailer Myntra for $300 million, marking the biggest consolidation in Indian e-commerce history. At the time, Flipkart was valued at $2 billion. By December that year, Flipkart's valuation had soared to $11 billion.
Flush with funds, it sought to double its gross merchandise value (GMV)—total value of goods sold through a marketplace—from $4 billion in February 2015 to $8 billion by December 2015. In September that year, Flipkart raised its target for March 2016 to an ambitious $10 billion.
But none of that happened, perhaps because the targets were not grounded in reality.
By February 2016, Flipkart's GMV was still around $5 billion, according to a report in the Mint newspaper. Analysts' estimates match that figure.
2016 so far…
Several things have not gone Flipkart's way since the beginning of this year.
Instability in top management: Churn seems to be the theme for 2016. On Jan. 11, the company announced its decision to appoint Binny Bansal the new CEO, replacing Sachin Bansal, who is now the executive chairman. Sachin had been the CEO since Flipkart's inception while Binny served as the chief operating officer.
A month later, Flipkart announced the exit of two of its top executives—Mukesh Bansal, head of the commerce platform and Myntra co-founder, and chief business officer Ankit Nagori. Widely considered Flipkart's CEO-in-waiting, Mukesh's exit surprised many.
Flipkart's star hire from the Silicon Valley was the next in line. A former top Google executive, Punit Soni joined Flipkart in March 2015. His appointment was much celebrated in the Indian startup community, and Mukesh Bansal even called it "the next stage of Flipkart."
Earlier this month, Flipkart confirmed that Soni had quit. Although there has been speculation over why Soni decided to leave within a year of coming on board, Anindya Ghose, director of New York University's Center for Business Analytics, reckons it could be due to a cultural mismatch.
Often the "top talent who come from the Valley find it difficult to adjust to the culture in India, where things can be less structured and more chaotic," Ghose said.
Devaluation and possibility of down round: Flipkart has been devalued twice in 2016. In March, investor Morgan Stanley trimmed Flipkart's valuation by 27% to $11 billion. Earlier this month, another investor, T Rowe Price, cut the value of its holding in Flipkart by 15%. This means if Flipkart has to raise funds anytime soon, it may be forced to go for a down round, where investors purchase stocks at a valuation lower than during the earlier round.
Besides, several media reports have suggested that the company is desperately trying to raise funds but can't find buyers at its preferred valuation. Discussions with over 15 investors have been unsuccessful, the Mint reported.
Government regulations: In March, the Indian government inadvertently added to Flipkart's pain through its new e-commerce policy.
Now, online marketplaces—technology companies that act as facilitators between buyers and sellers—are not permitted to have more than 25% of their sales coming from one vendor. The largest seller on Flipkart is WS Retail, a Flipkart subsidiary. While the company does not disclose WS Retail's share in sales, analysts told Quartz it would easily be above the new 25% threshold.
The government also said that e-commerce marketplaces will not be allowed to influence the selling price of goods and services listed on their platforms. This potentially means companies like Flipkart would be punished for offering heavy discounts—a major driver of e-commerce's massive growth in India.
No breakeven in sight yet: Flipkart is nine years old but has not publicly shared any roadmap to reaching break-even. Even though it is the largest e-commerce player by GMV—a statistic that is also not shared by Flipkart but reported in the media through sources—some believe that it may not be the best of parameters.
"It's never a good idea to rely on any one metric as a golden metric," said Kartik Hosanagar, a professor technology and digital business at the University of Pennsylvania's Wharton School. "To gauge the health of a company, one needs to slice and dice the data in multiple ways to get a complete picture. For example, it is important to ask what is the customer lifetime value relative to acquisition costs. It is important to ask about customer retention and frequency of purchase."
Moreover, Flipkart has been heavily dependent on discounts so far. While that was a justified strategy in the initial years, it may not be sustainable over a longer period.
Given India's price-sensitive buyers, there are high chances of online retailers losing customers once discounts are discontinued. "If they do not offer deep discounts, Indian consumers will switch back to offline retailers, which seem to be always on sale," Ghose of New York University said. "I do not think this cultural behavior of the average Indian consumer will change even with a substantial increase in the average disposable income in India."
Catching up
The biggest threat to Flipkart comes from Seattle. American e-commerce major Amazon launched its India website in June 2013, more than five years after Flipkart's inception. In less than three years, Jeff Bezos's firm has become Flipkart's primary competitor.
Amazon does not break down most of its metrics by geography. However, the top three e-commerce players in India share the number of items listed on their platforms. By that measure, Amazon has nearly caught up:
Several independent data analytics firms have said that Flipkart is ahead by market share. For instance, in December 2015, Flipkart's app had a 47% marketshare among e-commerce apps in India, according to data mining firm SimilarWeb; Amazon had 15.86% in December 2015, followed by Snapdeal at 13.84%. In February this year, Flipkart became the first Indian mobile app to cross 50 million installs on Android Play Store, a company press release said.
However, some data trends suggest Flipkart might be losing out. In recent months, the number of monthly active users on Flipkart has been "significantly declining," according to New York-based data analytics firm 7Park Data.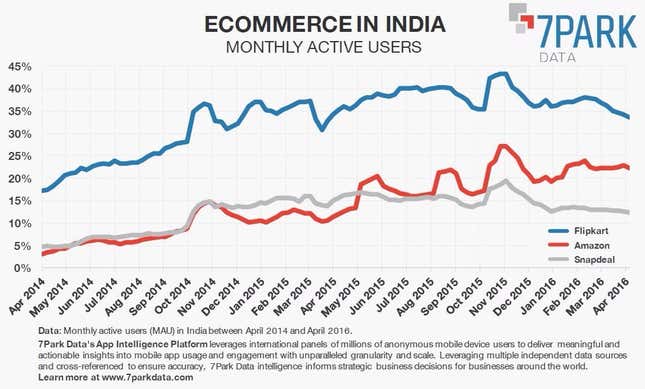 Over the last two years, Flipkart has toyed with the idea of focussing solely on mobilephones. In fact, in May 2014, Myntra shut its website for more than a year and was available only through its mobile app. Flipkart also discontinued access to its website from smartphones for a few months in 2015. The move backfired.
During the time when Flipkart was planning to pursue a mobile-only strategy, Amazon's active user-base roughly doubled, according to Byrne Hobart, lead internet analyst at 7Park Data. "Although Flipkart still maintains a lead (21% of mobile users in India use its app at least once a week, compared to 13% for Amazon), their lead is rapidly shrinking," Hobart added.
Flipkart and Amazon are also neck-to-neck in terms of the average minutes spent by users on their apps each week.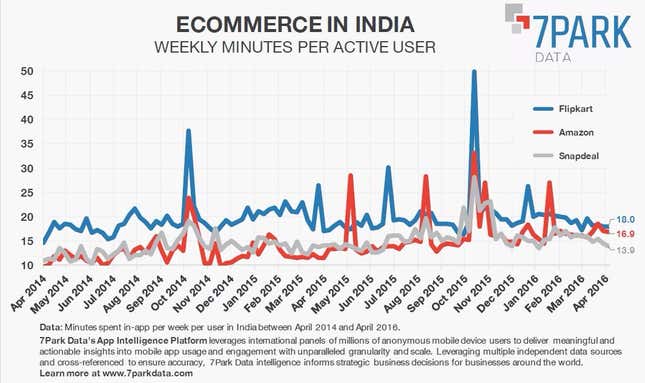 As Quartz wrote earlier, Flipkart isn't the only homegrown e-commerce player in the middle of a crisis. Snapdeal has also been lurching from one problem to another—inability to meet ambitious targets to employee protests. But these problems cannot be swept under the rug anymore because finally, after years of pouring in money, investors have begun asking tough questions of e-commerce companies.
Industry leader Flipkart needs to rethink its strategy if it wants to go down in history as the star of India's online startups.