Within the first two days of his first official trip to India, Apple CEO Tim Cook has managed to experience everything that Indians hold sacred—religion, Bollywood, and cricket.
The 55-years-old Cook kicked off his trip by participating in Hindu rituals at a temple in Mumbai, and concluded the day with a Bollywood party. One his second day, he watched a cricket match in Uttar Pradesh.
Early morning on May 18, Cook offered prayers to Hindu god Ganesha at Mumbai's Siddhivinayak temple. In the two videos shared by the temple, Cook can be seen participating in the hymn recital.
Cook ended his first day in India with a party hosted by Shahrukh Khan at the Bollywood actor's residence in Mumbai. The party was attended by several prominent celebrities from the Hindi film industry, including actors Amitabh Bachchan, Aamir Khan, Madhuri Dixit-Nene and Aishwarya Rai, Oscar-winning music director AR Rahman, and filmmakers Mahesh Bhatt and Farah Khan.
On the evening of his second day in India, Cook was spotted watching an Indian Premier League (IPL) cricket match in Kanpur in the northern Indian state of Uttar Pradesh.
Cook is certainly enjoying himself, but his trip has not been only about fun.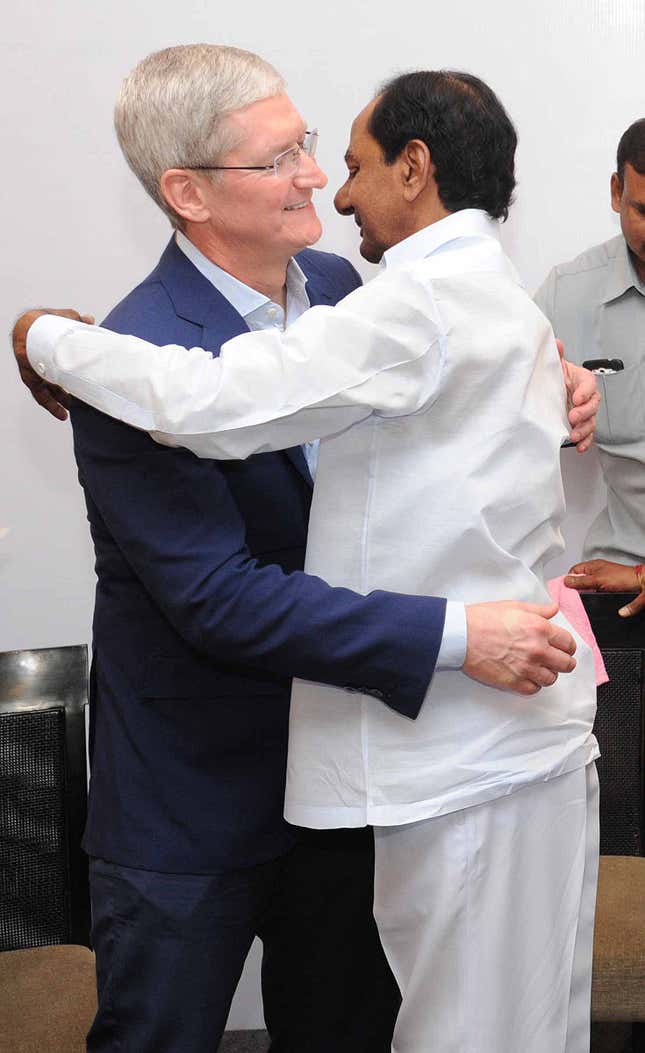 On the first day of his trip, Apple announced the setting of an app design and development accelerator in Bengaluru by early 2017. On the next day, Cook inaugurated Apple's new office in Hyderabad, which will focus on developing maps for Apple products. The company will hire up to 4,000 new employees at this office, Apple said.
The Cupertino-headquartered company has not disclosed details on the kind of investments that it is making into these new centres.
Apple has refused to comment on Cook's India itinerary, but he is expected to meet the Indian prime minister Narendra Modi on May 21.
Hopefully, after all the fun he has had, Cook will make some big bang announcements for the country that's being touted as the next significant market for Apple.