Playing fast and loose pays.
A large number of social media users want Flipkart to reward a man who duped the e-commerce major into running his errands.
Recently, a Quora user revealed that he used Flipkart's cash on delivery (COD) service to get money deposited into his bank account. The COD service allows customers to pay for goods in cash at the time of delivery.
In reply to "what's the laziest thing you've ever done?" on Quora, user Gaurav Singh said he had to deposit Rs3,000 in his bank account but was too lazy to step out of his hostel room. After procrastinating for a couple of days, he ordered shoes worth Rs3,099 from Flipkart, paid the delivery person in cash, and cancelled the order soon after. The refund was soon credited into his bank account.
"The delivery boy came in (the) evening and collected the product. The refund in case of COD is processed by NEFT (national electronic funds transfer) and Flipkart asks the detail of bank account number," Singh wrote. "I entered my bank account details while processing the return. I got my refund next day by NEFT in my bank account. Bingo! Cash deposited in (the) bank account without going there."
According to his Quora profile, Singh is an electrical engineer.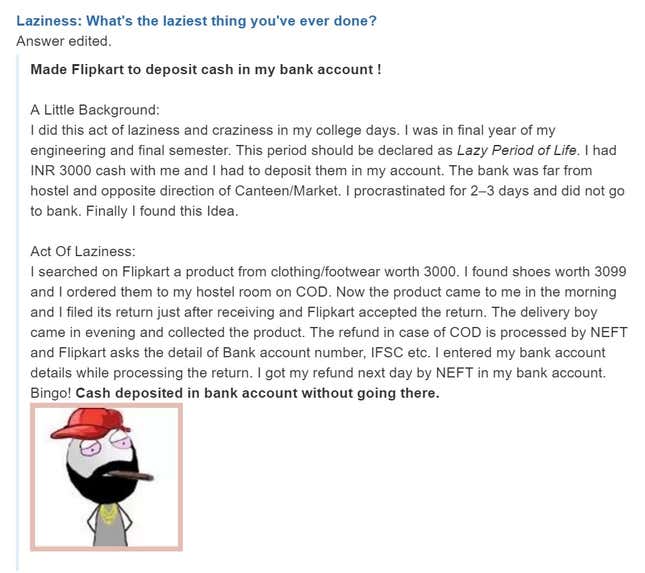 The answer received a massive response with over 28,200 upvotes and more than 300 comments. The writer has now edited his response on Quora.
But Flipkart noticed his answer and on May 24 started a poll on Twitter asking "what should we do with the user in this story?"
The options in the poll are: blacklist him for a day, give him e-gift vouchers for "Jugaad of 2016″ (hack of the year), notifying his parents or revoke his COD rights.
The poll has received over 1,400 votes so far, and 60% of the respondents want the user to be rewarded for his cleverness. Only 19% of the users have voted to revoke the user's COD rights.
Flipkart launched COD in 2011 and it was a major success in a country where the penetration of banking and credit cards remains low. Most e-commerce players in India—including Amazon—now offer COD service.
Until 2014, COD accounted for up to 60% of all e-commerce transactions, according to a study by Internet and Mobile Association of India, and audit firm KPMG.
Even though COD is logistically costly, companies have not been able to do away with it.
The Quora user may have given another reason to e-commerce firms to think beyond COD.