It's a widely-held belief in India that a good monsoon brings with it a drop in food prices.
But a study by brokerage Nomura, which analysed India's food inflation over the last 15 years, found that this correlation may not be accurate.
"It is not empirically evident that below-normal monsoon rains lead to high food price inflation, while normal monsoon rainfall leads to low food price inflation," the brokerage said in report on May 25.
Nomura's report explained that in financial years 2002, 2003, and 2005 food price inflation was less than 5%, despite poor monsoon rains.
However, in 2007, 2009, and 2011—when monsoons were bountiful—food inflation in India was over 8%.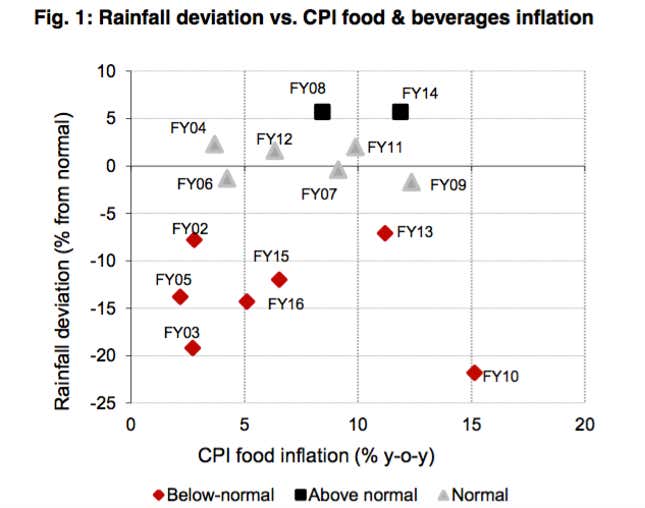 "There is no single category driving food price inflation up (down) in bad (good) monsoon years. Food shocks have hit different food products across different years, irrespective of monsoon performance," Nomura economists Sonal Varma and Neha Saraf wrote.
The real drivers
What, then, drives up food prices? Here's why it happens, according to Nomura:
Minimum support prices (MSP): MSP is the floor price for crops set by the government to hedge against a price drop. An increase in MSP leads to increase in retail prices.
Nominal rural wages: Low rural wages lead to suppressed demand, pulling down food prices. "Periods of low rural wage growth suppress food price inflation from both the demand side (weak rural demand) and supply side (lower input costs)," Nomura explained.
Non-labour agriculture input costs: Costs like electricity, fuel, machinery, and pesticides also increase the total cost of food production. Any movement in these costs influences the final price. "During fiscal years 2010-2014, not only was rural wage growth in double-digits, non-labour agriculture costs also rose an average of 16.2% per annum, adding to the rising cost of food production," the report said.
Global food price trends: According to Nomura, global food prices are one of the factors used by the government to set the MSP for crops. Additionally, to meet rising demand, India sometimes imports items such as pulses and wheat if domestic production doesn't match up. So, any movement in global prices has an impact on domestic food inflation. In fact, a recent UN Environment Programme-Global Footprint Network  report has estimated that the Indian GDP would lose $49 billion if global food prices double in future.
Demand and supply
Research has shown that factors like India's inability to match its farm production with consumption have also played a big role when it comes to food prices in India. A Jan. 2016 working paper (pdf) by the International Monetary Funds explains:
…given the large weight on food in household expenditure, robust real income growth in the recent decade has resulted in substantial demand-side pressures. As supply of key agricultural products did not keep pace with real personal consumption growth, growth in food prices has outpaced non-food prices by about 3.5% since 2006-07.
The importance of food prices to consumers is evident. A major chunk of consumers' monthly expenditure is cornered by food. A rise in monthly expenses leads to drop in savings. These individual-level impacts soon spiral into bigger consequences for the economy such as dampened consumer sentiment and a fall in demand for good and services, among others.
On the policy front, too, food prices are keenly watched. Reserve Bank of India governor Raghuram Rajan has said that the monetary policy decision will depend on how retail inflation moves (pdf). Food inflation is part of the consumer price index (CPI), commonly referred to as retail inflation. In April, retail inflation inched up to 5.4%, largely pushed up by rising food prices.
With the monsoons slated to arrive in a week, the relationship between food prices and rains will be put to test, yet again.