Brexit has singed India's equity markets.
Even before the final numbers were out, India's benchmark Sensex index opened over 700 points or 2.85% lower at 9:20 AM local time. When the trading ended for the day at 3:30 PM, the Sensex closed at 605 points lower, marking a decent recovery.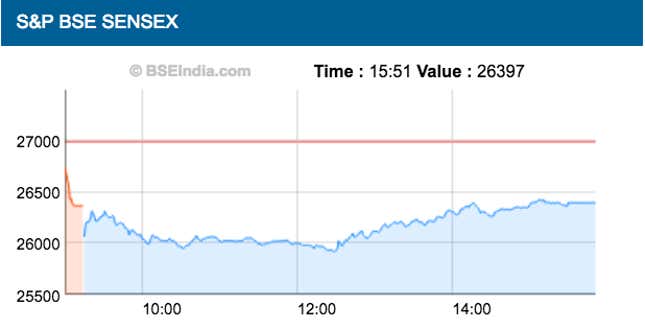 Voters in the UK have decided to leave the European Union by a margin of 52% to 45% ("Leave" versus "Remain" votes.)
As Quartz wrote yesterday, the Sensex fall could be a knee-jerk reaction to global markets. Nevertheless, emerging markets including India, saw a sell-off from investors who are hedging global losses.
The Indian currency was under pressure, too, after the British pound fell more than 10% against the US dollar—lowest since the 1980s. In morning trade, the rupee fell to 68.22 a dollar, the lowest level since March 1. The Reserve Bank of India (RBI) is monitoring the currency movement to keep volatility in check.
The FTSE 100—UK's main stock index—was trading at 4.67% at 11:24 AM GMT, lower than its close on Thursday.
Here's how the day unfolded:
11:00 AM IST: Oil prices have plummeted 6%, from $50.9 a barrel on June 23 to $47.54.
In India, shares of steel-maker Tata Steel fell 8.22%. The firm, UK's biggest steel producer, could see its operations take a hit following Brexit, the Financial Times reported. It is in the process of finding a buyer for its UK operations and may have to now re-strategise.
Meanwhile, Tata Motors's shares are down 55.6 points—11.6% lower—than their previous close. The company owns Jaguar-Land Rover, Britain's largest carmaker, and Brexit means an increase in taxes and duties that will make its cars less competitive to other luxury models from BMW or Mercedes.
11:40 AM IST: India's central bank governor Raghuram Rajan said that the RBI is "prepared for any eventuality" after the Britain voted for Brexit.
Speaking to ET Now, a television channel, Rajan added: "There are concerns from Brexit referendum, see no immediate dire impact on Britain..Have been in touch with Central Banks across the world on Brexit…We are watching all markets both internationally and domestically, where necessary will provide liquidity."
Rajan also said that Indian companies that are invested in the UK will have to "figure out what its' market is and how best to access it." "Immediately, the attractiveness to invest in the UK will be a little more limited," Rajan said.
Finance minister Arun Jaitley said that India is prepared to deal with the Brexit volatility. "Our immediate and medium-term firewalls are solid too in the form of a healthy reserve position," Jaitley said in a statement.
12:30 PM IST: Investors in Indian stocks have lost some Rs4 lakh crore ($58.8 billion) due to the bloodbath in equity markets following Brexit. All the 30 stocks comprising the Sensex index were dropping. Meanwhile, the rupee continues to fall. The British pound lost 11%, strengthening the the US dollar.
1:05 PM IST: David Cameron, prime minister of UK, announced his resignation, saying the UK needed "fresh leadership." The Sensex saw a negligible recovery and was trading at 836 points lower. Meanwhile, in London, the FTSE 100 index opened 7% lower. The fall has erased £122 billion of stock value in the FTSE.
2:30 PM IST: India's benchmark Sensex index recovered from early losses. It was trading 735 points lower, after losing more than 1000 points in the morning. The rupee recovered too from Rs68.22 a dollar and was trading at Rs67.91.
Meanwhile, JLR has said that "Nothing will change" for them and the auto industry overnight, with Brexit. Shares of Tata Motors, JLR's parent company were trading 8.56% lower.
In other news, Arvind Kejriwal, Delhi's chief minister tweeted that a referendum seeking full statehood for India's capital may be on its way.
3:45 PM IST: The Sensex recovered from the day's lows, finally ending at 26,397.71 points, a drop of 2.24%. Analysts say that while Brexit is a cause of concern for India, other macro indicators are currently positive.
"In India, while Brexit is expected to cause a slowing of growth, economic prospects remain relatively sanguine due to the impact of local factors like a strong monsoon, the impact of pay hikes and higher public capex," a report by Nomura said.
Some think the fall in the equity market could be a buying opportunity for investors.
"To our minds, the reaction in the global markets to the UK referendum is an exaggerated one. Any reaction of this sort presents a buying opportunity," Rajeev Shastri, managing director and CEO of Peerless Fund Management, said in an emailed note. "This is especially true for India, since almost every factual development after the vote presents a benefit, whether it's lower oil prices or a slower increase in US interest rates."