Leading news websites in India are taking a stand against readers who use ad blockers.
Starting Thursday (June 30), the websites of India's leading English language newspapers, The Times of India (ToI) and Hindustan Times (HT), will stop readers who use ad blockers from reading their content. At least eight other news outlets, including The Indian Express, The Hindu, Dainik Bhaskar, and Amar Ujala, will follow in their footsteps, Factor Daily reported quoting unnamed sources.
This decision could have a significant impact on news readers, as India has 122 million active users of ad blockers, according to a May 2016 study by PageFair, an anti-ad-blocking solutions provider. India has the second-highest number of people using ad blockers after China (159 million), the report said.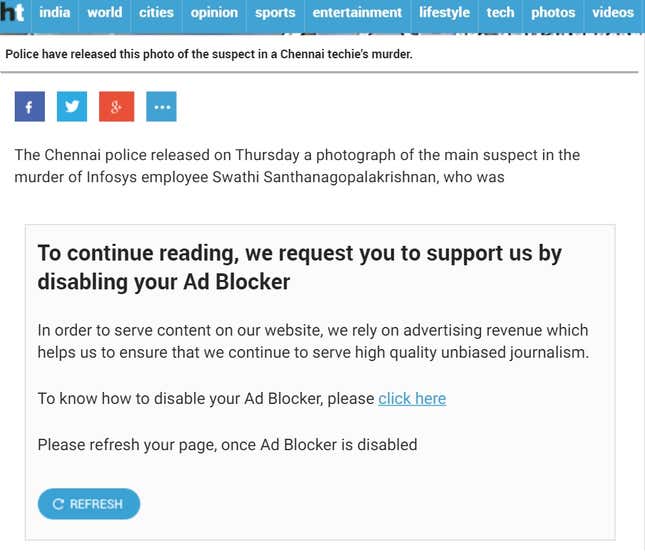 At least 419 million of the 1.9 billion smartphone users in the world use ad blockers, according to PageFair. Ad blockers are more popular in emerging markets where internet access is more expensive and much slower. As many as 36% of smartphone users in the Asia Pacific region use ad blockers on the mobile web, compared to 22% of smartphone users globally, the report said.
Several global websites that depend on advertising as their primary source of income have taken similar action.
Since December 2015, visitors on men's magazine GQ have been getting popups that asked those who use ad blockers to either disable them or pay 50 cents to read an article. Forbes also prevents users with ad blockers from accessing its website.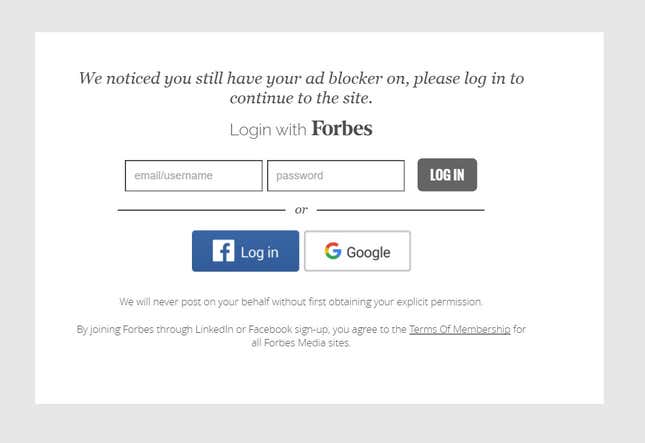 However, those publishers appear to be in a minority. According to some estimates, only 4% of large online publishers have taken "visible action" to stop visitors from using ad blockers.