Aditya Vikram Birla, Mukesh Ambani, and Anil Ambani are household names in India. These tycoons had their fathers—Ghanshyam Das Birla and Dhirubhai Ambani respectively—to thank for establishing the business empires that they lord over today.
In India, over 65% of all listed companies are family-controlled and the children of some of the older businessmen are now stepping into positions of power.
The risk-takers among them are either looking to use their privilege as a springboard into India's hot technology sector or helping the older businesses evolve. Bloomberg profiled a handful of these young tycoons who:
are aged 35 and below
are based in India
maintain a public profile
have fathers with a net worth of over $2 billion.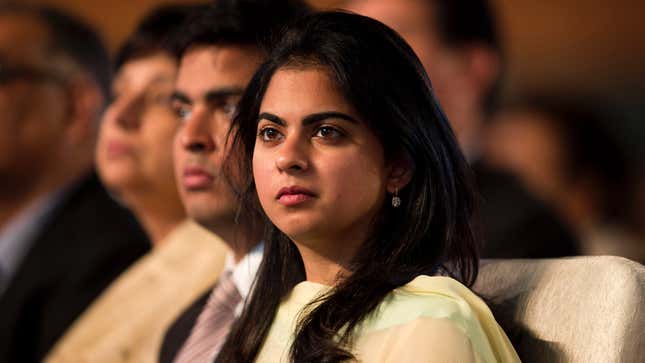 Akash and Isha Ambani, 25
The much-talked about rivalry between the Ambani brothers following their father Dhirubhai's death in 2002 resulted in the older brother, Mukesh, getting the better end of the deal—the father of the twins became India's richest man.
Both Isha and Akash are on their way to lead the $42-billion Reliance Industries, "as the company diversifies beyond energy and refineries into consumer-facing businesses," Bloomberg reported.
The duo, responsible for the conglomerate's infocomm and retail arms, was part of the team that introduced open-office culture at Reliance. Isha, a former McKinsey consultant, also launched Ajio, the company's fashion brand, at the Lakme Fashion Week in April 2016.
Aalok Shanghvi
Shanghvi's father started off as a small-time medical distributor in Kolkata and turned it into India's largest drug company, Sun Pharmaceuticals. Dilip Shanghvi is now the second richest man in the country, with his company generating annual sales of $4.2 billion, according to Bloomberg. Aalok is said to be low-profile, just like his father.
Before joining Sun Pharma as a senior general manager, junior Shanghvi took the entrepreneurial route. The University of Michigan graduate set up a solar panels firm, PV Powertech, installing its units in Europe, Asia, and Africa.
Roshni Nadar Malhotra, 34
Businessman and philanthropist Shiv Nadar's only daughter became the chief executive officer of HCL Enterprise at 28. HCL is a Noida-based information technology services company. The heiress also serves on the board of the Shiv Nadar Foundation, an education-focused non-profit.
As an undergraduate student at Northwestern University, Malhotra majored in radio, television, and film, and interned with CNBC and CNN, Forbes reported. Upon her father's suggestion, she attended business school so that she was better prepared to inherit the family business.
In her downtime, the mother of two enjoys classical music and yoga.
Adar Cyrus Poonawalla, 35
The Poonawallas own two seemingly different businesses: vaccine production and stud farms. Adar Poonawalla has taken over the reigns from his father as CEO of Serum Institute of India and is now heading one of the world's largest vaccine producers, Bloomberg reported. A notable philanthropist, Poonawalla pledged $15 million last year to clean up Pune city in the western Indian state of Maharashtra. He also breeds race horses for a hobby.
Sometime last year, a "Batmobile" with a Maharashtra registration cruised through the streets of Pune, baffling everyone. Poonawalla, who loves customising cars, had modified an S-Class Mercedes for his son after the five-year-old asked if Batman and his Batmobile were real.
It's official, Batman of Gotham lives in Pune, India. Creative and innovative batman car http://t.co/OKYTNt9QQj pic.twitter.com/45TJW5O2ji

— Platfuse (@Platfuse) July 3, 2015
The family also bought a building in south Mumbai that once housed the US consulate, for some Rs750 crore ($113 million)—perhaps the most expensive residential purchase in India.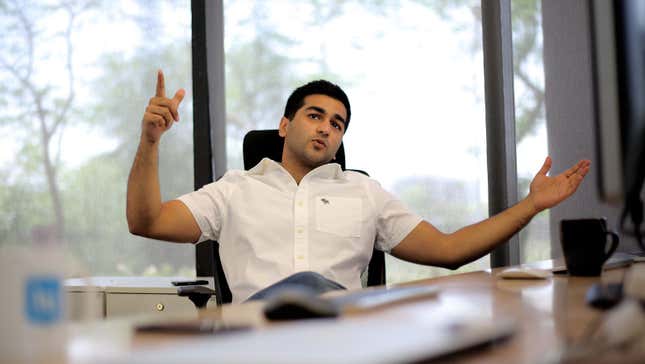 Kavin Bharti Mittal, 28
An engineering graduate from London's Imperial College, Mittal interned with Google and Goldman Sachs before decided against joining Bharti Enterprises, his father Sunil Bharti Mittal's telecom firm—India's biggest.
In 2012, Mittal junior set out to carve his own niche in communications: he launched Hike, a messaging app he described as the "internet's playground in India." In January 2016, the company celebrated hitting the over 100 million app users mark. "We're building a feature where you can tag movies, you can play a trailer and see the poster so that messaging becomes much more contextual," Mittal told Quartz.
In his free time, Mittal enjoys racing cars and flying planes.
Anand Piramal, 31
The scion of the Piramal group joined his father Ajay's flourishing business, but he did not stick to healthcare, glass making, and fund management. Instead, he forayed into realty.
"From the beginning, we were taught the Bhagavad Gita by our parents and the value of detachment. I want to create businesses which do well as well as do good for society," Piramal told Business Standard. "My parents are great believers of sangat, which basically means we have to be in the company of good people to grow in life."
Piramal's strategies are quirky and daring in equal parts. One of his firm's initiatives allows buyers to sell their homes back to the company if they don't like them once they're completed, Bloomberg reported.
Ananyashree Birla, 21
The eldest of Kumar Mangalam Birla's three children, Ananyashree turned entrepreneur even before she could vote or legally drive.
At 17, she started Svatantra Microfin, a microfinance business for rural women, eschewing an opportunity to join her father's gigantic conglomerate. The Aditya Birla Group, named after her grandfather, operates in 40 countries, with 120,000 employees and generates revenues in excess of Rs2.5 lakh crore in 2015.
An Oxford alumnus, the Birla heiress has expanded Svatantra Microfin's reach to 50 branches across India, servicing 80,000 borrowers, with a loan portfolio of about $20 million as of April.
Ananyashree also plays chess and the guitar, and has a particular affection for tattoos.