The end of an epic battle in China may be the beginning of a new one in India.
Uber's decision to sell off its Chinese operations to local rival Didi Chuxing—while also taking a stake in the same company—has sparked speculation over where the ride-hailing industry is headed.
Didi and Uber have been competing fiercely for the last two years, with the latter having invested $2 billion  (Rs13,375 crore) in China. And now suddenly, Uber is Didi's largest shareholder with about one-fifth stake in the Chinese company. This makes them allies of sorts.
The deal has sparked panic in India. Many believe that the country will be Uber's next battleground, making things harder for domestic players.
"Historically, local players like Baidu and Didi have won in China, but that's not the case in India. India is a massive market and is open for foreign players to come and operate. So there is no reason to believe that India will not be a big focus area for Uber, going forward," said Yugal Joshi, practice director at Texas-based management consulting firm Everest Group.
Bengaluru-based Ola could be the worst-hit.
Ola and Uber have been competing neck-to-neck for the last three years. While Ola is still the leader in India, Uber is catching up. Here's how the weekly average users for top ride-hailing startups have grown in recent months, according to data from New York-based 7Park Data: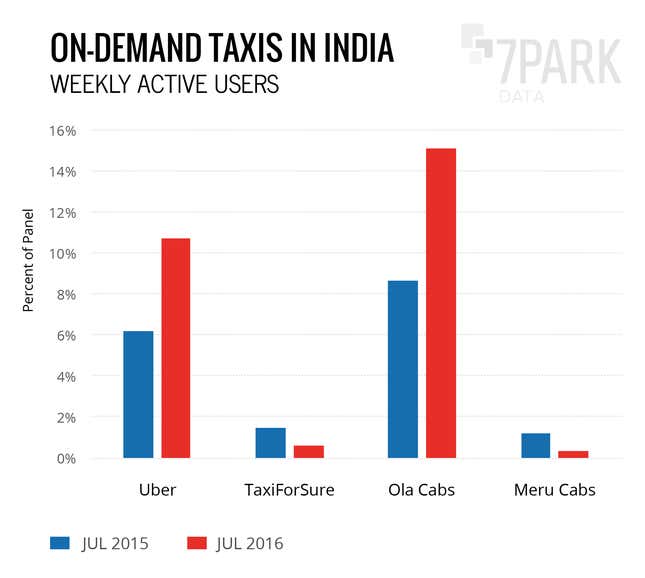 Following are the reasons why, after the Didi deal, Uber could become a greater threat to Ola:
Free to fight in India
Exiting China means Uber can now single-mindedly pursue India, Asia's other big market. "From the perspective of leadership focus, Uber's senior management will not need to spend time thinking about China; and they can spend all their energy on India," Joshi said.
Ben Thompson, founder of tech-research firm Stratechery, said there is a possibility that Didi and Uber have struck a deal to divide the pie. "I am very curious if there are any sort of agreements between Uber and Didi when it comes to other markets. Might Uber have extracted a promise to not compete in the rest of Asia, in exchange for ceding the China market to Didi?" Thompson said.
Uber and Ola did not respond to an email query from Quartz.
Flushed with funds
At a time when startups across the world are struggling with weak investor sentiment, Uber has managed to raise funds by selling its Chinese business. The American company could use these funds for organic or inorganic expansion in any of its other key markets.
A senior Ola executive expressed concern over this to news website The Ken: "Did they (Didi) just give money to our competitor? Did they just hand a war chest to Uber to beat us in India?"
In any case, since the $66-billion company does not need to plough in money into China anymore, it will have more capital for India.
Uber has committed investment of over $1 billion in India, while rival Ola has raised a total of around $1.2 billion, according to startup database Crunchbase.
Investor in investor
Ola may have just realised that it's a small world.
In November 2015, it raised $500 million in a series F funding round from a clutch of investors, including Didi. Following last week's deal, Uber is now Didi's largest shareholder.
So, now, Uber is an investor in one of Ola's investors.
Calling it a "perverse investor relation," Everest's Joshi said it would be interesting to see how this plays out.
Here are the investor structures of the world's top-five ride-hailing companies, according to New York-based research firm CB Insights: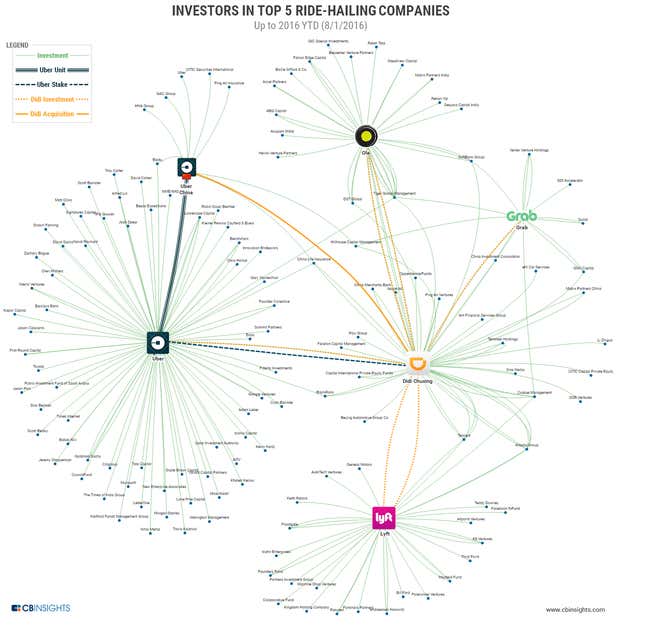 Uber joins the anti-Uber alliance
With their rivalry dissipating suddenly, what happens to Didi's grand strategy to counter Uber?
For, by becoming a Didi shareholder, Uber has become part of the anti-Uber alliance that Didi had forged with its other competitors.
In December 2015, four of Uber's prominent rivals in the US and Asia—Lyft, Ola, Didi, and Grab—entered into a partnership. This alliance allowed users to book cabs from each other's apps in all the regions they operate in: Ola in India, Didi in China, Lyft in the US, and Grab across southeast Asian countries such as Malaysia, Singapore, Indonesia, Philippines, Vietnam, and Thailand.
Such an arrangement was expected to help Ola offer a multi-country experience to its users without really investing in new markets. However, the changed Uber-Didi dynamics defeat the very purpose of this alliance.
It also raises concerns for Ola, which may have shared data with Didi as part of the partnership, The Ken reported.
Hailing a cab in India has never before been this interesting.