Indian cities are expanding. And how.
By 2030, the economies of top five Indian cities will each grow to equal the current sizes of middle-income economies, a report by the McKinsey Global Institute (MGI) says. For instance, Mumbai's economy will be bigger than the current size of Malaysia's, according to the report titled India's Ascent: Five Opportunities for Growth and Transformation. 
Other cities such as Delhi, Ahmedabad, Hyderabad, and Bengaluru, will become as big as today's economies of the Philippines, Vietnam, Morocco, and Slovakia respectively. Mumbai's consumption market will be worth $245 billion by 2030 while those of the other cities would be in the range of $80 billion to $175 billion, McKinsey added.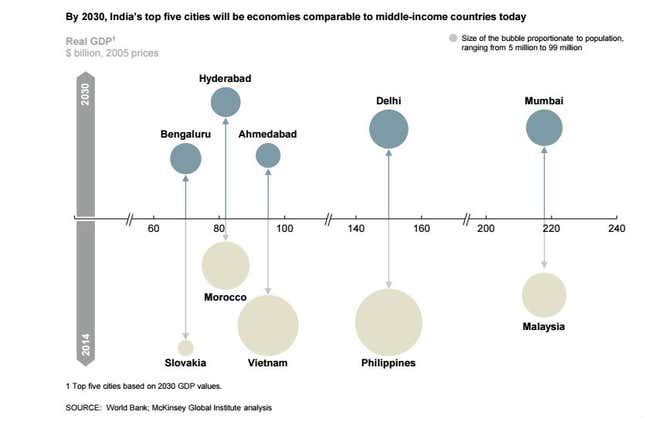 The main reasons for this phenomenal growth will be improved infrastructure, services, healthcare, and education.
"These cities will be magnets for investment and job creation. About 77% of India's economic growth from 2012 to 2025 will come from 49 clusters of districts with metropolitan cities at their nucleus," the report said.
They also provide economies of scale to anyone who wants to set up a new business, explained Anu Madgavkar, a partner at MGI and one of the authors of the report.
"The expansion is in line with the overall trend in urbanisation. Large cities are getting larger. There's more economic activity happening in the hinterland which is contributing to their urbanisation. A lot of organic growth is happening," Madgavkar said.
While top Indian metros are growing, she said, tier II cities such as Pune, Surat, Indore, and Vishakhapatnam aren't far behind either.