The Indian Space Research Organisation (ISRO) set at least two new records on Sept. 26.
At 9:12 am (local time), India's NASA equivalent launched a Polar Satellite Launch Vehicle (PSLV) from a space centre in the state of Andhra Pradesh, carrying eight new satellites—three each from India and Algeria and one each from the US and Canada. This is the PSLV's first multi-orbital launch, ISRO said in a statement, which means it will inject satellites into two separate orbits.
"This is a challenging two-in-one mission which puts India in a unique league of nations having the capability to achieve two different orbits in a single mission," ISRO chairman A S Kiran Kumar told NDTV. The space agency used the "multiple burn technology" for this, wherein the PSLV engines shut down for a while and restart again.
This was also the PSLV's longest flight, the Press Trust of India reported. It is estimated to complete in two hours and 15 minutes. The total weight of all the eight satellites onboard was about 675 kg, ISRO said.
Launched from the Satish Dhawan Space Centre at Sriharikota, Andhra Pradesh, the PSLV carried India's SCATSAT-1 that will provide data for weather forecasting and cyclone detection and tracking. Its mission life is five years.
The other two Indian satellites are Pratham and PiSat which have been developed by Indian colleges. Pratham was built over a period of nine years by students of the Indian Institute of Technology, Bombay, and will be operational for four months. It weighs around 10 kg and can be used to detect tsunamis, among other things. PiSat was developed by the PES Institute of Technology, Bengaluru, and is a remote sensing nanosatellite. A nanosatellite is one that weighs between one and 10 kilograms.
The SCATSAT-1 will be placed at an altitude of 730 kilometers, while the other seven were placed at a height of 689 kilometers.
Two of the three Algerian satellites are for remote sensing, while the third one is a technology demonstration nanosatellite for the students of that country. The American payload is a commercial high-resolution imaging satellite, and the Candian one is another nanosatellite that will help with experiments in reducing space debris and tracking commercial aircraft.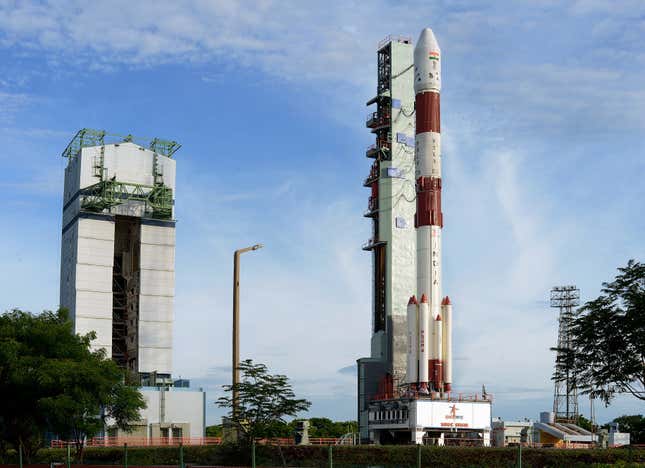 This is not the first time that ISRO has launched multiple satellites simultaneously. In June this year, it successfully placed 20 satellites in orbits in one go.
ISRO has so far launched 79 foreign satellites from over 20 countries. The organisation is scheduled to launch two more next month, and is now targeting the "magical number" of 100, a senior ISRO official told IANS.