The world's largest professional network has big plans for India.
Since its launch in 2009, LinkedIn has grown tremendously in the country, jumping from 3.4 million users in November that year to 37 million today. That makes India its second-largest market outside the US and one of the fastest-growing in the world.
While it was first perceived as just another social network, LinkedIn, founded in 2002, is now increasingly becoming the main source of jobs for freshers, business news, and education. It is now pushing for even more growth.
On Sept. 12, the company launched three products designed especially for Asia's third-largest economy: a jobs platform for fresh engineering graduates, a services pack for startups, and a "lite" version of its website that can work on slow internet speeds.
For Akshay Kothari, LinkedIn India head and chief product officer, the next few years are going to be "extremely exciting."
Over a 40-minute telephone interview with Quartz last month, the 30-year-old Stanford graduate explained the rationale behind LinkedIn India's new products and the opportunity he sees in the country.
Here are the edited excerpts:
LinkedIn's new offerings show that you want to make your presence felt in India. How important is this geography for you?
India has always been important. We started our first office in Asia-Pacific in 2009 in India. From 2012, we started to invest in our research and development (R&D), and set up the first R&D centre outside the US in India. And for the last three years, there's some amazing work done by the India team in terms of building platforms that are leveraged globally. All of the work that we do in terms of email infrastructure, spam detection, (and) search, for example, happens in the Bengaluru office.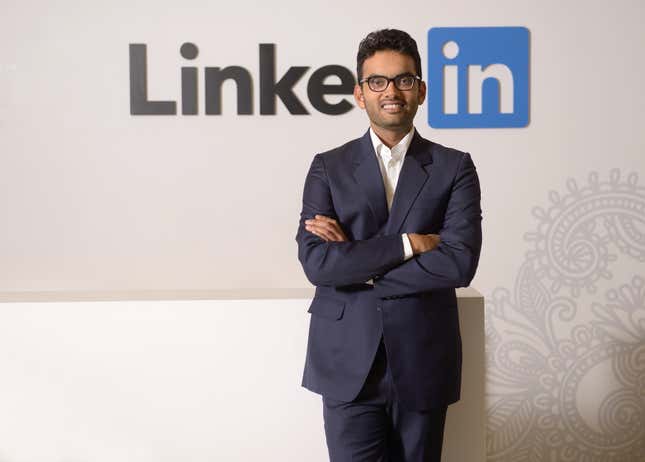 What does LinkedIn want to become in India? What's your target market?
Our target market, at least for the foreseeable future, is knowledge professionals. We are not trying to get 1.2 billion Indians on the platform—although we would love to. India is an unusually young market. We are increasingly investing more and more time in the 26-27-year-old demographic. On a weekly basis, a good chunk of our sign-ups is coming from college students. We are starting to have an impact there with more entry-level jobs, more content for these entry-level candidates. 
The jobs platform that you've launched is specifically for engineers. Any reason for that?
One of the things we noticed—we actually spent a lot of time in the field and questioned, went to colleges—is that India produces something like 8-10 million graduates every year. There are about 1.5 million engineers graduating every year. If you go to some of the tier II and III towns, there was very little awareness about jobs that exist in the country. People didn't know about the best jobs that exist in Bengaluru or Delhi. Most of these companies don't go to these towns to hire. They probably cherry-pick the top 50 colleges and kind of forget the rest.
What we also noticed was that for most colleges there were at least a couple of people who were quite brilliant. They were self-learned, and, regardless of the college and the location, they had figured out a way to be strong in their fields. So we wanted to figure out a way to level the playing field and provide a democratised opportunity in a way where it shouldn't matter if you went to the IITs or you went to some college that nobody's heard of.
Are you in competition with job portals like Naukri and Monster?
Holistically, we are differentiated well enough. For instance, we don't call ourselves a jobs board. We are not here to focus on helping you find the next gig. We are here to up-skill the employees. We are taking a very focused view of professionals. 
You have launched a product for startups too, how does that fit into your goals?
What we see in startups—especially the sub-50 people startups—is that they don't have a defined roles. Basically, the founders do the hiring, marketing, and manage a lot of the chaos. What we have done is we've taken our premium recruiting, learning and marketing solutions and put them into a single package at a discounted price.
It is like LinkedIn in a box, where it helps you grow your business with a single package.
Will we see more such products for India in the future? 
If we weren't serious about it (the Indian market), then I wouldn't have taken this job. India is a strategic market. It is one of the fastest growing markets for LinkedIn, so the next few months and years are very exciting for us.