Apple fans in India have the option to not queue up at stores to lay their hands on the much-awaited iPhone 7 and iPhone 7 plus.
In a first-of-its-kind move, Apple has partnered with Flipkart to sell its latest smartphones in the country.
These will be sold on the portal from Oct. 07, while consumers can pre-order them from midnight on Sept. 29, Flipkart said in a statement on Sept. 28.
This is the first time that Apple will be selling through a consumer-facing e-commerce company in India. Till now, Infibeam was its only online retail partner in the country, but the website is known more as a bulk seller than a consumer-facing one.
Bengaluru-based Flipkart has even created a microsite on its portal announcing the launch.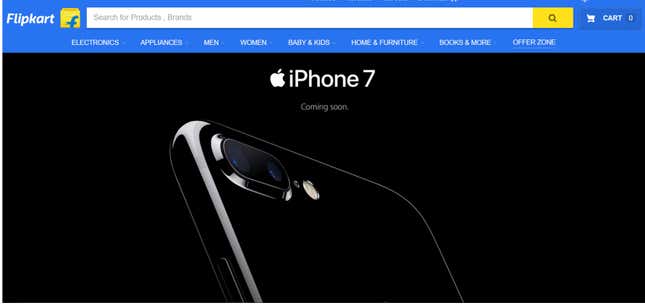 In India, prices for the iPhone 7 range between Rs60,000 and Rs80,000. The iPhone 7 plus will be priced between Rs72,000 and Rs92,000 in the country.
The arrangement between Apple and Flipkart is a win-win for both the companies as the former has been looking to expand its India footprint while the latter is eyeing growth amid weak investor sentiment.
India, the world's second-largest smartphone market, has emerged as a ray of hope for Apple which is facing a slump in its other key markets.
In April, Apple said it saw a 12% year-on-year decline in revenue for the fiscal second quarter—the first time the company's quarterly sales fell since 2003. During the quarter, its revenue from China, its second-largest market, fell for the first time ever.
However, its India sales rose by a whopping 56%, albeit on a small base. "I view India as where China was maybe 7-to-10 years ago," CEO Tim Cook had said.
As of now, Apple holds only around 2% market share in India. Over the last few months, it has invested in several initiatives in India such as setting up an app and design centre in Bengaluru.
Cook himself visit the country for the first time.
Soon after his visit, which included a meeting with prime minister Narendra Modi, the Indian government relaxed some of its foreign investment rules that would allow companies like Apple to open direct retail stores in Asia's third-largest economy. But there has been no update as yet on this front from the company.
Flipkart, on the other hand, is facing tough times as it has been devalued by several investors this year. It is also reportedly struggling to raise funds at its desired valuations.