Residents of India's metropolises are no strangers to air pollution but New Delhi's toxic haze has, worryingly, raised the bar for concern.
While locals in cities such as Mumbai and Bengaluru woke up to relatively clear skies, a ghastly smog has shrouded the national capital for over a week, turning it into a "gas chamber," and showing no sign of dissipating. By 11am, Delhi's air quality index (AQI) was at 724, already far beyond the "hazardous" level of 300, according to data from the US embassy's real-time pollution monitoring system. For comparison, the healthy limit is 50.
Although that limit remains somewhat of a pipe dream for most Indian metropolises, a comparison of the AQI data of cities shows that Delhi's pollution, as on Nov. 07, is on another level:
And here's the reality in pictures taken by Quartz writers in various cities in India over the last 24 hours: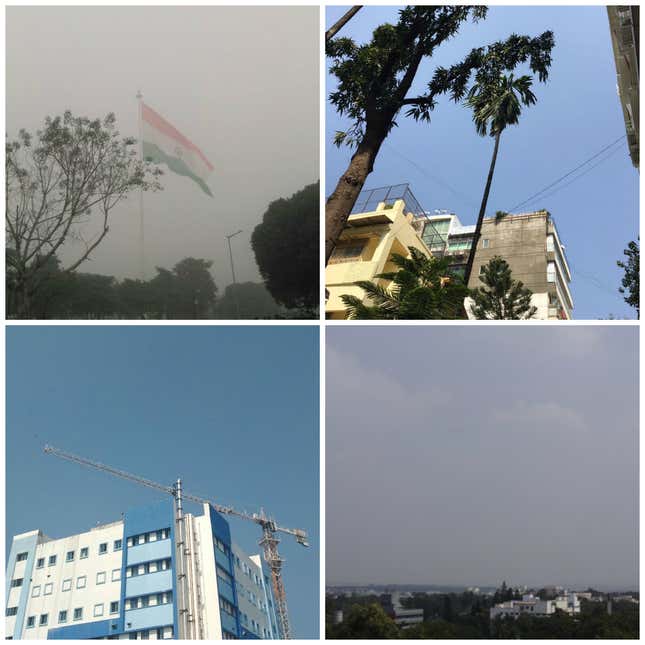 For long, Delhi has struggled with air pollution, primarily caused by the nearly nine million vehicles that clog its roads every day. However, the situation has reached crisis levels of late due to a complex mix of factors, including increased chemical residue blowing in from neighbouring states where, around this time of the year, farmers set fire to straw in huge quantities. With no winds blowing over Delhi currently, the particulate matter that have collected in the city's air due to such mass farm fires are not getting dispersed.
The Delhi government is scrambling to provide respite, clamping down on construction and the use of diesel-powered electricity generators. It is sprinkling the roads with water to reduce dust pollution and also mulling a return to the "odd-even" system that allows vehicles with even and odd numbers to ply only on alternate days.
However, the odd-even policy's mixed results in the past, along with the lingering smog, suggest that Delhi, like the rest of India, may need better and more radical ideas to just breathe easy.