India has queued up. But not its Silicon Valley.
Even as millions spent hours in long lines outside banks and ATMs in various parts of the country, Bengaluru's young, urban residents have largely been unaffected.
On Nov. 08 midnight, the Indian government decided to discontinue Rs500 and Rs1,000 notes. This has unleashed a frenzy fueled by a liquidity crunch since the two denominations make for 86% of the money in circulation by value.
Around 50 people, including housewives and the elderly, have reportedly died due to various causes linked to the decision to demonetise. Some of them are said to have killed themselves out of desperation. The limit on withdrawals and exchange of currency has also put patients in a quandary, unable to pay for medical treatment. Families that had planned weddings or other such social events and rural Indians with no access to banks have all borne the brunt.
Bengaluru is a world away for most.
Many young, educated city residents that Quartz spoke to have not bothered to visit a bank even over a week since prime minister Narendra Modi's sudden announcement. They have no plans to do so in the coming days either.
"I hate queues, there's no way I am standing in one. And what do I need cash for anyway?" asked Niti Shree, a freelance marketing consultant for startups. "I do all my transactions online. Even on a regular day, I have just Rs100-200 in my purse. So I did not even have any cash that I needed to go and exchange at a bank."
Shree has had just Rs100 with her since Nov. 10, but that hasn't stopped her from going about her routine. In the last week, she has bought groceries, traveled around the city, and even called in meals.
"I had some guests staying at my place last week. I took them around the city in Ola cabs and paid using their wallet, which is what I usually use. On a couple of evenings, I ordered dinner from outside through (food ordering app) Swiggy, and like every week, I got groceries delivered from BigBasket," Shree said.
The government's decision has come as a boon for digital payment companies in India. Consumers are increasingly dependent on online payments. In the 15 hours that followed the demonetisation announcement, ride-hailing startup Ola saw a 15-time increase in recharge volumes on its e-wallet, Ola Money. Noida-based Paytm, too, witnessed huge spikes in traffic and transaction value in the hours following Modi's decision.
For Joceline Joy, a 32-year-old startup employee, the ban was initially a major cause of worry as she was hosting her daughter's birthday party on Nov. 12. With around 40 guests expected, she had a long list of things left for the last minute. But Joy managed the entire event absolutely cash-free.
"We bought the return gifts at a store that accepted cards, the bill for the party venue was also settled through credit card, and many of our guests used Ola or Uber to make it for the party," Joy said.
When asked what the currency ban had changed for him, 34-year-old MNC employee Abhi Bajaj said: "Absolutely nothing."
Unlike Shree and Joy, Bajaj did not go completely cashless, though. On Nov. 09, he withdrew some cash from an ATM and had around Rs1,700 by the end of the day. Of that, he still has Rs500 left, despite commuting to work every day, eating out over the weekend, and getting take away food from restaurants.
"I heard about people in Delhi and some other cities being really worried. Maybe, it's a cultural thing. Bengaluru has always been more tech-savvy compared to other cities, so the options to survive without having cash are more easily available here than elsewhere," Bajaj said.
Cultural thing?
India's Silicon Valley, Bengaluru, is home to the local offices of several multinational technology majors such as Microsoft, Amazon, and IBM. The southern Indian city houses nearly 30% of the country's technology startups and was ranked 15th in a list of the world's top startup ecosystems.
The heavy presence of the IT sector, along with a history of other tech-based industries and a huge number of educational institutions has ensured that a good section of the city's young and cosmopolitan population has some kind of exposure to the latest in consumer technologies.
In most cases, Bengaluru pioneers such innovations which go on to be launched across the country. For example, in March, Amazon launched its local grocery delivery service, KiranaNow, exclusively in Bengaluru. Similarly, earlier this year, ride-hailing startup Ola launched its bike-taxi service as a pilot project only in Bengaluru. The service was later discontinued, though.
In fact, several companies here support their employees in going cashless even on a regular day. For the last year, India's second-largest IT company, Infosys, has been offering its employees an option to go cashless at its 80-acre campus in Bengaluru. Over 25,000 employees of Infosys work from this facility.
"We had launched smartcards last year, which can be recharged online and used at all the food courts and cafeterias on the campus. We even have a grocery store that accepts these smart cards," an Infosys spokesperson said. "We have seen a drastic increase in transactions through smart cards over the last week."
It's the same at the offices of e-commerce major Flipkart. The company's employees are given Sodexo cards that can be used at food stalls and cafeterias inside the office premises. "For almost a week now, many of our colleagues have gone completely cash-free," a Flipkart spokesperson said.
To adapt or not?
For two days following the government order, Raju Pujara had a tough time. He lost almost 90% of the business at his small store outside an office complex at HSR Layout in southeast Bengaluru where he sells cigarettes, tea and coffee, cold drinks, and snacks. "Even if people had cash, they were hoarding it as no one knew how long the crunch will last," Pujara said in Hindi.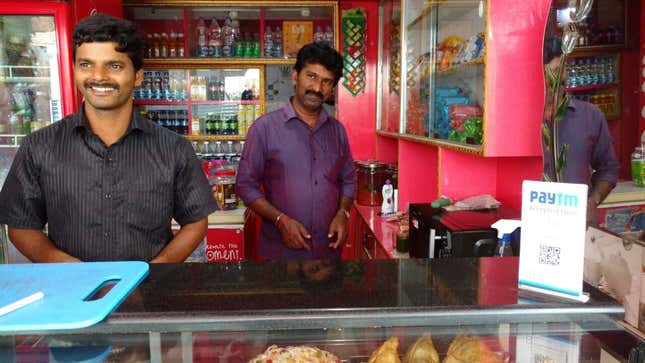 On the third day, the 32-year-old called for a representative from Paytm to visit his shop and install the digital wallet on his smartphone. He spent about an hour learning how it works and for the last week, almost 80% of his business has occured through Paytm.
However, not everyone is savvy like Pujara.
Ask Sayed Arif about his business post-demonetisation and the 69-year-old autorickshaw driver sets off on a passionate rant: "What black money is Modi talking about? The rich people who have black money are still sleeping peacefully in their bungalows, but my family will soon be sleeping on the streets."
On a regular day, Arif earns around Rs1,000. However, over the last week, he has collected only between Rs200 and Rs300 each day as passengers shift to cash-free options like Ola and Uber.
Arif strongly resists an offer to help him tie up with one of these services: "I am an independent businessman, I don't want to drive according to what a mobile app tells me."