For the first time since December 2015, manufacturing activity in India is contracting.
The Nikkei India Manufacturing Purchasing Managers Index (PMI), an indicator of growth in the sector, has fallen below the 50 mark in December 2016, according to data released on Jan. 02. An index level of less than 50 indicates contraction.
The PMI fell to 49.6 in December, from 52.3 in November 2016.
The main reason for this is the demonetisation of the Rs500 and Rs1,000 currency notes by prime minister Narendra Modi's government, leading to an acute cash crunch in Asia's third-largest economy. Small businesses, in particular, have been hit hard.
"Shortages of money in the economy steered output and new orders in the wrong direction, thereby interrupting a continuous sequence of growth that had been seen throughout 2016. Cash flow issues among firms also led to reductions in purchasing activity and employment," Pollyanna De Lima, economist at IHS Markit, which jointly develops the PMI with Nikkei, said in a press note.
Here's how the PMI has performed in the recent past: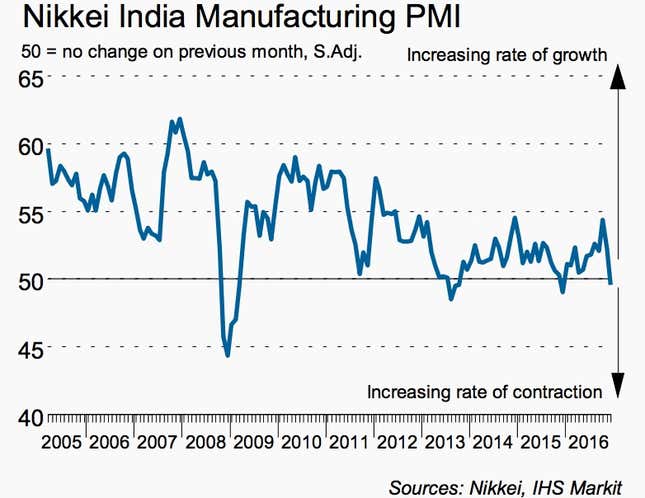 A shrinking manufacturing sector isn't good news for Modi's ambitious plans, including the flagship Make in India programme which seeks to turn India into a manufacturing powerhouse and create millions of jobs in the process.
Nonetheless, the contraction could be temporary in nature, which means the PMI measure for January would be critical. "With the window for exchanging notes having closed at the end of December, January data will be key in showing whether the sector will see a quick rebound," De Lima said.