The appointment of a new CEO at Flipkart has anguished many Indian entrepreneurs.
On Jan. 09, the Bengaluru-based company put 44-year-old Kalyan Krishnamurthy at its helm, making him the only non-founder CEO at an Indian tech unicorn. Co-founders and former CEOs, Sachin Bansal and Binny Bansal (no relation), have been moved away from day-to-day operations.
While non-founder CEOs are pretty common in Silicon Valley—some of the world's largest tech firms like Google and Cisco brought in outside leaders early on in the companies' lives—they are a rarity among even the older Indian tech behemoths.
Hence, Flipkart's move has evoked emotional reactions. Some feel the Bansals' pain while others are irked at the appointment of a former investor as CEO. The outcry also reflects a fear that this may become a trend.
Sad day?
In a Facebook post, Shradha Sharma, founder of news portal YourStory, said she was "personally disheartened" by the development.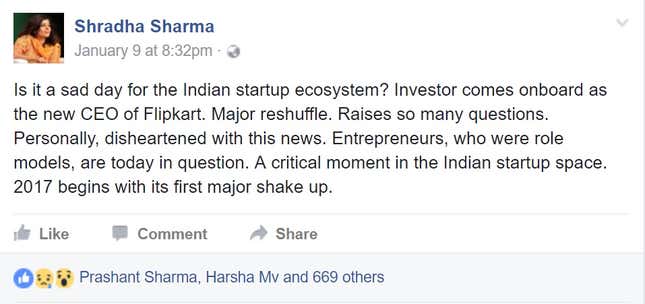 Sharma did not respond to an email query, but her outcry seemed to spring from the fact that the Flipkart founders' success has been an inspiration for a generation of Indian entrepreneurs.
The alumni of the prestigious Indian Institute of Technology, Delhi, Sachin and Binny Bansal launched Flipkart in 2007 from the former's bedroom. Starting off as just an online book retailer, Flipkart is now India's largest homegrown e-commerce company. In 2015, the two entrepreneurs debuted on Forbes India Rich List at number 86 with a net worth of $1.3 billion each. Last year, they were named among Time magazine's 100 most influential people in the world.
"Building a business even 1/1,000 of Flipkart needs tonnes of hard work and smart work. I bow to them (Flipkart co-founders). They did inspire many and will continue to do so in future as well," an unnamed Bengaluru-based angel investor told news portal e27.
The new CEO
Many are particularly upset over the choice of Krishnamurthy, a former senior executive with Flipkart's largest investor, Tiger Global.
Krishnamurthy had a close association with Flipkart during his days as an investor at Tiger Global. In 2013, when he was still finance director (for portfolio companies) at Tiger Global, he served as interim CFO at Flipkart for around 18 months.
"No one is against hiring external CEOs. Hiring an external CEO who is an investor in the company does not and should not be accepted," said Prashant Sharma, a former entrepreneur who currently works with a Bengaluru startup.
Shilpi Mahajan, founder of US-based storytelling startup, Fablefy, cited examples of successful founder-CEOs like Amazon's Jeff Bezos and Apple's Steve Jobs to say that "entrepreneurs can stay CEOs through the entire growth cycle of the company."
"Investors as CEOs should be the last resort. Investors play a different role and have different skills. Their skill is clearly not running a company but being that outsider who can maintain the distance from the wall and yet see enough to know when the wall is faltering," Mahajan said.
This anguish might indicate the Indian entrepreneurs' fear of external CEOs becoming a norm at Indian startups.
"Global investors who have bet on India will now take a cue from Flipkart and bringing CEOs from outside may well become a trend in 2017. That's the reason for this outcry," said Sanchit Vir Gogia, chief analyst at Delhi-based Greyhound Research. "The Indian startup ecosystem is not used to separating founders from execution experts."
The need of the hour is to learn a lesson from Flipkart, said Mahesh Murthy, co-founder of investment firm Seedfund.