In times of crisis, there's one thing India can't bank on: the internet.
Over the last four years, the Indian government has shut down the internet at least 62 times, according to data released by the New Delhi-based Software Freedom Law Center earlier this week. The organization of lawyers, policy analysts, technologists, and students has been established to protect digital freedom. It launched the website internetshutdowns.in to keep a log of instances of "blanket bans on internet services, either mobile or fixed line." The tracker includes details on the causes and durations of the shutdowns.
Access to internet, cited as a basic human right by the United Nations, is often stifled in countries with authoritarian or unstable regimes, such as Turkey, Gabon, Ethiopia, and the Gambia, to curb freedom of speech and expression. The recent project aims to highlight that the practice is not uncommon in India's democracy either. Especially in times of political unrest—controversial elections, sexual harassment cases, escalating communal tensions—the government stifles online freedom.
With 30 shutdowns in 2016 alone—more than double the disruptions in 2015—last year was the worst yet. In the first month of 2017, four internet shutdowns had already been recorded.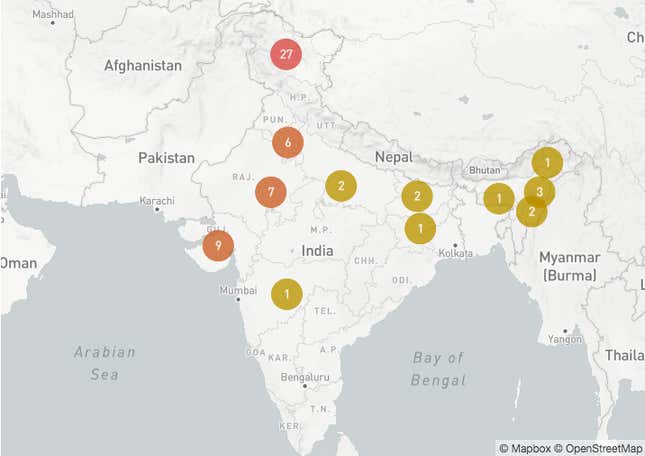 Unsurprisingly, the conflict-ridden state of Jammu & Kashmir experienced the most internet cuts in the country, accounting for 27 shutdowns. In a worrying normalization of censored internet access, a number of the suppressed connections in the valley were labeled "standard security protocol" ahead of national holidays like Independence Day and Republic Day or religious festivals like Eid. In 2014, political leaders were blocked from addressing a UN Human Rights Council event in Geneva.
Other bans in J&K—ones that lasted for days—were levied in light of contentious political issues like the execution of Afzal Guru, the Kashmiri separatist who was convicted in the 2001 parliament attack, and the killing of Burhan Wani, the poster-boy of the gun-wielding Hizbul Mujahideen militants.
These restrictive practices don't just hamper civil liberties, but also hinder economic prospects. In fact, internet shutdowns cost India $968 million from mid-2015 to mid-2016, according to a Brookings Institution report.
"As the pace of shutdowns increases, the costs will mount, particularly given the new emphasis on transactions by Internet payment systems linked to Aadhaar," Mishi Choudhary, president and legal director at SFLC.in, told the Times of India. Of the 62 reported incidents, 44 targeted mobile internet services. India's push toward a cashless digital economy will be stalled in the absence of internet connections. Many citizens are also reliant on their mobile phone data to earn an education, run businesses, or stay in touch with family.
While it's likely that the internetshutdowns.in website does not have comprehensive accounts of all internet disruptions, it is a starting point. Going forward, the service is hoping for more citizen participation and allowing people to send updates about internet shutdowns in their areas.