Srinivas Kuchibhotla was barely two weeks away from celebrating his 33rd birthday when tragedy struck.
An aviation engineer with GPS maker Garmin, Kuchibhotla and his friend Alok Madasani were having beer at a bar in Olathe, Kansas, when they were attacked by 51-year-old Adam Purinton. A White House spokesperson on Feb. 28 said the incident appeared to be "an act of racially motivated hatred" and went on to condemn it.
Kuchibhotla was the second native Telugu speaker to be shot dead in a month in the US, news agency IANS reported. On Feb. 10, Vamshi Reddy Mamidala was killed in Milpitas, California, in the garage of his apartment building. The 27-year-old died when the assailant opened fire while fleeing after robbing a woman.
These recent murders have shocked the three-million-strong Indian diaspora, particularly the 250,000 Telugu speakers (2015), in the US.
Twelve Telugus were killed in the past three years alone. The community to which Kuchibhotla and Mamidala belonged has been sending a large number of students from India to the US for nearly three decades, but is now a worried lot.
"Unfortunately, there is no magic formula to prevent (these attacks)," Parmesh Bheemreddy, president-elect of the American Telugu Association (ATA) in the US, told Quartz. "I doubt we can prevent (such attacks), but we should try not to expose ourselves to those circumstances where we will be vulnerable."
From AP to US
Telugu is a language spoken in the Andhra Pradesh and Telangana states, till 2014 a single unit along the eastern coast of peninsular India. A classical language, Telugu speakers account for 7% of India's 1.25 billion population.
Kuchibhotla's family is from Machilipatnam, a coastal town in Andhra Pradesh. After studying engineering at the Jawaharlal Nehru Technical University in Hyderabad, Kuchibhotla moved to the US in 2005 to pursue his masters degree at the University of Texas.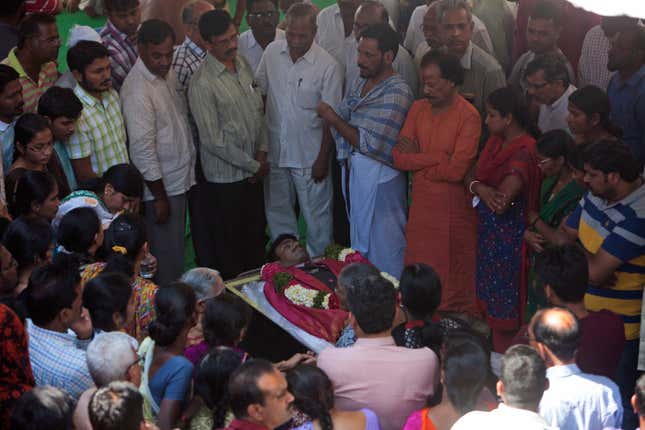 Perhaps, his decision followed years of social conditioning in Andhra Pradesh and Telangana that encourages youngsters to chase the American dream.
Between 2008 and 2012, the city of Hyderabad, the common capital of the two states, sent over 26,000 students to the US, most pursuing science, technology, engineering, or mathematics (STEM) degrees, a Brookings Institution report (pdf) says. "Hyderabad, India, sent the largest number of STEM students (20,800) to the United States and ranked fourth for the percentage of its students pursuing a STEM degree (80%) during the 2008-2012 period," the report says. "Notably, 91% of students from Hyderabad are studying for a master's degree, versus only 4% for a bachelor's degree."
The lure of an American education and job is quite evident across the two states.
For instance, the number of foreign education counselors here is on the rise. So is the number of visa applications. In fact, the US consulate in Hyderabad gives out the highest number of student visas—27,000 in 2014-15—in India and the fifth-highest globally. Moreover, it also plans to expand its capacity to serve more people.

Such is the craze for that "American job" that Telugus even have places of worship dedicated to this. Hyderabad's Chilkur Balaji Temple, also called the "visa temple," is popular among visa applicants. Starry-eyed youngsters circumambulate the deity here 11 times and offer coconuts, seeking the intervention of lord Balaji, a version of the Hindu god Vishnu, to get visas cleared.
Telugu boom
The community's American love affair took wings in the 1980s when a large number of doctors from the region began migrating to the US. In the 1990s, the tech sector presented similar opportunities as local talent was scarce. This migration was dubbed the "Telugu boom."
"I think it can be attributed to the demonstration effect," S Irudaya Rajan, an expert on migration and a professor at the Thiruvananthapuram-based Centre for Development Studies (CDS), said. "In the early 1990s and after, there was a large number of people from the Telugu community who began moving to the US to work in the technology sector. Seeing their success, other parents also wanted their children to move to the US."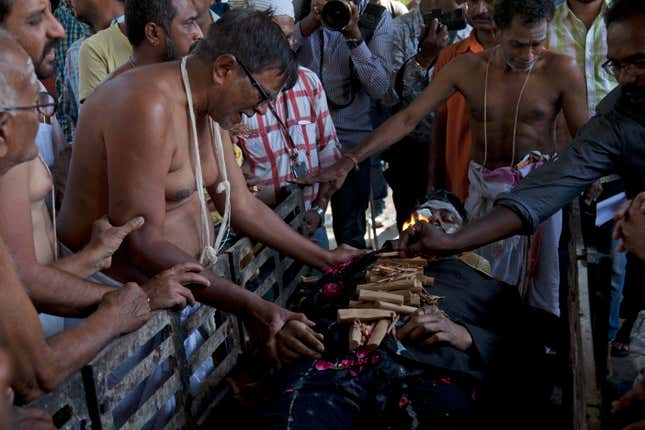 In fact, the 1990s were a good time for Indian engineers in general. As the technology boom swept through the US and the race to tackle the Y2K problem intensified, "thousands of people from India came on H-1B (visas)," ATA's Bheemreddy said.
It also helped that many of them were technically well-qualified and could find jobs immediately.
"I think Indians were quick to grab the opportunities that came with the dotcom boom in the late 1990s," Pravin Neppalli, an engineering manager at a Silicon Valley-based startup, said. "Even today, there is massive shortage for professionally-qualified engineers in the US. Unlike India, the education system is different here and not many choose to pursue a career in engineering. That has created a gap and Indians are fitting well into that."
Microsoft CEO Satya Nadella, for instance, is from Hyderabad. He began his American journey as a student at the University of Wisconsin-Milwaukee after completing an undergrad engineering program at India's Manipal University. Another high-profile Hyderabad native in the US is Adobe CEO Shantanu Narayan. An engineer from the city's Osmania University, Narayen went on to pursue a masters program at the Bowling Green State University.
Steady supply
Telangana and Andhra Pradesh have also put in place a massive educational set-up to ensure a steady supply of manpower for the technology world's demands.
Together, they have nearly 500 engineering colleges, the more than any other Indian state, churning out thousands of engineers every year. Many of them dream of studying and eventually earning a living in the world's largest economy. While the cost of a masters degree in the US is anywhere between $30,000 to $120,000, depending upon the university and the scholarship a student receives, easy educational finance has helped fill any gaps.
"There is another factor," said Rajan of CDS. "It is also good public relations to have children study in the US. That improves their social standing in the society." This "social standing," as in other Indian communities, translates to better marriage prospects, and, often, higher dowry. If a person is earning in foreign currency, the dowry tends to be more. 
What they do in the US
In 2015, there were some 250,000 Telugu speakers—students as well as those settled for a long time—in the US, American Community Survey data shows.
The second-generation families are now carving out a niche for themselves. For instance, Telugu students have repeatedly won spelling bee competitions. In 2016, two Indian-American students tied for the top spot at the Scripps National Spelling Bee finals; both were of Telugu origin. So were four of the 10 finalists. Since 2002, five Telugus have won the competition. 
But even outside of academics, the community is increasingly getting noticed. In 2013, for the first time, an Indian-American won the Miss America beauty pageant. Nina Davuluri, the winner, is the daughter of Telugu-speaking doctors who migrated in the 1980s.
Community associations have opened dance and music schools to impart traditional culture and arts. For instance, the University of Silicon Andhra, a not-for-profit institution in California, offers masters and certificate courses in Indian fine arts, language, and literature. Even some American universities like Emory have appointed faculty to explore the community's heritage. 
"Don't send your kids to the US"
Not everything is rosy about this phenomenon, though.
"Thousands of students are coming on the F-1 visa (non-immigrant visa for college) to join unknown, for-profit schools," Bheemreddy said. Of these, many take up odd jobs at gas stations and convenience stores owned by Indians since the F1 visa does not allow them to work. These jobs are often in areas with high rates of crime and unemployment.
Besides, students also fall prey to fake visa and university scams. American universities themselves have employed aggressive strategies to woo this segment, experts say. Dodgy credentials have at times resulted in the deportation of hundreds. Visas of students from these two states have been revoked even at US airports in many cases.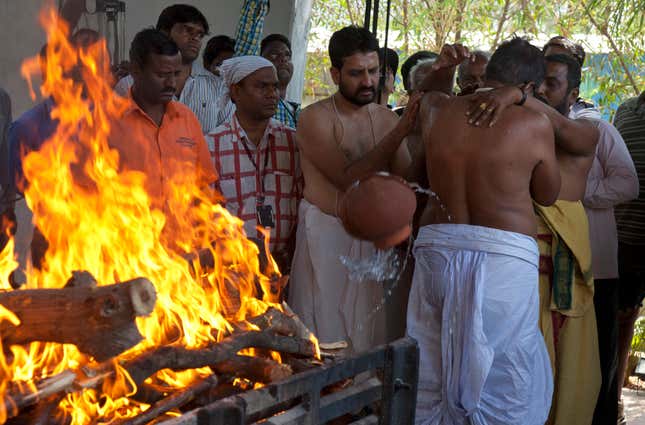 At other times, students have joined universities that are little more than platforms to stay and work in the US. "There are many from Hyderabad joining 'diploma mills/schools' with questionable academic credentials that allow students to 'study' and work at the same time," Neil G Ruiz, executive director at the Center for Law, Economics, and Finance, at the George Washington University Law School, said.
Now, however, frequent incidents of crime and the Donald Trump administration's aggressive stance on work visas are set to deflate the phenomenon.
Parents, on their part, are already wary—Kuchibhotla's were urging him to return in the wake of Trump's ascendance.
"We are all middle-class and lower-middle-class people, and we send our children abroad with hope," The Washington Post on Feb. 28 quoted M Rajkumar, president of an association for parents of Indians living abroad, as saying. "Many of our young prefer to go to America for higher education…Now the situation has changed after Trump has become president of the United States. Racism is high, and this incident is a clear example."
Others, too, are ringing the alarm bell.
"The situation seems to be pretty bad after Trump took over…I appeal to all the parents in India not to send their children to the US in the present circumstances," said Madasani Jaganmohan Reddy, whose son Alok was among those injured in the incident that killed Kuchibhotla.
We welcome your comments at ideas.india@qz.com.