Indian unicorns may have severely messed up the compensation patterns for young technology workforce in India.
In a country where the starting salary for an engineer hired by large IT companies like Tata Consultancy Services or Infosys could be as low as Rs300,000 per annum, unicorns were till recently doling out hard-to-match remunerations.
Now, with funding and profitability hard to come by, these companies are laying off workers by the hundreds. And those laid off are finding it difficult to find new jobs because most prospective employers are puzzled by the salaries they have been earning.
"After receiving over 1,000 applications for jobs from Snapdeal or xSnapdeal employees, our experience is that aside from exceptions, 1) high-quality talent 2) overpaid by approximately 1.5-3x. No wonder why these startups are failing (sic)," Anjli Jain, managing partner at early-stage investment fund EVC Ventures, wrote in a LinkedIn post last week.
Jain is neither the first nor the only one complaining.
Everyone's perplexed
Mahesh Murthy, co-founder of startup investment firm Seedfund, was among the first to highlight the issue of over compensation last August. The Mumbai-based investor posted on Facebook parts of some resumes he had received from employees of failed startups.
"There's an obscene amount of money being charged by the mercenary generation. For startups, the money should come at the end of the successful process. You have a bunch of people that feel they are entitled to high salaries," Mahesh told Quartz at the time. "What's worse, even investors give them that money. This is ridiculous."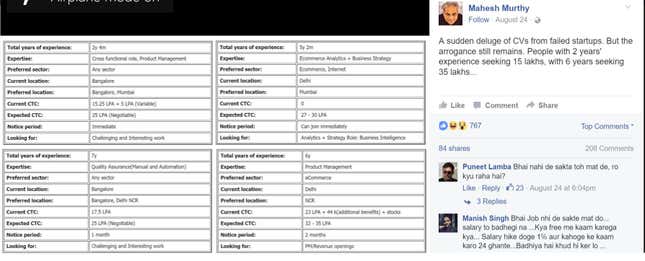 Other entrepreneurs are shocked, too.
"Everyone in the industry is talking about how companies like Flipkart and Snapdeal have ruined the market by paying unjustified salaries to people," an entrepreneur who runs a three-year-old mobile app development startup in Bengaluru told Quartz. "Such bubbles are always short-lived," he said, not wishing to be identified as he is in early talks with one of Flipkart's investors to raise funds.
Good ol' days
In their heyday in 2014-15, technology startups were among India's top recruiters. Often referred to as the "land grab" phase, this was the time when these firms were scrambling to acquire customers, expand across cities, and hire all the talent they could.
Recruitment was done in anticipation of growth, often without a plan for optimum use of talent.
Salaries were almost always way higher than those in the traditional tech-industry, justified by the high-risk roles in young companies without a proven track record.
On campuses, unicorns like Flipkart and Zomato were "day zero" or "day one" companies—the 20-30 firms given recruitment slots on the first day of placement season—a position reserved for blue-chip players like Google, Microsoft, Facebook, and Oracle for years. Attractive stock options and casual working environment made them the employers of choice for the brightest minds.
Besides, Indian unicorns also poached talent from multi-billion-dollar giants to fill up leadership positions, often paying a huge premium.
In short, such was the indulgence that between April 2015 and March 2016, for instance, Flipkart spent Rs300 crore on the remuneration of top-paid employees alone.
Today, they are no longer star campus recruiters, drained by an acute funding crunch over the last year or so. Layoffs are frequent; Snapdeal recently said it was laying off 600 people.
And those laid off are left in the lurch.
Bengaluru-based social wellness platform Zoojoo.be, as a policy, avoids interviewing candidates from "a bunch of startups that we know overpay their employees," said founder and CEO Avinash Saurabh, who often comes across resumes of engineers with just a year's experience but "crazy expectations" of earning Rs15-20 lacs per year.
"They are talented folks, I am sure, but they are not for us," he said.