The small, dark stage at Studio Safdar in Delhi is littered with shorts, slips, skirts, pants, and scarves. From behind the wings, a woman steps into the circle of light and stands facing the stunned audience. She stands naked and silent for what seems like an eternity (it is actually about six to seven minutes) and locks eyes with everyone in the audience. Her own face goes from impassive to thoughtful to mildly amused and finally weary. The audience response varies, some shift their gaze elsewhere, some fix it at a point on the bare body, others refuse to censor their eyes. Most choose to play safe and lock eyes with her.
It is only when the nudity becomes an established reality onstage that Mallika Taneja finally speaks her first lines:
"Thoda dhyan se rehena chahiye, aapko pata hai na zamana kharab hai? Jab aapko pata hai zamana kharab hai to thoda dhyan se bas," or, "You should be a little careful, you know that the world is a bad place, right? When you know the world is a bad place, then just be a little careful, that's all."
For over three years now, Taneja has been travelling across India and the globe with her short act Thoda Dhyan Se, or TDS. A darkly funny one-woman show, TDS starts with the actor appearing onstage in her underclothes and builds up to a hysterical climax with her trussed and helmeted in readiness to repel the male gaze on an evening out. "Thoda dhyan se rehna chahiye, bas" is the flawed mantra for women to stay safe on India's streets.
The play's everyday setting throws the ridiculousness of victim-blaming in molestation and rape cases into sharp relief. It has worked so well that Taneja has performed it over 100 times at college auditoriums and basements, as well as at intimate salons and international festivals.
Then, a little over one year ago, Taneja decided that it was time the bold but lovable skit turned a darker corner: There was only one boundary left for TDS to cross, for the actor to take the leap to total nakedness on stage. The opportunity presented itself at a show on Aug. 15, 2015, at a theatre festival in Zurich. "It was terrifying even though Europe is used to nudity on stage," Taneja said. "But even there, audiences were uncomfortable, they are not used to a nude body looking at you looking at it."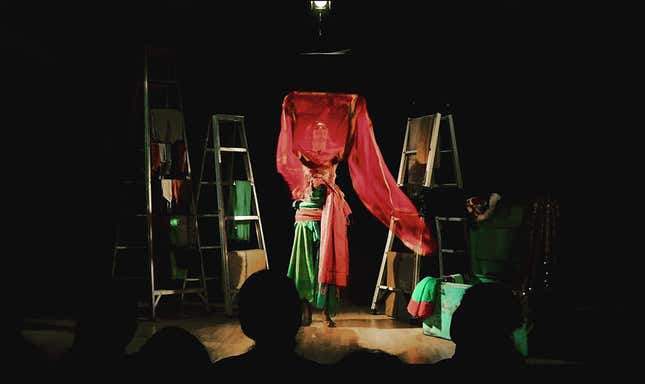 The bigger challenge of stripping, in order to make a political point, lay back home, in India. The only other woman to use her bare body thus was Sabitri Heisnam, the fiesty Manipuri actor. In 2000, when she was performing the role of Draupadi, directed by theatre veteran (and her husband) Kanhailal, Heisnam ripped the clothes off her body as she railed against her rapists on stage. Her lines from that show are the stuff of legendary theatre—"Counter me, encounter me"—was a barely veiled protest against the Armed Forces Special Power Act's excesses. Four years later, when 12 Meitei women stripped naked at the Kangla Fort to protest the rape and killing of Thangjam Manorama, many linked it to Heisnam's defiant stage act.
"It is from those women that I learnt about the naked body being used as a site of protest," Taneja said. "That incident has stayed in my head, deeply affecting all I do."
After some small, very private salon performances, Taneja decided to appear unclothed onstage to a large Indian audience at the International Theatre Festival of Kerala, in Thrissur last year. "I was tired of hiding," she said.
The response at the Thrissur festival was predictable—it is reputedly one of the most formidable theatre audiences in India. "There was pin drop silence and a collective 'Aiyyo!' from the 300-strong audience," Taneja recalled. "The response that followed the play is something I have yet to come to terms with."
A Facebook post Taneja received later encapsulated the confused response of a repressive society: "Hello sister, first time I saw naked lady."
The bolder version of TDS has been playing to limited audiences in protected settings—the audiences are required to leave their mobile phones outside the venue and there are no videos of the show or explicit publicity photographs either. Despite the fact that it has played at venues across India, the fact that the play has broken the final taboo remains unknown outside a small circle.
The first time the revised act played to a ticketed, totally unfiltered audience was in February, when Taneja performed at New Delhi's Studio Safdar. Sudhanva Deshpande, actor and director with the Delhi-based theatre troupe Jan Natya Manch, saw the play evolve from its nascent stages. Deshpande calls TDS' current version an extraordinary act: "The simplicity of just standing there, ordinarily, without making a statement, not daring anyone, not showing off…the stance just said 'this is a human body, no different from yours, how you look at it is your problem not mine'."
By not sitting down, posing or doing anything in particular during the time she is unclothed on stage, Taneja demands a response from the audience—you cannot simply sit and watch. "The way I see it, once you are past the idea of a naked body you can get on with the job of making your point," she said. "Enough, now let us talk. Is it a big deal? Well yes, it is. No matter how protected the space and how sacred the stage, there is always the threat of violence, isn't it?"
Over the months, the actor said she has often questioned herself. If the audience looked at her with a voyeur's gaze, how much of it could she take? Would that mean she was sexualising the space? Was it an intrusion or were they just looking?
After all these shows, it is still not easy, Taneja said. She has become better, more skilled at handling the space, but the moments leading up to the first appearance are still filled with anxiety. The fact that she is petite, she said, doesn't make it any easier. "Like all women, I have body issues, but the fact is that it had to be done because you can't trump this, when it comes to starting a gender conversation," she said.
The one time she found herself floundering to deal with audience response was in Paris. "There were a bunch of 16-year-old kids and they giggled and sniggered through the play," Taneja said. "It was very very humiliating and grossly uncomfortable. So the play was performed in a rage, I ploughed my way through it."
This post first appeared on Scroll.in. We welcome your comments at ideas.india@qz.com.