When Bollywood star Aamir Khan was in China last week, fans showed up at airports to welcome him with banners and posted photos of him, surrounded by enthusiastic crowds, on social media.
There aren't very many Bollywood stars who could get that kind of reception in China, where Hollywood rules the box office. Khan is the rare exception, thanks to a film that resonated as deeply with engineering students in China as it did in India, countries that boast two of the world's most high-pressure education systems. That film, Three Idiots, which screened in China in 2011, is ranked the 12th most popular movie of all time (link in Chinese) on Douban, a popular entertainment website that is like a combination of IMDB and Myspace.
The Bollywood film won hearts of many Chinese millennials for its depiction of the excessive pressure faced by students at the fictional Imperial College of Engineering, modeled on India's renowned Indian Institutes of Technology, which are nearly impossible to get into but can make your life if you do. In the movie, two friends set off on a road trip to find their third engineering school buddy, played by Khan, whom they haven't seen for a decade; flashbacks to their school days show their run-ups against a strict college principal nicknamed "Virus" and the suicide attempt of one of the friends after he isn't allowed to graduate.
The IITs are similar to China's top engineering schools, some of which have seen students commit suicide under the stress they face there (link in Chinese).
The parallels between the two countries may also help Khan's newest film, Dangal, or Wrestling Competition, about India's skewed sex ratio and preference for sons—an issue China also battles. When it opens on the mainland May 6 as Shuaijiao Baba (Let's Wrestle, Father), it will be one of the tiny number of Indian films to screen in China this year. China only allows about four films a year from India, compared to 38 from Hollywood.
The movie is based on the life of a former Indian wrestling champion who trained two of his daughters to to be world-class wrestlers after his wife gave birth to four daughters but no son. The movie is set in the northern Indian state of Haryana, where the newborn sex ratio skews heavily toward boys.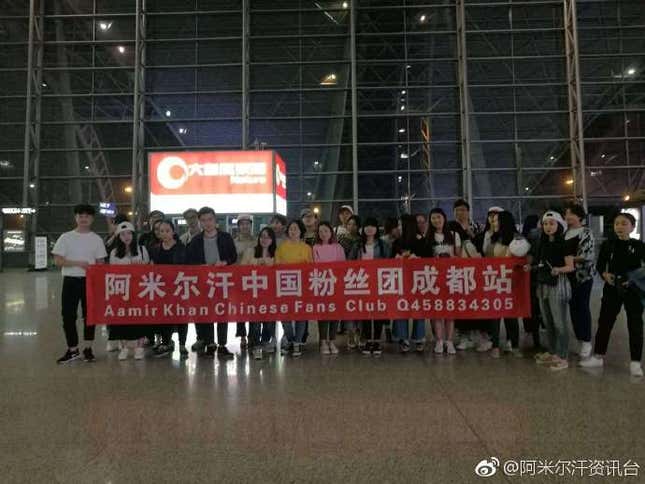 To promote the film, the Indian star created his first-ever post on April 14 on the popular Chinese social-media platform Weibo—as of April 25, it had gathered around 210,000 likes (link in Chinese) and Khan now has some 260,000 followers. Meanwhile, a fan account dedicated to Khan (link in Chinese) has gathered nearly 60,000 followers. Last week, that account shared Khan's activities during his five-day visit to Beijing, Shanghai, and China's southeastern city Chengdu (links in Chinese).
"There is a lot of similarity in our cultures. I'm comfortable with Chinese people. I feel closer to people in China than in the West," said Khan at a promotional event on April 16 in Beijing. "I can feel the emotion when I come to China."
Nicknamed Uncle Aamir in China, the 52-year-old Indian star's first Weibo post drew over 36,000 comments.
"I have seen your film the Three Idiots and I like it very much, because it teach[es] me to pursue my dream, dare to challenge the authority, and to overthrow the archaic education system, although it is impossible in China," commented Susi, who also thanked Khan in another comment for his "contribution to the enterprise of emancipation of women's rights in India" through Dangal.
To some, Khan is more than a movie star—he's a social reformer.
"I think Uncle Aamir's Three Idiots spoke a lot about India's higher education problems that China also faces," says 20-year-old Lansy Tong, a Chengdu-based university student who has been a fan of the actor since high school, "His sense of social responsibility has made him more than a movie star… someone dedicated to the society that wants to awaken India through his works."