Vancouver, British Columbia, Canada
Bollywood actor Shah Rukh Khan may well be the most famous person in the world. In terms of audience for his dozens of films, he's the biggest movie star. But at the TED conference in Vancouver, many in the audience had little clue who he was.
Still, the beloved actor instantly charmed the crowd of Silicon valley leaders, scientists, and academics at the elite yearly conference. "Lots of you here haven't seen my work, and I feel very sad for you," joked Khan as he began his TED talk. "I'm a movie star. I'm 51 years of age. I sell dreams and I peddle love to millions of people back home in India, who assume I'm the best lover in the world."
Indeed, Khan's stature in India and among Bollywood fans around the world is hard to overstate. Called the "Baadshah of Bollywood," Khan has starred in over 90 films, sang and danced to 200 songs, and received countless awards, including the Knight of the Legion of Honour from the French government.
"India decided that somehow I, the Muslim son of a broke freedom fighter, would become its king of romance," said Khan, who walked on the stage after a clip from his 2007 blockbuster Om Shanti Om played.
With personal anecdotes, self-deprecating humor, and a few moves from a dance sequence he claims to have invented called "the Lungi dance," Khan's 20-minute talk earned a standing ovation from the TED audience.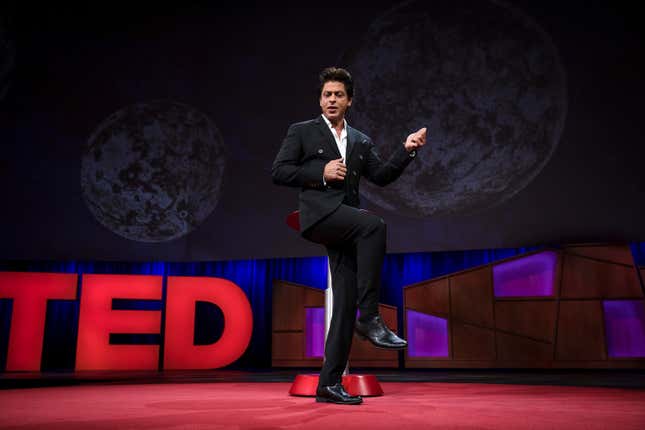 This isn't the first time Khan has confronted his relative anonymity to Western audiences. He was detained and questioned by US Customs and Border Protection at the Los Angeles airport last August in what many have called an incident of racial profiling. It was the third time the actor had been stopped as he entered the US: In 2012, Khan was detained in White Plains, New York, and in 2009, he was stopped at Newark, New Jersey.
TED's lineup this year had an especially strong roster of intellectual and cultural celebrities, from Pope Francis, Serena Williams to Elon Musk, but Khan's presence has most excited those outside the theater. Several dozen die hard "King Khan" fans camped out in the Vancouver airport and outside the convention center to watch his talk on video monitors, or perhaps catch a glimpse of their idol.
"Imagine Tom Cruise, Meryl Streep, and Harrison Ford in one person," explained a TED attendee who grew up watching Khan's movies in Pakistan.
TED has tapped Khan to host its new all-Hindi television series, TED Talks India: Nayi Soch (new thinking). The eight-episode series debuts on the country's Star Network in September.