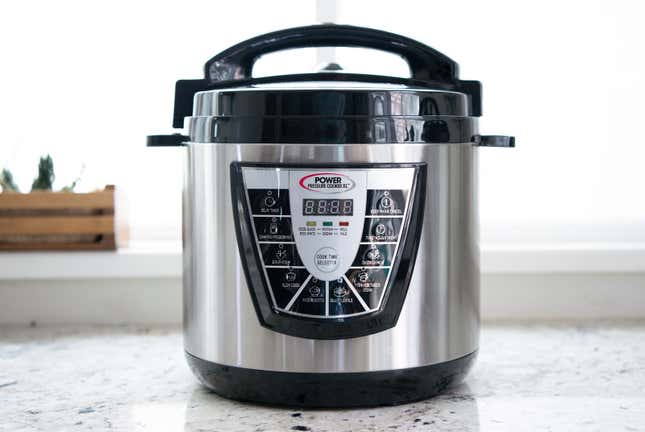 The maker of the Instant Pot multicooker, once a viral sensation and a staple of American pandemic kitchens, has filed for bankruptcy.
Should you keep investing in Big Tech?
Illinois-based Instant Brands, which also makes the popular Pyrex glassware, declared $1 billion in assets and liabilities. The company plans to keep operating as it restructures. To that end, it has secured $132 million.
Instant Brands said tightening of credit and high interest rates made it impossible to sustain the business, but something else may have figured in its downfall: Sales of multicookers have plummeted since 2020, to half of what they were during the pandemic.
The rise of the multicooker
For the uninitiated, a multicooker combines a pressure cooker and a slow cooker. Invented in 2010 by Richard Wang, the Instant Pot became the best-known such device in the middle of last decade.
The appliance lets people cook elaborate meals that would otherwise take a long time in fairly short order. There's nothing truly instant about the Instant Pot, but it can turn a 10-hour slow-cook process (say, for dal makhani) into a one-hour operation.
After enjoying early success thanks to word of mouth, the pot became a viral phenomenon. From 2016 through 2019, it was a top-selling Amazon Prime Day tool, moving as many as 300,000 units. It won a cult following: Even before covid, more than 5.5 million people followed Instant Pot–related social media accounts, and US congresswoman Alexandria Ocasio-Cortez live-streamed a political conversation with her Instagram followers while using the cooker.
Pandemic burnout kills the Instant Pot
Touted as the only pot you would ever need, the Instant Pot was the perfect pandemic device. As people stuck at home discovered sourdough starters and baking, they also began experimenting with the kind of meals the cooker made possible. Despite supply chain issues, demand kept growing.

And then it plummeted. Between 2020 and 2022, sales of multicookers fell 50%. The causes included pandemic and home cooking fatigue, plus the rise of yet another novelty appliance—the air frier. The Instant Pot became yesterday's kitchen gadget.
Trying to engineer another viral sensation, Instant Brands researched new products, including an air purifier. It didn't succeed, and in January the company hired a firm to help with restructuring but couldn't avoid bankruptcy.
Instant Brands has guaranteed supplies of the Instant Pots on order, so those late to the trend can rest assured that the one-hour dal makhani they'll make twice and forget about forever is safe, for now.