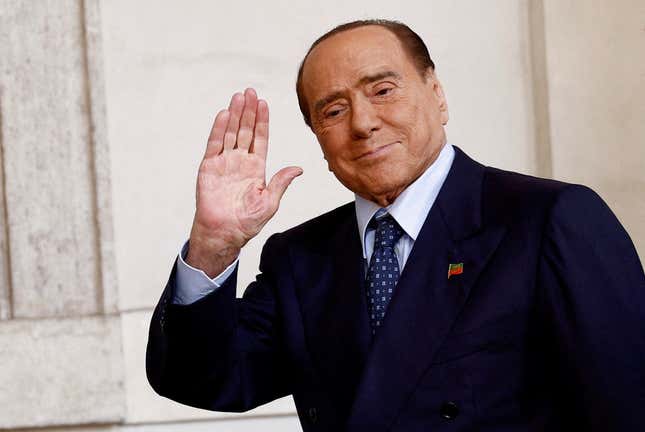 Silvio Berlusconi, who served as Italy's prime minister four times, is dead at 86. He was one of the most influential figures in the country's republican history, and the most consequential of the past three decades. None of it was for the better.

Should you buy McDonald's and Caterpillar stock right now?
Berlusconi committed a long list of wrongs against his country—and the world. He was involved in a series of questionable, and illegal, enterprises, including his affiliation with Propaganda 2, a right-wing Masonic lodge that planned a coup in 1970, his relationships with organized crime, and his friendships with autocrats such as Russian president Vladimir Putin and Hungarian prime minister Viktor Orbán.
He faced trials for, among other things, several corruption charges, violation of campaign finance laws, false accounting, and having sexual encounters with an underage prostitute. He was convicted of fraud, and several times the trials ran so long they were dismissed under the law, despite his not being innocent.

"The end of an era," proclaimed La Repubblica, a mainstream Italian newspaper. The opposite is true. Berlusconi's damage to the country will be felt for many years to come. He was a pioneer of a brand of populism now well known around the globe, embodying many of Italian culture's worst instincts. He was a product, then an enabler, of the damaging misogyny that still keeps Italy behind its peer countries in gender equality. He promoted racism, normalized extremism (paving the way for the current far-right government), ridiculed LGBTQ rights, and fostered and glorified an environment of impunity.
Beyond all of this nefarious cultural impact, Berlusconi was the architect of a host of economic reforms that, nearly three decades later, have left Italy struggling to stay afloat in the 21st century. A billionaire who used politics to grow his enormous personal wealth, he promoted deregulation and liberalization, cutting billions in public school and healthcare funding.
Throwing Italy into a race to the bottom
His economic approach damaged Italy in many ways, until desperate conditions, exacerbated by the broader eurozone crisis, led to his final resignation in 2011. One in particular is worth highlighting.

For many years before Berlusconi's ascent to power, Italy had suffered from a lack of public investment in research and technology. What was, until the 1960s, a country of innovation—think computing pioneer Olivetti, or the design avant-garde—became stagnant.
This reached a breaking point in the 1990s, when prominent figures including the. president Carlo Azeglio Ciampi, the head of Italy's central bank, the country's leading entrepreneurs, and the main labor unions all agreed: Investing in technology was the only way to keep Italy relevant in the coming century.
Berlusconi, who was prime minister from 1994–95 (and again in 2001–05, 2005–06, and 2008–11), did just the opposite. Not only did he fail to boost investment in research, he cut it every chance he got. His electoral promise of "a million jobs" was about low-paying employment that would keep Italy competitive in a race to the bottom—be cheap—rather than the top—be better.
His government didn't encourage private investment in technology, either. Between 1990 and 2000, such spending plunged by 30%, paving a path that forced the country to remain competitive by shrinking the cost of its products and labor. This was myopic at the time—like choosing to float rather than swim ahead—and turned disastrous: If competing with larger economies by lowering costs was somewhat sustainable when Italy had its own currency to manipulate, it wasn't once the nation joined the euro.
Low salaries that had been enough to survive became abysmal, especially for highly qualified workers, the so-called "generation 1,000 euros," who earned that monthly pay in the early 2000s, regardless of their education.
Berlusconi's legacy continues
This was no accident. Berlusconi's choices maintained, and worsened, the status quo that had made him rich, exploiting a majority of people—and shortchanging younger generations—to keep power in the hands of the few.

Even today, the average doctoral research salary in Italy is €1,200 a month (about $1,290), while the average pay of a factory worker is €1,300. (The minimum rent for a room in Milan, the nation's economic hub, is €630.) This has led to a brain drain that cost Italy hundreds of billions and prompted an even greater lack of innovation and new ideas. With no drive to pursue true innovation, the country is running out of opportunities to compete: No matter how paltry its salaries are, it can't beat low-income countries in the race for cheap labor.
Italians who weren't even born when Berlusconi announced his entrance in politics continue to pay for his rule. For them, and for the entire nation, his era is far from over.