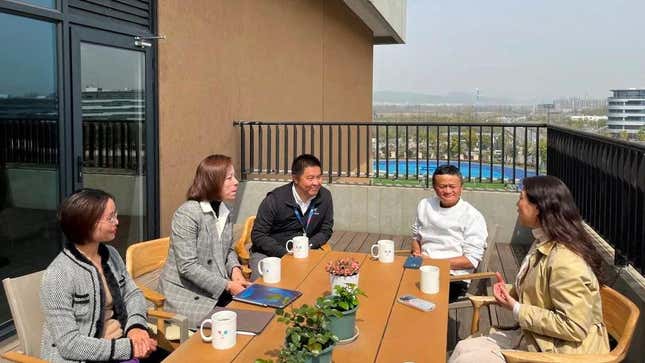 Jack Ma's whereabouts are hitting the headlines again.
On Monday (Mar. 27), the teacher-turned-entrepreneur was spotted mingling with students and teachers at Yungu School in Hangzhou, South China Morning Post reported, citing "sources familiar with Ma's schedule" and the WeChat account of the school, which was created by Alibaba founders in 2017. Ma was there to discuss the impact of artificial intelligence on education, including the challenges ChatGPT poses to education. 
The once outspoken Alibaba and Ant Group founder has been shying away from the spotlight in recent years. His dwindling public appearances coincided with Chinese regulators cracking down on large internet companies.
Ma's return did momentarily boost confidence in the private sector. Alibaba's shares jumped 5.5% during the day, before losing the gains.
While Ma has been living abroad, Chinese authorities have apparently been trying to woo him to return to signal a more welcoming business environment in the country. It remains to be seen whether or not this appearance leads to a permanent shift in China's attitude towards its tycoons.

A brief timeline of Jack Ma's whereabouts since Chinese crackdown
September 2019: On his 55th birthday, Jack Ma retires from his post as Alibaba chairman
October 2020: During an event in Shanghai, Ma criticizes China's regulatory system for "stifling innovation" and chides the country's banks for harboring a "pawnshop" mentality.
November 2020: Beijing stops Ant's $37 billion IPO two days before its due to start trading. It was meant to be the biggest one of all time.
November 2020: Ma goes missing. The flamboyant billionaire entrepreneur won't be seen in public for at least three months.
January 2021: Ma addresses 100 village teachers via video, making his first public appearance in months.
October 2021: Ma is spotted in Spanish town Mallorca, where his luxury superyacht Zen is anchored, in what is reportedly his first international trip since Chinese scrutiny. He's apparently accompanied by various Chinese business people and his security detail.
November 2022: Ma has reportedly been living in Japan for the past six months. From there, he's been making regular trips to the US and Israel.
January 2023: Ma arrives in Thailand to further his study of farming and fishery. He's seen partying in Bangkok. Later on in the month, he celebrates Lunar New Year in Hong Kong.
February 2023: Ma is spotted at a Melbourne hotel during a personal trip.
March 2023: After a brief stop over in Hong Kong, where he met friends and also visited Art Basel, Ma is spotted at the Alibaba-funded school in China
Quotable: Is China easing its crackdown?
"I can see how this sort of signals a relaxation but none of the laws and institutions set up to control the private sector have changed. It doesn't matter at all to private business because he is already beaten. The state won, Jack has lost control, power, wealth and it's not coming back."-Fraser Howie, Asia analyst and author who has written several books on China's financial system.
A non-exhaustive list of disappearing celebrities in China
Related stories
🙅 There's no place for a Jack Ma in today's China
🔎 A Chinese billionaire banker has gone missing

🫥 Jack Ma's absence is stirring uneasy memories of a series of disappeared Chinese tycoons