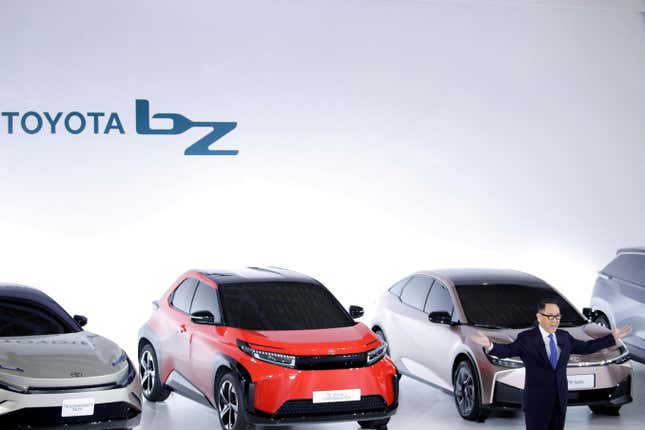 After years of outsourcing manufacturing to China, countries are finding that their pools of talent have dried up. Just as they're looking to produce their own batteries and rare earth permanent magnets—both critical for electric vehicles—they don't have the skilled professionals for the job.

Should you keep investing in Big Tech?
Japan is no exception in this regard—but it now has a plan. The government aims to train 30,000 more battery-related workers by 2030, which would quadruple the industry's labor force from its current base of 10,000.
To find and train these additional tens of thousands of battery engineers, designers, and technicians, Japan plans to tap high schoolers, as well as students at colleges and vocational schools, recruiting them for multi-year intensive training programs nationwide, according to Nikkei Asia. The first cohort of 40 students will begin learning battery technology in December, at a vocational school in Osaka, Nikkei Asia reported. Then the program will be expanded to high schools, vocational schools, and universities.
The EV revolution needs more battery engineers

Even though Japan was the site of groundbreaking innovations that led to the lithium-ion battery as we know it today, and even though, at its height, Japan commanded over 50% of the global lithium market share, the country now faces a shortage of talent for battery-related work.
The story is the same across many developed economies. The EU expects its battery sector alone will need 800,000 people to be trained or re-skilled by 2025. South Korea's battery giants have warned of a skills gap that will slow down transition to electric, zero-emissions transportation. And in a sign of how fierce competition is among EV makers for talent, Tesla has said it finds itself paying "CFO-like" salaries to attract battery engineers.
The US has a battery and rare earths talent shortage
Over in the US—another center of pioneering work on lithium batteries—companies and the government are also urgently trying to fill the battery industry skills gap. In March, the Department of Energy and the carmaker Stellantis teamed up to launch the Battery Workforce Challenge, which includes vocational training and a three-year engineering competition designed to build skills and build a pipeline of battery workers.
Batteries aren't the only climate technology facing a talent crunch. The rare earths industry is also starved of engineers across the supply chain, from mining and refining to manufacturing permanent magnets, which are needed to drive EV motors and wind turbines.
In a report published last month on China's rare earths industry, written by industry experts and submitted to Congress and other US government bodies, the authors estimated that China has more than 12,000 full-time rare earths researchers in its national labs, research facilities, and universities. The US, on the other hand, has as few as 300.