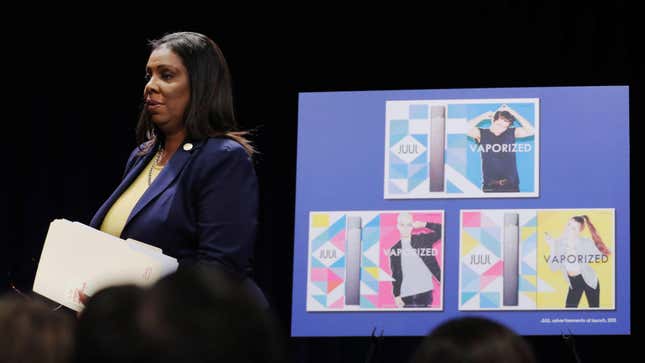 In yet another remedial action, Juul will pay nearly half a million dollars to six US states.

Ben Emons Part 2: The Fed, Apple shares
The e-cigarette manufacturer has agreed to pay $462 million to settle claims of unlawfully marketing its addictive products to minors—an allegation the firm has neither admitted to nor denied, but that has cost the company dearly. The total of the settlement payments Juul agreed to have now surpassed $1 billion.
The latest deal, brokered by New York Attorney General Letitia James on behalf of her home state and five others—California, Massachusetts, New Mexico, Illinois and Colorado—will be paid out over eight years. New York will receive $112.7 million.
Several states have accused the San Francisco-based manufacturer of luring impressionable teens with vibrant packaging and alluring ads. The funds generated from the settlement will go towards helping youth who vape kick the habit, as well as broader underage vaping abatement programs.
Quotable: Why Juul must pay
"JUUL lit a nationwide public health crisis by putting addictive products in the hands of minors and convincing them that it's harmless—today they are paying the price for the harm they caused."—New York Attorney General Letitia James in a statement on April 12, 2023
A brief timeline of Juul's suspensions and settlements
2019: As the American Medical Association (AMA) discourages the public from using e-cigarettes amid a lung illness outbreak, several states start to take legal action against Juul. Juul suspends broadcast, print, and digital advertising in the US. In November, New York Attorney General James sues Juul for its deceptive and misleading marketing that glamorized vaping with colorful ads featuring young models using fruity, sweet, and minty flavors that appealed to youth
June 2021: Juul agrees to a $40 million settlement in a North Carolina teen advertising lawsuit
April 2022: Juul pays Washington $22.5 million to settle a deceptive advertising lawsuit, alleging its marketing was directed at teens
June 2022: The Food and Drug Administration bans Juul from selling e-cigarettes in the US, citing lack of sufficient evidence that its devices were safe
July 2022: FDA puts the ban on hold while Juul appeals the decision
September 2022: Juul agrees to pay a whopping $440 million to 33 states for spreading the vaping epidemic among teens
November 2022: Juul lays off 400 people and secures financing from some of its early investors to stave off bankruptcy
December 2022: Juul agrees to settle the multi-district litigation (MDL) case that has been before US District Judge William Orrick in San Francisco since 2019. It covers more than 10,000 lawsuits over 8,500 personal injury cases, over 1,400 governmental-entity cases, and 32 tribal cases. The amount was not disclosed, but Bloomberg reported it to be close to $1.2 billion. It is yet to be finalized
January 2023: A California judge approves a $255 million settlement in the Juul class action lawsuit brought by customers who believe they overpaid for Juul products because of deceptive marketing
March 2023: Juul agrees to pay $23.8 million to the city of Chicago to settle claims of deceptively marketing its products and selling vaping products to underage users
April 2023: Juul agrees to pay West Virginia $7.9 million to settle a lawsuit alleging the company violated the state's Consumer Credit and Protection Act by marketing to underage users. Days letter, it signs the $462 million settlement with six states.
One big number: Juul lawsuits
5,969: Lawsuits against Juul, including class action lawsuits and individual personal injury cases filed in four states, from around the United States combined as of March 16, 2023.
A non-exhaustive list of Juul's constraints in New York
Juul's settlements usually include a series of strict advertising and sales practices the company must folow. In the most recent agreement, too, attorney James laid out a series of do's and don'ts for Juul in New York, intending to keep the product out of the sight and hands of the city's youth. To name a few:
👨 The company can't depict or portray any individual under the age of 35 in ads, nor can it use cartoons in promotional activities. In 2019, the company was buying ads even on Cartoon Network.
📺 The company can't pay to place the Juul brand name or an ad for the product in any motion picture, television show, theatrical production or other live performance, virtual reality system, video games, or even apparel.
💳 The company must limit the number of online and offline purchases per transaction.
🏫 Any Juul advertising cannot be placed within 1,000 feet of any elementary, middle, or high school, or of any public playground.
🚕 Juul advertising also can't be displayed on or inside any public transportation or inside public transportation, including, but not limited to, taxicabs, rideshare services like Uber or Lyft, public buses or bus stations, public trains or train stations, or airports.
🕵️ The company must perform regular retail compliance checks at five percent of New York's retail stores that sell Juul's products for at least four years.
📝 Increase funding to a document depository by up to $5 million and add millions of relevant documents to the depository to inform the public on how Juul created a public health crisis.
Elsewhere in the world: The UK is giving out free vapes
The UK government is encouraging smokers to swap out cigarettes for vapes. Over a million people will receive a free vaping starter kit that they can substitute for tobacco products under new government plans unveiled this week. While vaping isn't risk-free, evidence points to it being less harmful than traditional cigarettes, making it a viable option to wean adult smokers off the habit.
Handing out more people to vapes comes with another danger: Exposing more youth to it. National Health Service data from 2022 show 9% of secondary school pupils use a vape regularly or occasionally.
Moreover, almost 15% of the population above 16 smokes in the UK. Anti-smoking advocates are skeptical that the "swap to stop" programme will help the UK get any closer to being "smoke-free"—less than 5% prevalence—by its target year of 2030. A review of the 2030 target published last year warned it will be missed by at least seven years without further action.
Related stories
👨‍⚖️ Minnesota is trying to prove Juul got teens addicted on vaping in a first-of-its-kind trial
😮‍💨 Juul's going up in smoke. Is Puff Bar next?