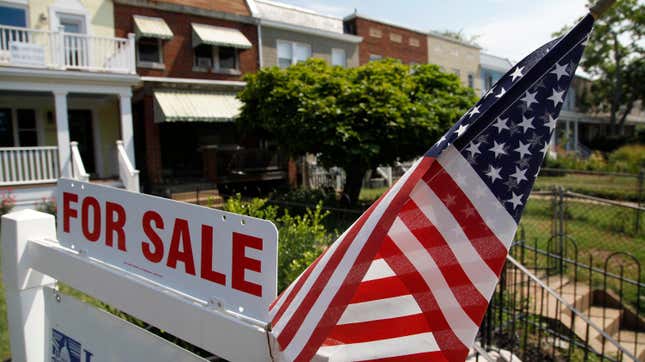 There's more bad news for potential homebuyers in the US, who're already challenged by a dearth of available homes. The cost of borrowing is shooting up to decade highs. The average 30-year US mortgage rate climbed this week to its highest level in more than two decades, mortgage buyer Freddie Mac said yesterday (Aug. 17), reaching 7.09%. Rates soared to 7.08% in November last year before falling below the 7% mark in consequent weeks.
Should you keep investing in Big Tech?
The last time rates topped 7.09% was in April 2002. For context, George W. Bush was president at the time, Halle Berry had just become the first Black woman to win an Oscar in the Best Actress category, and the iPhone had yet to be invented.
The latest increase in rates, which rose from 6.96% last week, follows a sharp uptick in the 10-year Treasury yield, which is already at 4.28%, and will likely continue its upward climb.
Will long-term mortgage rates continue rising?
Typically, the 10-year Treasury yield—the most popular investment instrument among all the bills, notes, and bonds the treasury department sells—and the 30-year fixed mortgage rate tend to display a strong correlation, because lenders use the former as a guide to pricing loans.
Goldman Sachs predicts the rate for 10-year Treasury yields will be 4% or higher through the end of 2024. Bond traders are reacting to reports of the US economy's resilience, which could keep upward pressure on inflation and drive the Federal Reserve to keep interest rates higher for longer
The two typically have a gap of around 1.5 to 2 percentage points. This difference usually widens during periods of economic or geopolitical uncertainty, like it has in current times. The long-term mortgage rate is more volatile and therefore showing more movement amid high inflation and the Fed's rate raises.
Charted: The historic relationship between the 30-year mortgage rate and 10-year treasury yield

Quotable: A snapshot of the US housing market
"The economy continues to do better than expected and the 10-year Treasury yield has moved up, causing mortgage rates to climb. [...] Demand has been impacted by affordability headwinds, but low inventory remains the root cause of stalling home sales." —Freddie Mac's statement on August 17, 2023.
A notable number: Super-low mortgage rates in the past
2.86%: The average rate on a 30-year mortgage less than two years ago. Those locked in at the ultra-low borrowing rates are now hesitant to sell and face a higher rate on a new property.
Related stories
🏦 Why the Fed's hikes are not showing up in your savings account
🏡 US housing in 2023 won't be a buyer's market or a seller's market
📉 The value of US homes recorded its biggest six-month drop since 2008