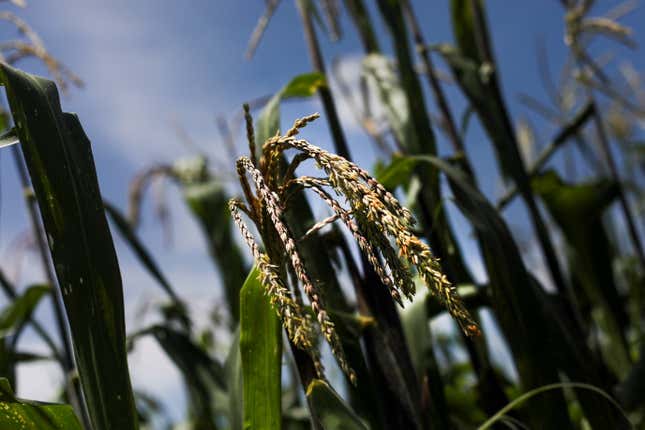 Mexico's government has announced plans to investigate the impact and trace the presence of genetically modified (GM) corn imports on tortillas, an essential ingredient in many of the country's staple dishes.

Marcus Samuelsson on the New York City restaurant scene
The decision to create a working group, led by the main health authority, Cofepris, comes soon after a Mexican proposal to ban GM food for human consumption.
The US—a major exporter of GM corn to Mexico—has strongly opposed that policy, saying it violates the United States–Mexico–Canada Agreement (USMCA) mandating free trade between the three North American nations.
Mexican president Andrés Manuel López Obrador (AMLO) proposed the ban late last year, arguing that GM corn and other products haven't been sufficiently studied for adverse health effects. He also said the mass influx of American corn was contaminating ancient native varieties of the crop.
The US—which claims that AMLO's proposal would put billions of dollars worth of agricultural exports at risk and stifle innovation in biotechnology—threatened trade retaliation.
Mexico watered down the ban in February, allowing Mexican farmers to import US corn for animal feed while forbidding human consumption.
Despite this concession, the US requested formal trade consultations with Mexico on March 6, saying that any ban on GM imports violated the USMCA. Meetings between trade representatives from each country are expected to start later this year.
US trade with Mexico, by the numbers
17 million tons: Annual corn exports by the US to Mexico, most of it used to feed livestock.
1/4: Share of corn grown in the US that ends up in Mexico, worth roughly $2.7 billion annually.
60%: Share by which Mexican farmers would need to boost corn production to replace those imports.
$725.7 billion: Total two-way trade in goods and services between Mexico and the US in 2021, making the Latin American nation the second-biggest trading partner of its northern neighbor.
Quotable: AMLO doesn't care about supply and demand
"There is a market for it, but the government cannot make a purchase because we do not want GM... We are a sovereign free country." —AMLO announcing his plans to ban GM crops in November, despite acknowledging that Mexican farmers want to buy cheap American corn.
What is the USMCA?
The US claims that the proposed ban on GM crops violates the USMCA, the North American free trade agreement that replaced NAFTA in 2018.
The deal is mostly a modernization of NAFTA, which was ratified in 1994, with new language on intellectual property and digital trade. Other key changes include greater incentives for automobile production in the US—a reform insisted on by ex-president Donald Trump—and more environmental regulation.
Like NAFTA, the USMCA has its share of protectionist critics who say it favors international trade over domestic interests.
The agreement was negotiated the year before AMLO became president of Mexico and signed by his highly liberal predecessor, Enrique Peña Nieto. Although AMLO doesn't want to withdraw from the USMCA, he has sharply criticized it, saying that Mexico's trade relationship with the US cannot come "at the cost of our dignity."
Now, with Mexico taking an increasingly protectionist stance—including nationalizing key energy industries—the US and Canada are in a difficult place. If USMCA regulators do find that Mexico's decision to ban GM food violates the agreement, Mexico would have to pay compensation. That penalty would likely take the form of trade tariffs and further strain its relationship with the US.
Editor's note: The headline and first paragraph of this story have been updated to reflect the task force's aim of improving detection of GMO corn in tortillas consumed in Mexico.
Related stories:

🔌The Mexican government continues nationalizing key industries despite US objections
🌽 Mexico softens its ban on genetically modified corn after pressure from the US
⛏️The world needs lithium more than ever, and Latin America knows it