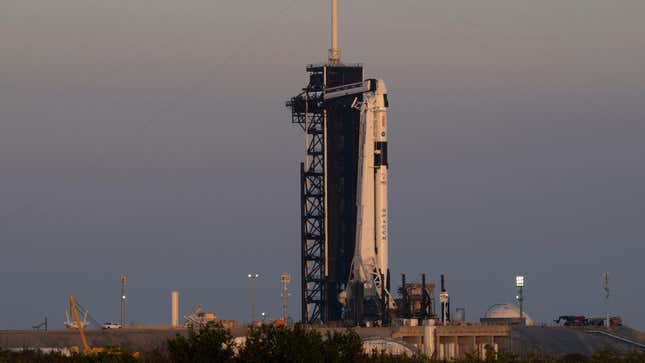 NASA's next four-person mission to the International Space Station (ISS) is now due for take off on Monday (Feb. 27).

Should you keep investing in Big Tech?
The launch of Crew-6, comprising NASA astronauts Stephen Bowen and Warren "Woody" Hoburg, along with UAE astronaut Sultan Al Neyadi and Roscosmos cosmonaut Andrey Fedyaev, was originally scheduled from NASA's Kennedy Space Center in Florida for Sunday (Feb. 26).
However, after a lengthy flight readiness review (FRR) on Tuesday (Feb. 21), NASA and SpaceX decided to push the liftoff back by 24 hours to make time for additional checks and balances. Elon Musk's space company's Dragon Endeavour spacecraft will be launched by its Falcon 9 rocket.
Once at the ISS, the crew will conduct a wide variety of research, including studying heart muscle tissue in microgravity, testing a bioprinter capable of printing human cells and tissue, and researching drug manufacturing technology, in the orbiting lab.
A brief timeline of the Crew-6 launch
Feb. 23: The SpaceX Falcon 9 rocket and Dragon spacecraft Endeavour that will carry the crew to the ISS arrives at the launch pad and is raised into a vertical position for launch
Feb. 24: US astronauts Bowen an Hoburg, UAE's Al Neyadi and Russia's Fedyaev, participate in a countdown dress rehearsal, complete with getting into their suits, taking the elevator up to the crew access arm—the walkway they will use to enter Endeavour—and getting securely seated inside.
Feb. 26: NASA starts offering blog coverage of launch-day activities on the Crew-6 blog and starts a live launch broadcast on NASA TV or the agency's website at 9pm and 10pm Eastern Time respectively.
Feb. 27: Crew-6 is scheduled to lift off at 1.45am ET.
Feb. 28: Backup opportunity to launch at 1.22am ET.
Persons of interest: Sultan Al Neyadi and Rayyanah Barnawi
The mission will make Emirati astronaut Al Neyadi the first Arab to fly a long-duration mission to the orbiting lab. His compatriot Hazzaa Al Mansoori became the first Arab astronaut to go to space in 2019, during an eight-day mission to the ISS.
Al Neyadi will personally conduct at least 20 experiments when onboard the ISS. The fourth Arab to ever go to space, his trip coincides with the holy month of Ramadan. Travelers are not required to fast, but he said he may try to do so on some days.
Al Neyadi won't be the only astronaut representing the Middle East at the ISS for long. Last year, the Saudi Space Commission announced the kingdom's first astronaut program. Come May, it'll be ready to send two of its citizens to the ISS as part of the Ax-2 mission run together with Houston-based Axiom. The mission is set to make Rayyanah Barnawi the first Saudi woman to go to space.
The launch, visualized by SpaceX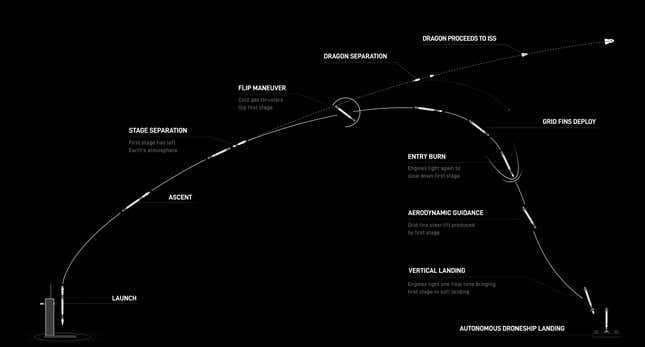 NASA-SpaceX Crew 6 launch, by the digits
Up to 6 months: Time Crew-6 will spend in the orbiting lab before returning to earth
Over 200: Areas of research, including life and physical sciences, advanced materials, technology development, in-space production applications, and even student-led research
Around 5 days: How soon after Crew-6 arrives to replace them the four Crew-5 members— NASA astronauts Josh Cassada and Nicole Mann, Japan's Koichi Wakata and Russia's Anna Kikina—are expected to return to Earth
7: Passengers the Dragon spacecraft can carry to and from Earth orbit, and beyond.
9: The number of missions SpaceX would have flown with human passengers since 2020 after this launch. 
Related stories
🛰 SpaceX and NASA are launching astronauts—and a new orbital economy
🧑‍🚀 SpaceX has flown more people to space than China has
🚀 An Oxford case study explains why SpaceX is more efficient than NASA