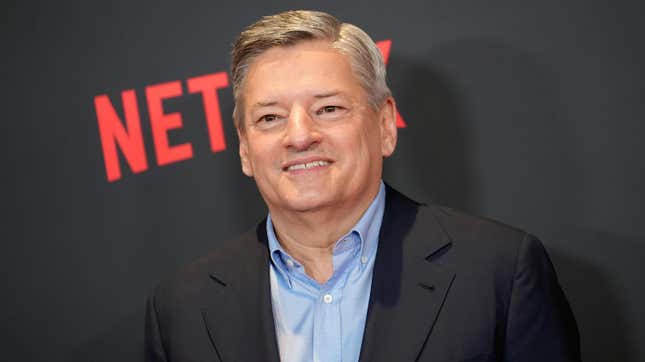 Netflix's war chest for South Korean content just swelled by $2.5 billion.
In an announcement yesterday (April 24), Netflix said it would double the investment it has made since it entered the Republic of Korea in 2016 by bankrolling Bong Joon-ho's sci-fi action drama Okja. The announcement came after co-CEO Ted Sarandos met with South Korean President Yoon Suk Yeol in Washington DC.
How to gather hybrid employees with purpose
This new tranche of investment will go towards the production of series, movies, and variety shows, Sarandos said.
With over 60% of Netflix's 233 million members around the world watching South Korean content, movies and shows from the country have done wonders for the platform. No surprise, then, that amid stiff competition from Amazon Prime and Disney+, Netflix wants to cash in on the popularity. This year, Netflix has planned its biggest-ever slate of Korean content, including over 20 series, half a dozen films, a handful of reality shows, and two documentaries.
One big number: Squid Game's colossal success

1,650,450,000: The total number of hours that people spent glued to the first season of Squid Game, making it the most-watched non-English language series of all time on Netflix. In the top 10 such shows, there are three other Korean series—the first seasons of All of Us Are Dead, The Glory, and Extraordinary Attorney Woo—that racked up almost half a billion hours each.
Quotable: Global audiences love Korean Netflix shows
"It is incredible that the love towards Korean shows has led to a wider interest in Korea, thanks to the Korean creators' compelling stories. Their stories are now at the heart of the global cultural zeitgeist."

Show of interest: Physical 100
It's not just K-dramas that are taking the world by storm. There's Physical 100, a reality show that brings together 100 of South Korea's best athletes from across disciplines, from prison guards to fitness influencers, to compete for the recognition of posessing the most impressive body. It's the first reality series to top the weekly charts of the most-watched non-English language shows on Netflix. The show got a boost when Jungkook, a BTS member, livestreamed it.
Rabbit hole: Netflix's growth plans beyond beefing up its content slate
Investing in content is just one way to lure more viewers. Netflix is trying various other things to boost its subscriber base
📮 Netflix introduced the $6.99-per-month ad-supported tier in November 2022. So far, it's been offered in just a dozen countries out of the 190-plus territories where Netflix is available.
✂️ Netflix slashed its prices in February by between 20% and 60% in 30 countries.
🔑 Netflix's crackdown on password sharing is picking up slowly but surely. It will likely expand to the US—Netflix's biggest market—by June.
Charted: South Korea's booming cultural exports
In 2021, South Korea's exports of cultural content—music, games, films, animation, and more—hit an all-time high of $12.4 billion, according to the country's ministry of culture, sports and tourism.
For South Korea, culture has become an economic force to reckon with, surpassing the export value of home appliances ($8.67 billion), secondary batteries ($8.67 billion), electric vehicles ($6.99 billion) and display panels ($3.6 billion), according to ministry data.
The South Korean government is aiming to more than double content exports, to $25 billion by 2027. Film and drama producers will get financial and infrastructural support from the government. For instance, Studio Cube in Daejeon, where Squid Game was filmed, will be equipped with underwater cinematographic facilities. Separately, the ministry will provide training to 10,000 prospective content creators across the country over the next three years. Besides state reserves, the government will also lean on global capital from foreign investors.
Related stories
💿 Netflix is hitting the stop button on the DVD rental business that started it all
🤲 Netflix accidentally revealed its blueprint to stop password sharing
📺 Netflix launched its site 25 years ago. These are the company's biggest moments since