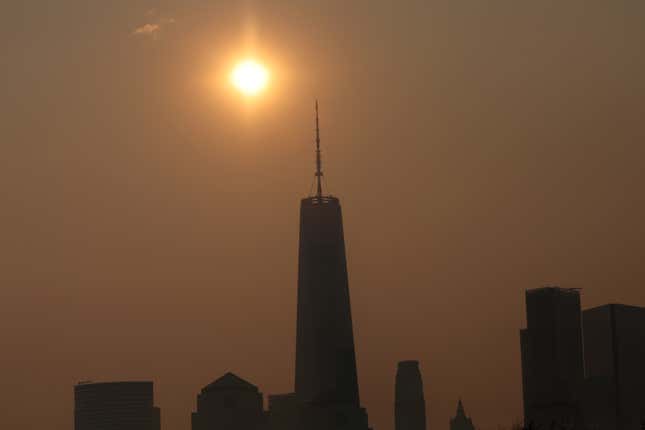 In March 2022, when Dyson announced its launch of the Dyson Zone—a wearable device combining both noise-cancelling headphones and an air purifier—it quoted World Health Organization estimate: that 9 in 10 people globally breathe air that exceed the WHO's pollution guidelines.

Should you keep investing in Big Tech?
Still, the launch met with a fair amount of mockery for making the wearer look, well, silly. But this week, as New York descended into an orange haze of air pollution caused by Canadian wildfires, people who have been sent Zones to test—or who have bought them—are suddenly seeing them in a new light.
One of the biggest problems with the Dyson Zone, WIRED pointed out, is the price: $1,000 for the premium model, and $949 for the standard one. This is not an attempt to solve the pollution problems that disproportionately affect poorer people worldwide. WIRED was also particularly scathing about how it felt to wear the chunky headphones and air-purifying visor in public. "Do they help keep your lungs clean?" the reviewer wondered. "Does it sound good, and can the active noise cancellation (ANC) successfully muffle the hoots of derision from strangers in the street?"
As affluant urban centres begin to feel the sharp end of the effects of climate change, though—like the smog in New York, or the pall that often hangs over Los Angeles or Tokyo—maybe we really will begin to see more Zone wearers marching through their streets breathing their own purified air. In a way, they will have become walking symbols of how wealthy Westerners can afford to retreat into their own, clean bubbles, away from the toxic changes in climate that they've precipitated.

Can the Dyson Zone protect against wildfire pollution?
Kate Kosuch, a Tom's List reviewer who tried the Dyson Zone pre-wildfires, and again when she found New York wreathed in smog, pointed out that, unlike a KN95 mask, the Zone cannot defend against airborne viruses. But she did hear from Dyson on the possibility that the Zone could make a difference during pollution events like New York's noxious air.
"Wildfire smoke is comprised of a mixture of gaseous pollutants (e.g., carbon monoxide), hazardous air pollutants (e.g., polycyclic aromatic hydrocarbons), water vapor, and particle pollution. According to the EPA, particle pollution represents a main component of wildfire smoke and the principal public health threat. The Dyson Zone has been tested to capture 99% of particles as small as 0.1 microns that pass through the filters," Dyson told Kosuch. (The company had not responded to Quartz's request for comment by the time of publication.)
The Dyson Zone might be too expensive for most people compelled to travel through recent smog events, and its cyborg aesthetics will likely put others off, even if they can afford it. But the weather conditions right now in New York have shocked many people into into realizing that such wearables could easily become much more common in the not-very-distant future.