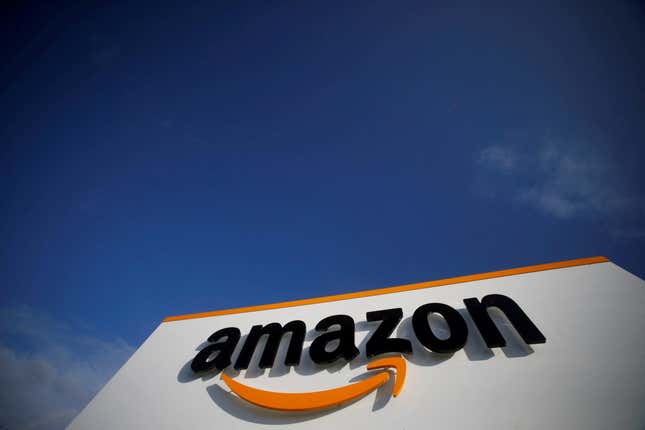 Amazon was accused of violating federal law multiple times to obstruct unionization efforts at a warehouse near Albany, New York, last year, according to a new complaint filed by a regional director at the National Labor Relations Board (NLRB), first reported by Bloomberg.

Don't expect the Fed to help your investment in Amazon
The complaint, filed yesterday (Aug. 21), reportedly accuses the retail giant of illegally firing an organizer prior to a union ballot last year, calling the police on employees, barring discussion of unions at the workplace, and seeking to limit employee interaction at the warehouse before and after hours to thwart organizing.
"These allegations are completely without merit and we look forward to showing that through the legal process," said Mary Kate Paradis, an Amazon spokesperson, in an email to Quartz. "Dozens of charges filed at ALB1 have already been dismissed by the NLRB, and we look forward to having these allegations dismissed as well."
ALB1, the warehouse cited in the complaint, failed to form a union in October last year by a vote margin of nearly two to one. It would have become the second-ever Amazon fulfillment center to unionize, following the historic formation of the Amazon Labor Union (ALU) at the Staten Island warehouse JKF8 in April 2022.
ALU president Chris Smalls accused Amazon of interfering with the ALB1 vote. "Workers were subjected to intimidation and retaliation on a daily basis," he said in a statement following the October setback. "The suits at Amazon corporate know they can't win without putting their thumb on the scale."
Amazon has a track record of union-busting
It is not the first time Amazon has been accused of anti-union tactics—or been found guilty of employing them. An administrative judge ruled in January that Amazon had illegally threatened to hold back wage increases and improved benefits at two New York City sites if workers formed a union.
The NLRB also ordered the e-commerce titan, the second largest employer in the US, to "cease and desist" in retaliating against employees in November. A federal judge found that Amazon had fired an employee at JFK8 after they pushed for great workplace protections and safety measures during the pandemic.
"This relief is critical to ensure that Amazon employees can fully and freely exercise their rights to join together and improve their working conditions, including by forming, assisting, or joining a union," said Teresa Poor, the NLRB regional director in Brooklyn, in a statement at the time.
Amazon has so far denied any wrongdoing. It sought to overturn the JFK8 union election results in a legal challenge lodged in May 2022, but the NLRB rejected (pdf) its objections in September. The ALU was officially certified in January.
Related stories
👴🏻 Bernie is going after working conditions in Amazon's warehouses
⚖️ The FTC is preparing a wide-ranging antitrust lawsuit against Amazon
😤 Amazon refuses to make peace with unions even after they've won the right to organize
This story was updated with a comment from Amazon.