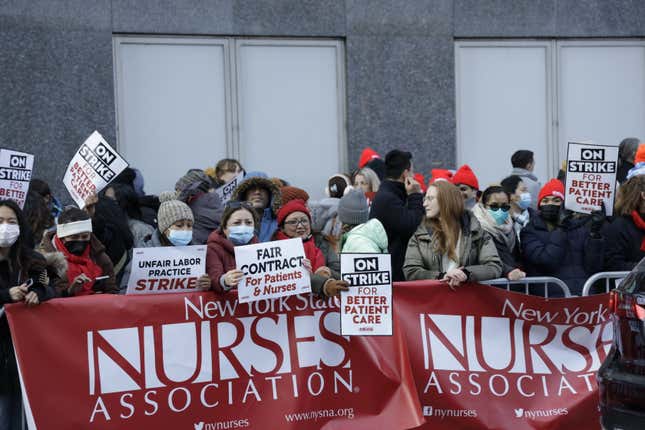 More than 9,000 nurses went on strike Monday (Jan 9.) in New York, forcing two of the city's largest hospitals to transport patients and divert ambulances to other facilities and find temporary replacement staff.
How trauma-informed workplaces can support your team's mental health
The New York State Nurses Association cited poor working conditions, stagnant wages and chronic understaffing as the union announced walkouts at the Mount Sinai Medical center on the Upper East Side and Montefiore Medical Center in the Bronx. The strike comes at a perilous time for the city's healthcare system, with hospitals managing a particularly bad flu season, a new covid variant, and elevated cases of RSV, a respiratory illness especially dangerous for infants.
"They don't want to pay nurses," said Lina Forcello, an outpatient nurse at Mt. Sinai's oncology department, detailing shortages in almost every department. "They're just not motivated to hire new employees."

Forcello said she is concerned the hospital's reluctance to offer competitive wages is driving down the nurse-to-patient staffing ratio and could create unsafe working conditions.
Officials at both hospitals have criticized the strike, accusing the nurses of putting the lives of patients at risk.

"NYSNA continues its reckless behavior," Mt. Sinai hospital said in a prepared statement. "Our first priority is the safety of our patients. We're prepared to minimize disruption, and we encourage Mount Sinai nurses to continue providing the world-class care they're known for, in spite of NYSNA's strike."
Understaffed hospitals: A chronic condition
Since the onset of the covid-19 pandemic, US hospitals have reported elevated numbers of nurses and other hospital staff leaving their jobs.
According to a report published by the Bureau of Labor Statistics, the average age of a nurse in the US is 51, meaning the country will need more than 200,000 new registered nurses every year through 2026 to keep up with a retiring workforce. A 2021 report published by Mercer, an employee benefits consulting firm, cited New York specifically as a major cause for concern, forecasting shortages of more than 500,000 nurses by 2025 for the state.
Simultaneously, demand for healthcare workers has gone up dramatically, due to the pandemic and an aging population, among other factors. In response, the US Department of Labor introduced an $80 million Nursing Expansion Grant Program that aims to "address bottlenecks in training the US nursing workforce."
In New York, Governor Kathy Hochul recently announced a series of pay increases for nurses in public hospitals, aiming to increase employee retention and account for the "rising complexity of nursing tasks."
2022 increase in labor organizing
After the passage of the PRO Act, a bill that expands protection for employees organizing the workplace, President Joe Biden promised to be "the most pro-union president leading the most pro-union administration in American history."

And union activity has boomed. The National Labor Relations Board reported a 53% increase in union representation petitions filed in fiscal 2022, amounting to 2,510 petitions for the year ended Sept. 30.

This rise in labor activity is impacting major corporations. A warehouse in Staten Island in April became the first Amazon distribution center to unionize, and employees at more than 300 Starbucks locations have filed petitions to hold union elections.
Organized labor has also enjoyed an increase in US support. According to a recent poll by Gallup, 68% of Americans approve of labor unions, marking the highest level of domestic support for organized labor since 1965.
Related stories:

👩‍⚕️A shocking number of US nurses are quitting, but a majority would stay for more money
🏥American healthcare workers just don't want to go back to work
🦠A quarter of US hospitals are critically short of staff because of omicron