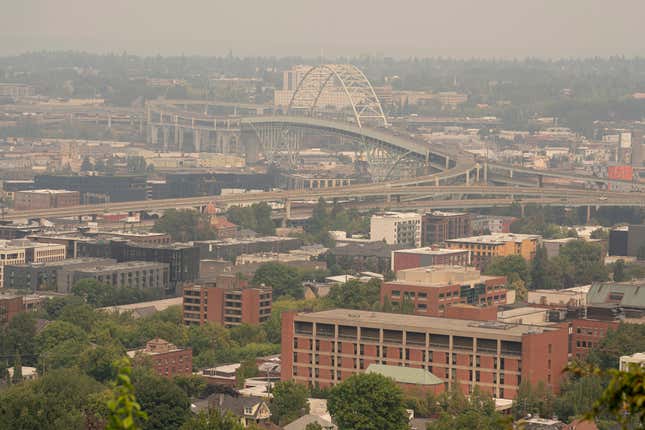 Multnomah County, which includes the city of Portland, is suing major oil and coal companies along with industry groups for more than $51 billion in harms caused by extreme heat. The lawsuit was filed Thursday (June 22) in Circuit Court, according to The Oregonian.
Heat waves in the summer of 2021 in particular lingered because the heat was trapped in a heat dome, which occurs when the atmosphere traps hot ocean air. According to the National Oceanic and Atmospheric Administration (NOAA), high-pressure circulation in the atmosphere acts like a dome or cap, trapping the heat at the surface and favoring the formation of heat waves.
The lawsuit alleges that the collective pollution emitted by companies like Exxon and Chevron over decades played a major role in creating the conditions that formed the 2021 heat dome, killing 69 people in the county.
The names listed in the suit are Exxon Mobil, Shell, Chevron, BP, ConocoPhillips, Motiva, Occidental Petroleum, Anadarko Petroleum, Space Age Fuel, Valero Energy, Total Specialties USA, Marathon Petroleum, Peabody Energy, Koch Industries, American Petroleum Institute, Western States Petroleum Association and McKinsey & Company. The county is specifically pointing to sustained public relations campaigns alleged to have undermined the scientific consensus around climate change.
A public health issue
The summer of 2021 was challenging not only in Oregon but throughout the Pacific Northwest, which usually experiences mild temperatures during the summer months. The month of June in Portland sees average temperatures in the 70s, but experienced temperatures of up to 112 degrees Fahrenheit in 2021. Even higher temperatures were recorded throughout the state, leading to 123 reported deaths that summer.
Pacific Northwest residents were largely unprepared for such heat. While 90% of homes in the US have air conditioners, only 44% of homes had them in Seattle at the time. Around 78% of homes in Portland had air conditioning. As a result, cooling centers were opened in libraries, senior centers, and other community facilities.
The lawsuit also claims that the American Petroleum Institute intentionally deceived the public about the dangers of burning their products for decades. In parts of Oregon, burning waste has been a primary disposal method, which contributes to air pollution.
Chevron's lead attorney, Theodore Boutrous Jr., stated that the county's claims are "baseless" and barred by the US Constitution. The American Petroleum Institute also wrote off the claims as "meritless."
The $51 billion sought by the county includes $50 million in damages, plus $50 billion to study, plan, and upgrade public health care services and infrastructure to mitigate future extreme heat events. Upgrading to be better prepared to handle heat waves includes expanding healthcare and emergency services, HVAC systems in buildings, and re-landscaping urban areas with naturally cooling trees and water features.