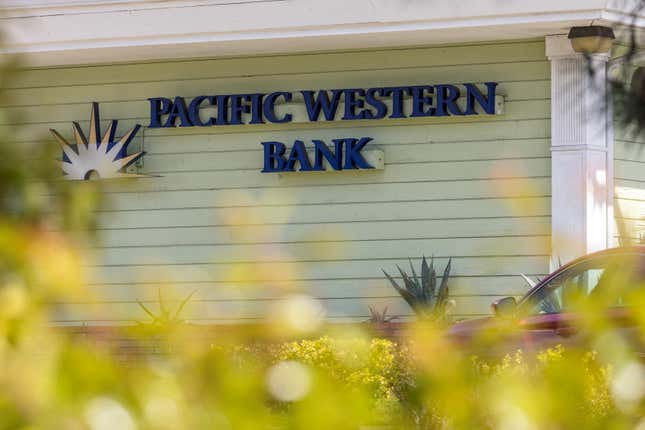 Another US regional bank is on unstable financial footing.

PacWest Bancorp announced that it is considering "strategic options" and has been approached by potential partners and investors after its shares plunged more than 50% in after-hours trading on Wednesday (May 3).
"The company will continue to evaluate all options to maximize shareholder value," PacWest said in a statement, addressing previous reports from Bloomberg and Reuters. It added: "The bank has not experienced out-of-the-ordinary deposit flows following the sale of First Republic Bank and other news."
The Los Angeles-based bank also mentioned that the $2.7 billion sale of its lender finance loan portfolio is still moving ahead.
According to its website, the lender has $44.3 billion in assets, $28.2 billion in deposits, and 67 branches mostly located in California.
Several mid-sized banks in the US have failed in recent months as the sector experiences its worst turbulence since the 2008 financial crisis. PacWest has lost 90% of its stock value since March 8, according to Reuters.
What banking crisis? The Fed says the sector is "sound and resilient"
The stock rout occurred just hours after the Federal Reserve announced a quarter percentage point interest rate hike. Fed chair Jerome Powell said in a press conference that the US banking system is "sound and resilient," and added that the sector has stabilized since the successive failures of Silicon Valley Bank and Signature Bank in March.
"Tighter credit conditions for households and businesses are likely to weigh on economic activity, hiring, and inflation. The extent of these effects remains uncertain," the Fed said in a statement released following the latest rate hike.
On Monday (May 1), First Republic Bank was closed by regulators and scooped up by JPMorgan Chase in a fire sale. It marked the second largest bank failure in US history, and the third collapse of a US lender this year.
The potential of more regional bank failures is spooking investors
Market jitters have swept across the banking sector following PacWest's stock tumble.
Western Alliance Bancorp's shares sank 38% in after-hours trading, while Zion Bancorp and Comerica dropped 10%, according to Bloomberg. First Horizon, which is in the midst of a planned sale to TD Bank, saw its shares fall 7%. The SPDR S&P Regional Banking ETF hit its lowest point since 2020.
Related stories
🤔 First Republic Bank: What's next?
💡 ​​The FDIC's proposal for deposit reform is narrow and uninspiring—and it just might work
🫵 The Fed's report on Silicon Valley Bank is out, and it blames everyone