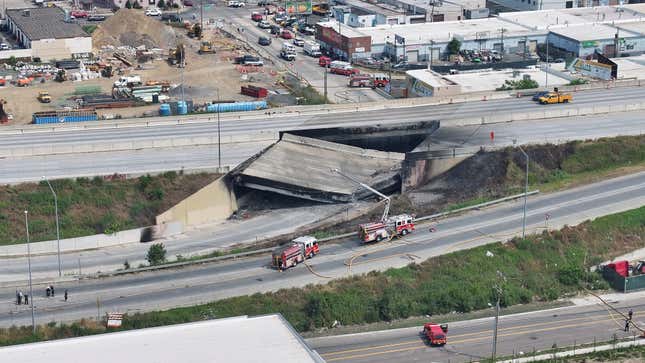 Philadelphia reopened a bridge on its busy highway I-95 on Friday (June 23), less than two weeks after it collapsed—and months ahead of schedule. The bridge, located in a crucial thoroughfare in the city, serves as many as 160,000 cars a day.
Why a tightening of credit conditions could lead to a weak economy
The new bridge is made of recycled glass and will be temporary, with the state planning a long-term construction that will be completed in the coming months. The speed of construction was key, as the downed bridge had created traffic congestion and delays on I-95 in multiple states.
"Let this serve as an example of how Pennsylvania can do big things," Pennsylvania governor Josh Shapiro said at a press conference announcing the bridge's re-opening. "Everyone wanted to help. Everyone wanted to be part of this."
He isn't exaggerating. The bridge's speedy construction was credited to more than 200 workers who worked in shifts, 24 hours a day, to smash all expectations for when the bridge could be driven on again. Even the local NASCAR track sent trucks that are specially designed to dry racetracks after rain threatened to delay the re-opening.

The collapse was caused by a truck carrying gasoline flipping over and catching fire, which then burnt hot enough to melt steel in the bridge. The truck driver was killed, and nobody else was injured.
The rebuilt bridge was christened by a firetruck carrying the city's professional mascots, including the Philadelphia Flyers' own Gritty, a seven-foot-tall orange monster that has captured the soul of the city in recent years.
President Joe Biden praised the "grit and determination" of the engineers and construction workers during a visit to the site last week. He pledged any federal resources needed for the upcoming construction.

Biden likely chose to visit the site as part of a summer campaign theme that looks to highlight the White House's manufacturing and infrastructure investments, with a three-week-long domestic tour starting next week.
Related stories:
Trump's leaked infrastructure plan would deepen urban inequality in the US
Biden's big infrastructure bill could doom the US coal and gas energy sector
China has invested more in Africa than the other top eight lenders combined