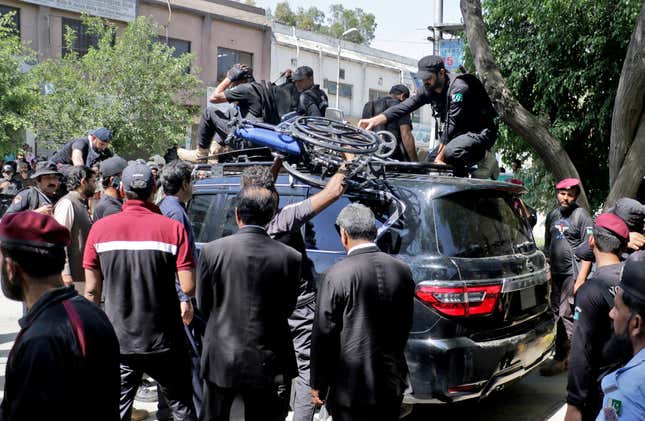 Former Pakistani prime minister Imran Khan was arrested by the military at the High Court in Islamabad on May 9, escalating a domestic political and economic crisis that has simmered since he was removed from power last year.

The Pakistani government said Khan was arrested on corruption charges connected to an illegal land transfer for a university. They also confirmed that the former PM remained in custody the same evening.
Khan's political party called the arrest politically motivated abduction, while video of dozens of military officers violently detaining the 70-year-old politician—who was already appearing in court on charges of corruption—sparked widespread protests in several cities.
At least one person was killed in the demonstrations, according to the BBC, while US secretary of state Antony Blinken said he hoped "whatever happens in Pakistan is consistent with the rule of law, with the constitution." A video posted on Twitter from Lahore seemed to show protestors in the home of an army commander.
In response to the protests, the country's Ministry of the Interior suspended all mobile data services.
Khan's tumultuous political path post-removal
Since being removed from office after a vote of no confidence in April 2022, the cricket player–turned–politician has toured Pakistan in a series of well-attended political rallies and protest convoys, accusing the current government and the military of orchestrating his ouster.

Last October, the country's election commission barred him from running for office for at least five years. Just a few weeks later, during one of the protest convoys, Khan was shot in the leg in a failed assassination attempt that he blamed on the Pakistan's intelligence service.
Quotable:
"We're facing multiple crises. There is an economic crisis, there is a political crisis, there is a cost of livelihood crisis and consequently this occasion will be a catharsis for them to step out and I fear a fair amount of violence is going to be back." —Raoof Hasan, Khan's spokesperson, after the arrest
Timeline of Pakistan's most recent political crisis:
April 10, 2022: Prime minister Imran Khan is forced to leave office after a no-confidence vote by parliament.
July 18, 2022: Khan's political party sweeps a by-election in the Punjab region.
August 22, 2022: Khan is charged under Pakistan's anti-terror law.

October 21, 2022: The election commission bars Khan from running for office for five years, sparking widespread protests.
November 3, 2022: Khan is shot in the leg during a protest convoy in the Punjab region.
May 9, 2023: Khan is arrested by military forces on corruption charges. His party deems it a politically motivated abduction.

Related stories:
Why is Pakistan teetering on the brink of default?
Amid food stampedes and with soldiers' supplies cut, Pakistan is on the brink of a disaster
Afghanistan's economy is set to rapidly shrink if foreign aid keeps falling