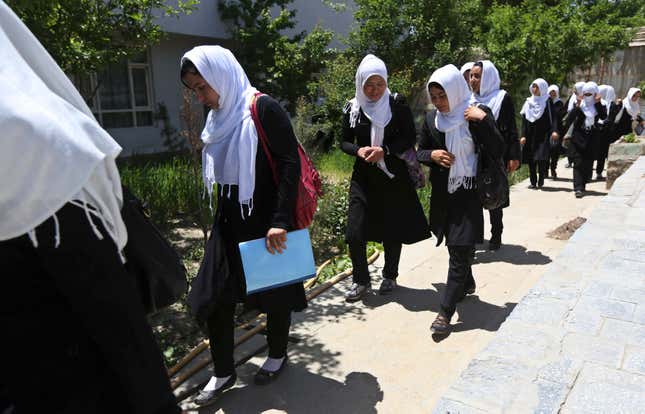 Afghanistan's economy will contract after an anticipated 30% drop in foreign aid this year, according to a report by the United Nations Development Program (UNDP).

Ben Emons Part 2: The Fed, Apple shares
Afghanistan is the world's largest per capita recipient of humanitarian aid. That's likely to change if the Taliban—a fundamentalist Islamic group that serves as its de facto government—imposes harsh restrictions on development organizations in the country.
If aid does shrink by 30%, the UN estimates that Afghanistan's GDP will contract by 0.4% this year, while its inflation rate will reach 10% in 2024.
The report also projects that per capita income could decline to $306 by the end of next year. That would be a 40% plunge from $512 in 2020, the last full year before the Taliban took power.
"A sustained inflow of foreign aid, to the tune of $3.7 billion in 2022, has helped avert the total collapse of Afghanistan," said Abdallah Al Dardari, the UNDP's resident representative in Afghanistan.
Although poverty isn't a new problem in Afghanistan, it's become markedly worse in recent years. In 2022, the number of people living in poverty grew to 34 million (90% of the population), compared to 19 million in 2020.
The report concluded by arguing that any economic recovery is impossible given the Taliban's current policy of barring women and girls from schools and the workforce.
"The economy cannot be reignited if women cannot work, while future economic growth is constrained by underinvestment in girls' and women's education."
The UN is considering leaving Afghanistan
The UN mission in Afghanistan has asked its Afghan staff to stay home this month as it considers ceasing operations in the country. That decision follows an announcement by the Taliban that it will bar Afghan women from working with the international development organization earlier this month.
The mission said complying with that rule would breach the UN Charter.
"Through this ban, the Taliban de facto authorities seek to force the United Nations into having to make an appalling choice between staying and delivering in support of the Afghan people and standing by the norms and principles we are duty-bound to uphold," the UN office explained in a written statement.
Since the Taliban took power—appointing Hibatullah Akhundzada as national leader—women have been completely excluded from the judiciary, elected positions, and any other public office. All women and girls must follow a strict dress code and are forbidden to travel more than 75 kilometers without a chaperone.
Related stories:
🏎️ The Taliban's new supercar runs like its beloved Toyotas
🇮🇳 India is teaching the Taliban how to run an economy