"I never thought that a Russia book could actually be long-listed or short-listed for the National Book Award," said journalist Masha Gessen. "But of course things have…um…changed."
The crowd thundered with laughter and applause for Gessen, who won this year's nonfiction award for her book The Future Is History: How Totalitarianism Reclaimed Russia. In it, she argues that totalitarianism is back with a new face in Vladimir Putin's Russia.
The Moscow-born journalist has been writing about Russia for the last decade, and is deeply critical of Putin. Since Donald Trump became US president, prompting a probe into possible Russian interference in the elections, Russian power and influence have become an issue for the American public in a way it had not since the Cold War.
Gessen has also provided a steely voice of resistance to president Trump since he won, starting with her New York Review of Books piece, "Autocracy: Rules for Survival," published right after the election, and another earlier this year, "The Autocrat's Language," in which she argues that Trump's use of language completely obliterates meaning.
She joins three other winners at this year's awards: Jesmyn Ward's Sing, Unburied, Sing for fiction, Frank Bidart's Half-light for poetry, and Robin Benway's Far from the Tree for young people's literature. Each winner gets $10,000 and a bronze sculpture in addition to the $1,000 they receive for being a finalist.
Here are all the 2017 winners and nominees:
Fiction
Dark at the Crossing, by Elliot Ackerman (Knopf/Penguin Random House)
The Leavers, by Lisa Ko (Algonquin Books/Workman Publishing)
Pachinko, by Min Jin Lee (Grand Central Publishing/Hachette Book Group)
Her Body and Other Parties: Stories, by Carmen Maria Machado (Graywolf Press)
Sing, Unburied, Sing, by Jesmyn Ward (Scribner/Simon & Schuster)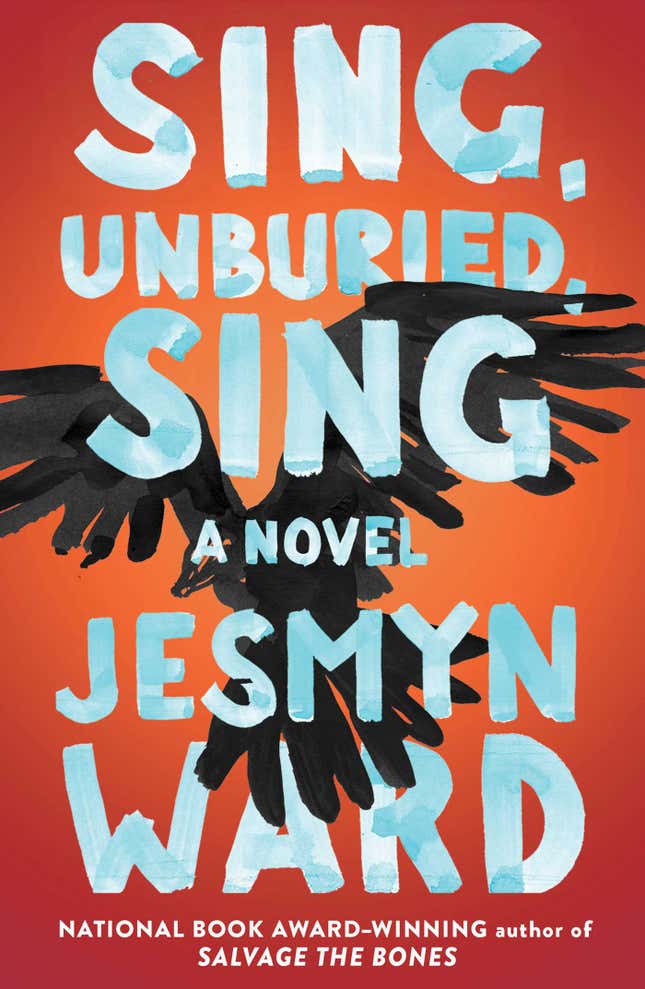 Winner: Sing, Unburied, Sing, by Jesmyn Ward
Sing, Unburied, Sing is a novel about the tension between a mother and son in present-day Mississippi—one an addict, the other trying to protect himself and his world from her. They're both haunted by the dead and unseen.
"The ghosts—most of them, at any rate—want to rest, but they need restitution first," writes Parul Sehgal in the New York Times. "They need to know what happened to them, and why. It's the unfinished business of a nation, playing out today in the calls for the removal of statues of Confederate soldiers and in the resurgence of the Klan."
---
Nonfiction
Never Caught: The Washingtons' Relentless Pursuit of their Runaway Slave, Ona Judge, by Erica Armstrong Dunbar (Atria/37 INK/Simon & Schuster)
The Evangelicals: The Struggle to Shape America, by Frances FitzGerald (Simon & Schuster)
The Future Is History: How Totalitarianism Reclaimed Russia, by Masha Gessen (Riverhead Books/Penguin Random House)
Killers of the Flower Moon: The Osage Murders and the Birth of the FBI, by David Grann (Doubleday/Penguin Random House)
Democracy in Chains: The Deep History of the Radical Right's Stealth Plan for America, by Nancy MacLean (Viking/Penguin Random House)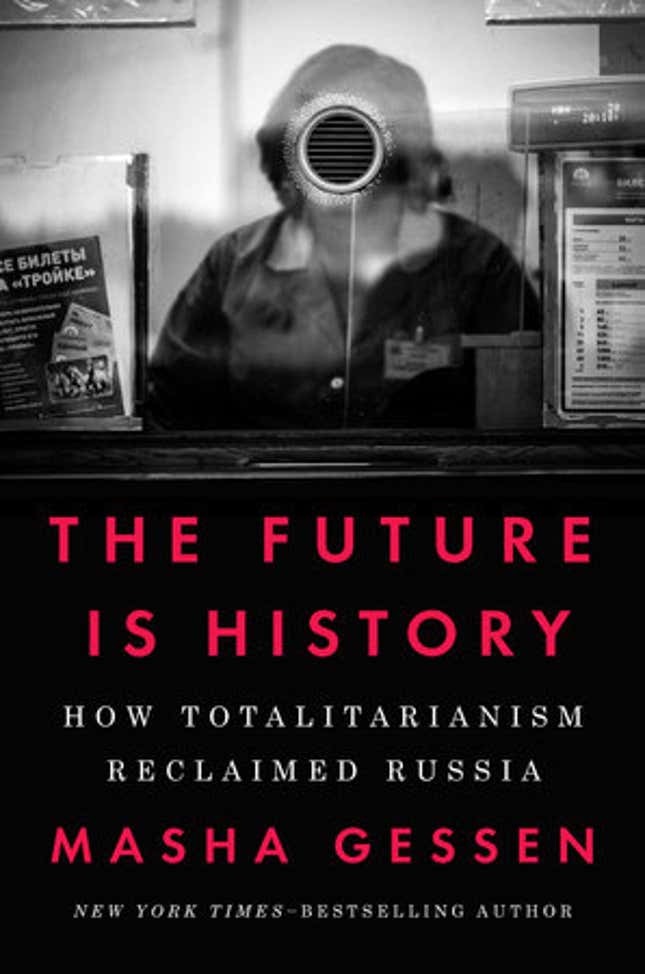 Winner: The Future Is History: How Totalitarianism Reclaimed Russia, by Masha Gessen
Through the lives of four people born during the Soviet Union but reared in Putin's Russia, alongside three other intellectuals, journalist Gessen argues that totalitarianism is back in Russia. "Gessen returns repeatedly to the question of what sort of regime exists in Russia today," says Francis Fukuyama in the New York Times. "Western political science associated totalitarianism with several features, including state terror, total absence of civil society outside the state, a centrally planned economy and domination by a single party. Gessen successfully shows how Putin's Russia has gradually acquired these characteristics, though in muted and less extreme forms."
---
Poetry
Half-light: Collected Poems 1965-2016, by Frank Bidart (Farrar, Straus and Giroux/Macmillan Publishers)
The Book of Endings, by Leslie Harrison (University of Akron Press)
WHEREAS, by Layli Long Soldier (Graywolf Press)
In the Language of my Captor, by Shane McCrae (Wesleyan University Press)
Don't Call Us Dead: Poems, by Danez Smith (Graywolf Press)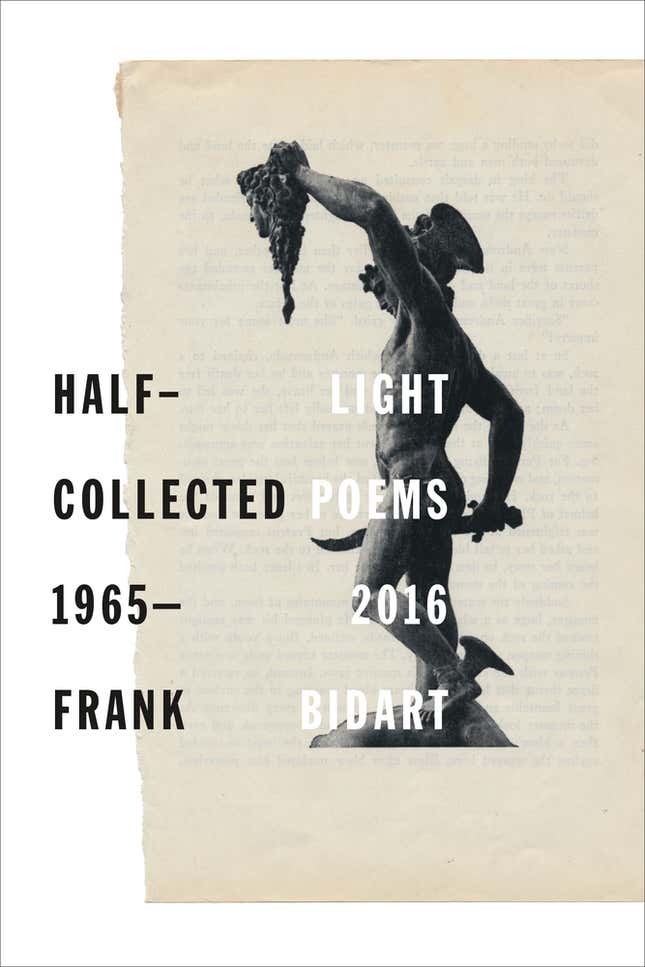 Winner: Half-light: Collected Poems 1965-2016, by Frank Bidart
A collection of poems from Frank Bidart's eight books, Half-light gathers in one place the "poor, doomed people" of Bidart's poetry. Bidart has been publishing since 1965, and joked on stage that he's twice as old as any of the other finalists. "One of the hallmarks of his writing is the way it looks on the page and, by extension, sounds," writes Hilton Als in the New Yorker. "He capitalizes individual words that underscore what was stressed in the preceding line, or he cuts a statement of fact in half, letting it float into the white space of doubt, even as other voices are introduced—voices that are separate from but inseparable from the author's 'I.'"
---
Young people's literature
What Girls Are Made of, by Elana K. Arnold (Carolrhoda Lab/Lerner Publishing Group)
Far from the Tree, by Robin Benway (HarperTeen/HarperCollins Publishers)
I Am Not your Perfect Mexican Daughter, by Erika L. Sánchez (Alfred A. Knopf Books for Young Readers/Penguin Random House)
Clayton Byrd Goes Underground, by Rita Williams-Garcia (Amistad/HarperCollins Publishers)
American Street, by Ibi Zoboi (Balzer + Bray/HarperCollins Publishers)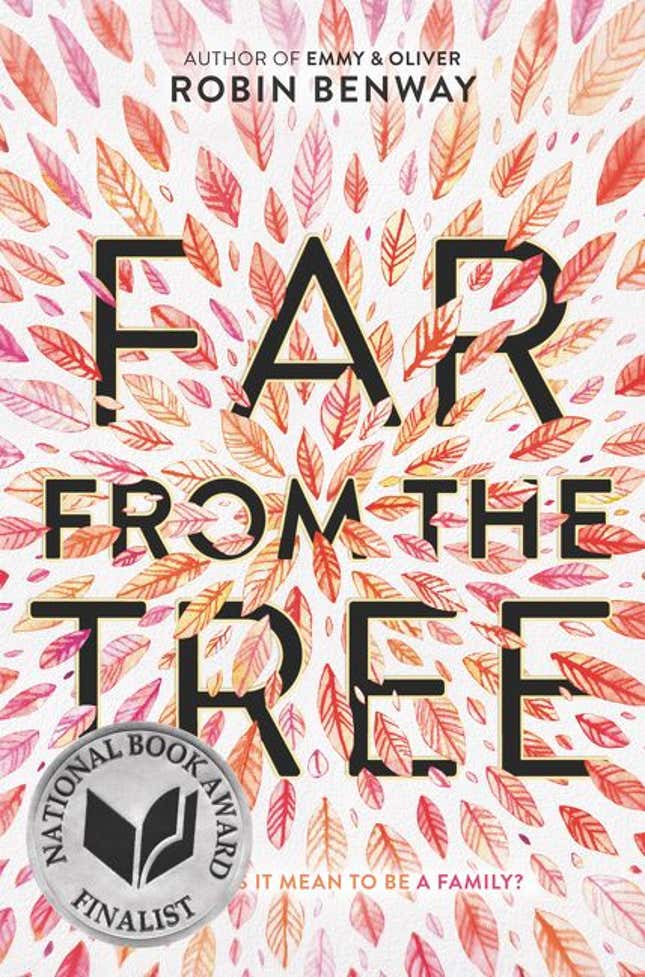 Winner: Far from the Tree, by Robin Benway
An adopted teen goes in search of her biological family, gathering on the way her two teenaged biological siblings, and revealing the family's underbelly. "Writing in a shifting third-person narrative that is both nonjudgmental and deeply empathetic," says Publishers Weekly, "Benway delves into the souls of these characters as they wrestle to overcome feelings of inadequacy, abandonment, and betrayal, gradually coming to understand themselves and each other."