To understand modern-day, millennial-endorsed feminism, you have to understand "shine theory." The idea is rooted in women befriending each other, a kind of networking-with-a-purpose. When they shine, the theory goes, you shine, too. It advises women to make friends with powerful or influential women who can lift you up as they rise (much as men have always done).
Shine theory helps explain the rise of women-only clubs, large and small. Most famously, there's New York's the Wing, which has a waitlist in the thousands, costs upwards of $3,000 per year, and is currently only in Manhattan.
But worthwhile women-led groups are springing up around the world. You can even start your own. Some of these new clubs are even specialized: Seattle-based Women.Weed.Wifi is a women's collective that uses marijuana as the core interest for uplifting and inspiring one another; Brooklyn-based Art Girl Army fights for inclusivity in the creative industries; and Seoul-based Crazy Multiply seeks to curate and support local artists.
Here are a few others worth watching, and maybe emulating:
Wildflower Collective
Rebekah Lowin's group started with a hobby. The 25-year-old really loves cooking and baking—and Instagramming her cooking and baking. Her friend and sorority sister from college, Maria Sulimirski, loves entertaining and making themed "tablescapes" for parties—and, again, Instagramming these gatherings.
But the two millennial Martha Stewarts had a lot of other career and personal interests beyond being domestic goddesses: Lowin is a writer and on-air TV host, and Sulimirski is a classically trained singer. They had noticed that their boyfriends and brothers had core groups of friends to hang out with on a regular schedule, but they didn't. "It's funny, with Taylor Swift and all, you think the [girl] 'squad' is a thing," Lowin says. "But loneliness is a real thing, too."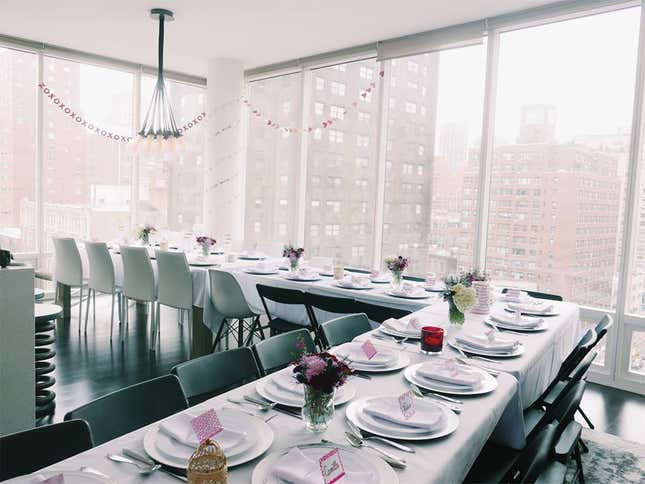 So, in February, they officially launched Wildflower Collective, a New York-based supper club—"except it's usually brunch," Lowin notes—for women. In Sulimirski's apartment, the two host up to 30 people, and cook and decorate everything themselves. They charge about $15 per head per event.
It's a privileged position to be in, to have the time to conceptualize and host an Instagrammable event on your own, and to have a place to host the event in—even more so because Lowin and Sulimirski are in their 20s and live in one of the most expensive cities in the world.
That's why they wanted Wildflower Collective, now at 80 members, to make a point of inclusivity. "Anyone who wants to join can join," Lowin says. "Our online application is basically, heh, nothing." To be honest, she admits, it started out as just an extended network of their friends, a hodgepodge of sorority sisters, college classmates, and work colleagues.
But then at an event in May—a workshop-slash-brunch called "The Art of the Side Hustle" led by Cleo Abram, a manager of brand strategy at Vox, fashion model, and a political newsletter writer—a "random" woman showed up, with her toddler. "None of us knew who she was," Lowin recalled. After initial confusion came excitement—the founders realized that Wildflower Collective was a thing that women needed and Googled.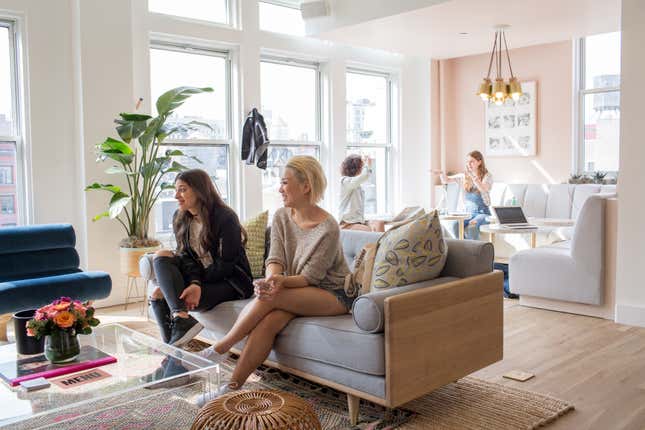 "We're nothing like The Wing!" Lowin, who is a member of both, says. It's hard to turn down the network of a club like The Wing, especially if you believe in shine theory. Its household names (household if your house is a loft that you share with roommates in Brooklyn) include Jessica Williams, Hari Nef, Tavi Gevinson, Leandra Medine, Emily Weiss, Remy Ma, and co-founder and CEO Audrey Gelman herself.
But Wildflower Collective offers an easy intimacy: It's easy to facilitate conversations and relationships between 20 women at a Wildflower Collective brunch.
Her Global Network
Her Global Network, a women's club with franchises across 15 cities, attempts to create in-person intimacy with global relationships. "The idea is that you can travel anywhere and you will find friends and business contacts," says its co-founder, 32-year-old Aleksandra Avli.
She started the invitation-only non-profit organization in 2014 in Stockholm, where she is based. Like Wildflower Collective, there is no membership fee to join the sisterhood, but more like the Wing, it prides itself on its exclusive who-knows-who membership roster, including 26-year-old Babba Canales—who was dubbed a "Swedish It Girl" by Vogue but would prefer to brag about her Forbes 30 Under 30 accolade.
Membership profiles vary by city, Avli explains, saying that New York City has plenty of corporate leaders, while the Berlin group boasts more freelance creatives. Her is about to launch a private social network for its 3,000 members to connect together.
The Tribe
You can also skip the Instagramming and small talk and go straight into business together—that was 28-year-old Lynne Guey's intention when she started the Tribe, a nine-person group, with 28-year-old Alexandra Zatarain in 2013.
Guey and Zatarain had moved to New York City shortly after graduating from university. "The camaraderie part wasn't what I was initially seeking behind the Tribe," Guey admits. "My original intention behind creating the group was more for accountability than anything… A brain trust of sorts, for these ideas, similar to what men have in their investing clubs or venture groups when they talk shop, and we'd take action on the ideas that resonated most with us."
Unlike Wildflower Collective or The Wing, which built their brands on Instagram, The Tribe didn't have a web presence beyond an informal email chain. Zatarain eventually co-founded the venture-funded smart mattress company Eight Sleep and landed herself on the Forbes 30 Under 30 list, and Guey left journalism to work as the Manhattan Borough Director at New York City Economic Development Corporation.
"We started off as a hodgepodge of lady acquaintances united by an ambition to do more," Guey says. "What we formed was friendship and camaraderie instead."